This Spanish Omelet Is A Mediterranean Diet Staple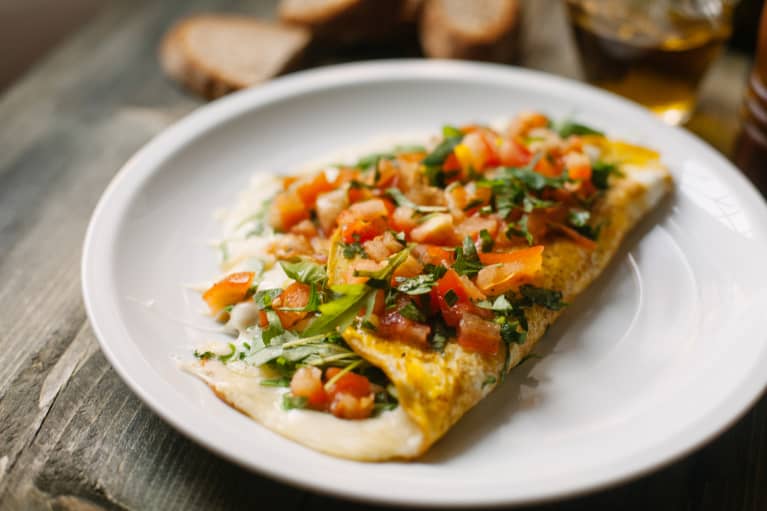 Our editors have independently chosen the products listed on this page. If you purchase something mentioned in this article, we may
earn a small commission
.
This sounds fancy, but it's really a humble (and delicious) omelet! Enjoy it for lunch, dinner, or as part of a spread with other small plates (as the Spanish do with tapas). Though I generally avoid potatoes—due to their high glycemic (sugar) load—in this dish they do provide a good source of fiber and nutrients. A way to lower the glycemic load is to select small fingerling 1- to 2-inch potatoes, or use a smaller portion of potatoes, or boil and refrigerate the cooked potatoes in advance. It takes a bit of planning and involves a couple of extra steps, but if you have the patience, it's worth it.
Spanish Tortilla (Omelet)
4 tablespoons extra-virgin olive oil
1¼ cups (⅓ pound) baby potatoes, cut into ¼‑inch slices
1 small sweet onion, thinly sliced
½ medium red bell pepper, cored, seeded, and diced
5 cage-free, organically fed large eggs
¼ teaspoon sea salt
¼ teaspoon ground black pepper
¼ cup fresh Italian flat-leaf parsley, finely chopped
Heat a medium sauté pan or skillet over medium-low heat. Add 2 tablespoons of the olive oil, then add the potatoes, onion, and bell pepper, then cover and simmer for about 15 minutes, stirring the potatoes and onion every 5 minutes or so until the potatoes are soft and tender.
Meanwhile, whisk the eggs with the salt, pepper, and parsley in a large bowl.
Spoon the potato mixture into the bowl with the eggs and mix well. With a paper towel, wipe the bottom of the sauté pan to remove any sticky material.
Heat the same sauté pan over medium heat, then add the remaining 2 tablespoons olive oil. Pour the egg and potato mixture into the pan, cover, reduce the heat to medium-low, and cook for 4 to 5 minutes. When eggs are nearly set and the underside is lightly golden, invert the omelet onto a plate, then slide it back into the pan and cook a few more minutes. When the underside is golden, slide it back onto a plate and serve.
Cook's tip: Baby potatoes with the skin that are boiled and chilled have a much lower glycemic load than regular peeled potatoes that are baked or sautéed, and they still taste great. Simply boil the sliced potatoes in advance until al dente (7 to 9 minutes), drain, then refrigerate for 4 to 24 hours until well chilled. When ready to serve, heat along with the oil and onion as noted here, but you'll only need to sauté them for 5 minutes, as they are already cooked.
Recipe courtesy of The Mediterranean Method. Copyright © 2019 by Steven Masley, M.D. Published by Harmony Books, an imprint of Penguin Random House.