Close Banner
Advertisement
This ad is displayed using third party content and we do not control its accessibility features.
paid content
 for

This Ski Town Is The Perfect Place For A Post-Holiday Wellness Retreat
mbg Health Contributor
By Gretchen Lidicker, M.S.
mbg Health Contributor
Gretchen Lidicker earned her master's degree in physiology with a focus on alternative medicine from Georgetown University. She is the author of "CBD Oil Everyday Secrets" and "Magnesium Everyday Secrets."
Image by Visit Sun Valley / Contributor
Most of us would agree that December is a pretty magical month. Everything slows down, everyone gets cozy, and there's a warm, fuzzy feeling in the air that's impossible to ignore. The holidays mean less work, more time with family, plenty of time to reflect and be grateful, and, of course, a lot of eating and drinking.
Despite the magic, a month of nonstop holiday parties, pumpkin pie, and peppermint lattes can leave you sluggish, bloated, and feeling like you desperately need a post-holiday detox. By the time January arrives, many of us are itching to get back to the healthy lifestyles we maintain the other 11 months of the year.
The problem is, unless you're lucky enough to live in L.A. or South Florida, it's still freezing outside. How are we supposed to get exercise, drink our green smoothies, and breathe fresh air when it's so cold, gloomy, and gray? It's easy to feel like wellness will simply have to wait until spring; for now, our only options are the couch, our coziest blanket, and Netflix.
It is possible to jump-start your well-being, even in the dead of winter. And Sun Valley, a mountain ski resort town in Idaho, is the perfect place to do it. Here's why you should make it the location of your next winter wellness retreat: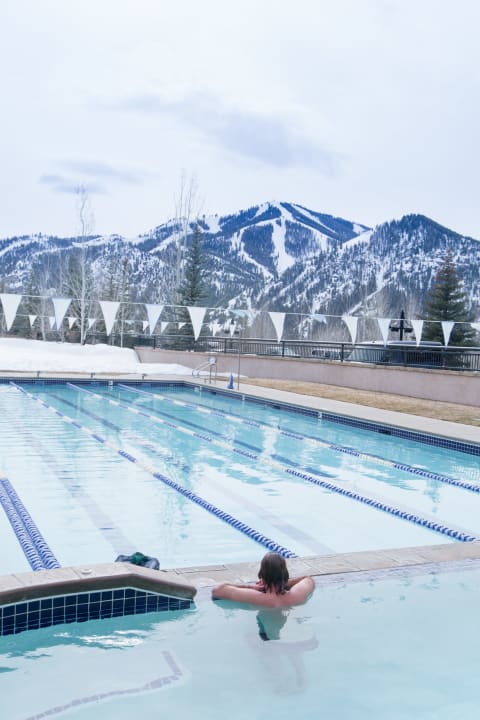 Image by Visit Sun Valley / Contributor
1.
You can do all the winding down—in one place.
If you're looking to wind down, relax, and shake off the stress of the holidays, Zenergy—Sun Valley's luxury health and wellness center—has everything you need. You can choose between an acupuncture session, a 50- or 80-minute organic facial, or a massage. Or get all three and finish your day of pampering with a dip in the heated saltwater pool. You deserve it.
You can also get some of your personal care items checked off the list by scheduling a haircut, a mani or pedi, or even making an appointment for a wax, tanning session, or eyelash extensions.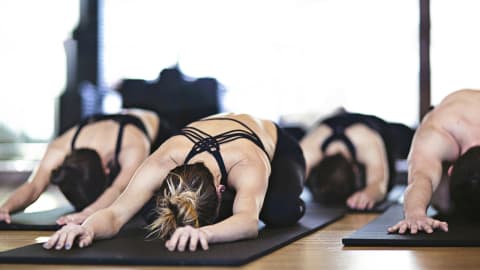 Image by Zenergy / Contributor
2.
You can fully focus on fitness and nutrition.
Starting off with the obvious—like skiing and snowboarding—and moving to the less obvious—like Nordic skiing and snowshoeing—there are dozens of ways to get your blood pumping. Not a skier or an outdoorsy type? No problem. You can also do a class at The Mill SV, a full-body interval training class that's designed to mimic outdoor exercise, or sign up for a personal training session or indoor rock climbing at one of the coolest YMCAs in the country. It's safe to say that if you're trying to stay active or meet a fitness goal, you won't miss a beat in Sun Valley.
If you're looking to detox after a month of comfort foods, there are plenty of spots for organic, nutritious foods that won't force you to choose between taste and nutrition. Head over to Ginger Sweet—a cozy juice bar that has organic, cold-pressed juices or sign up for A Full Moon Dinner at Galena Lodge, where you'll be treated to a healthy four-course meal.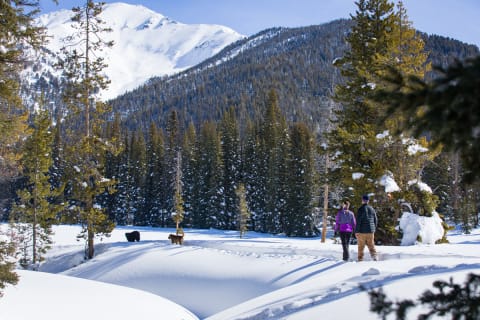 Image by Visit Sun Valley / Contributor
3.
You can get back in touch with nature.
If you think immersing yourself in nature can only happen when it's 70 degrees and sunny, think again. Nestled between the Smokey, Pioneer, and Boulder mountains, Sun Valley is a walkable mountain town that has 250 days of sunshine a year, making it the perfect place to get some fresh air and vitamin D. Research has shown that immersing yourself in nature has almost endless health benefits, including reducing your risk of type 2 diabetes, stress, and high blood pressure. Plus, there's only one thing better than forest bathing—and that's snow-covered forest bathing. If you like your nature with a side of education, head to the Sawtooth Botanical Garden, where you can learn about the local Sun Valley ecology.
Ready for the icing on top of the cake? After all the holiday travel you've been doing, Sun Valley is amazingly easy to get to. With nonstop flights from major cities like San Francisco, L.A., Seattle, Denver, Chicago, and Salt Lake City, most of us can be in Sun Valley in under three hours.
So whether you're roaring to jump back into your fitness routine or you're just trying to muster the energy to get out of your new flannel PJs, spending a weekend in Sun Valley can help you make your winter wellness dreams a reality.
More On This Topic
more Lifestyle
Advertisement
This ad is displayed using third party content and we do not control its accessibility features.
Advertisement
This ad is displayed using third party content and we do not control its accessibility features.