This Is What Body-Positive Athleisure Looks Like
More and more, Crowds are flocking to athleisure for comfortable everyday wear. But for some, the fit is better than others. On a mission to expand representation and empower others, Mbali Ndlovu started Lukafit to create a brand that celebrates and dresses black women who lead active lifestyles.
"Lukafit was really born out of wanting to celebrate all of the women I saw around me who were working to get healthy together." For, Ndlovu, whose fitness journey started back in 2011, community has always been central to the brand's movement philosophy.
"I got serious about working out and my health about three years ago. I was able to stay consistent because my friends and I formed a 'get fit' clique." Soon enough, the camaraderie and positive peer support became a fully realized space where the women could thrive and support one another's health and wellness journey.
During the group's meetups, Ndlovu noticed that conversations would often turn to the lack of options for activewear that accommodate their curvier body types.
"A lot of women in the group were having the same issue, and I just thought there has to be a solution to this," says Ndlovu. Motivated to fill the void and provide diverse options, she launched Lukafit shortly after, with only a simple preliminary design of the brand's now signature Self-Care leggings. "Black women should be taken into consideration in the design of activewear. And it's not just about clothing options, says Ndlovu, but also the general messaging brands communicate.
"It's not only wanting clothing that fits but about supporting a brand that celebrated us and included us and put black women at the forefront. If you're not included in the design process, you're probably not considered in the marketing or messaging of the brand."
Lukafit takes its vision a step further, by promoting self-care fitness togetherness as an ethos—moving together as opposed to individually—a You. We. All. moment if we've ever heard one. "My whole journey has been about understanding the importance of learning new habits and prioritizing myself unapologetically—and showing others that's OK. It's about starting healthy habits now and doing things together."
As the industry continues to attract diverse voices and bodies, a handful of athleisure brands have fully embraced the importance of catering to this evolving audience. Newer indie brands like Girlfriend Collective have answered the call to create a line that include all bodies along the spectrum, offering basic silhouettes in neutral tones and cuts that work for every body. While mainstay companies like Nike and Athleta, are continually branching out to include more sizes and a diverse roster of models for their newer lines and collections.
Keep your athleisure rotation fresh and in season with our rundown of comfortable and functional leggings that work for everyone.
1. Sand Dollar Girlfriend High-Rise Legging, Girlfriend Collective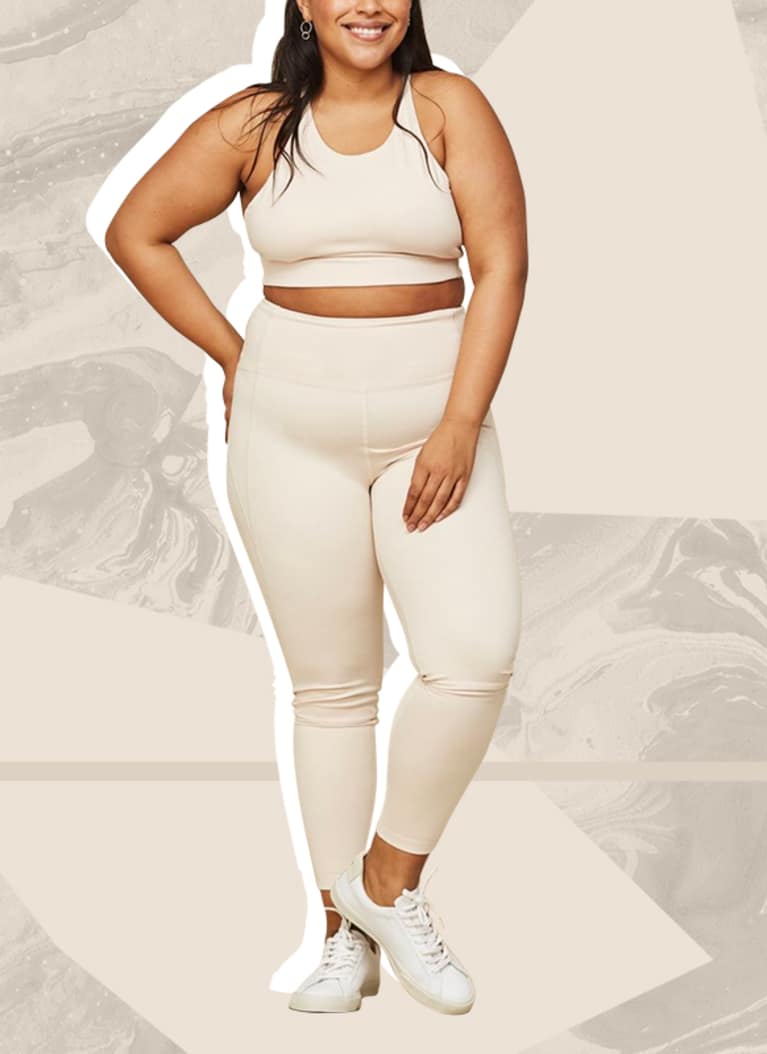 Ideal for a medium- to high-impact workout, these cozy leggings are comfortable enough for your restorative yoga flow or durable enough to withstand your daily run or cardio activity. The fabric is made from recycled plastic water bottles (extra points for sustainability) and is super stretchy to help fit true to size and conform to each unique body. ($68)
2. Warp Knit Tights, Adidas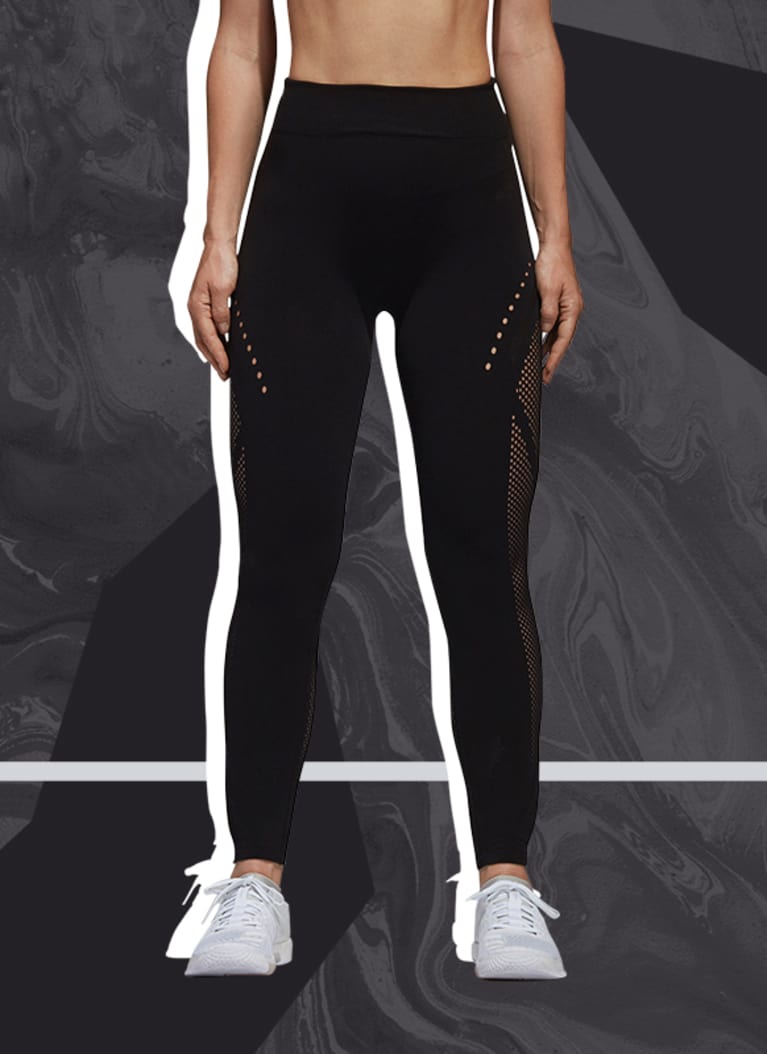 Designed to keep you cool and dry during your more sweat-inducing workouts, these Adidas leggings are made with a hefty amount of elastane to keep you moving and stretching in any direction, without compromising on comfort. The compression is on the medium side, so you'll feel tucked in and ready to tackle any workout free of any ill-fitting garment. If you seek a snug fit that's breathable, these are the leggings for you. ($100)
3. Water Flower 7/8 Tight, Athleta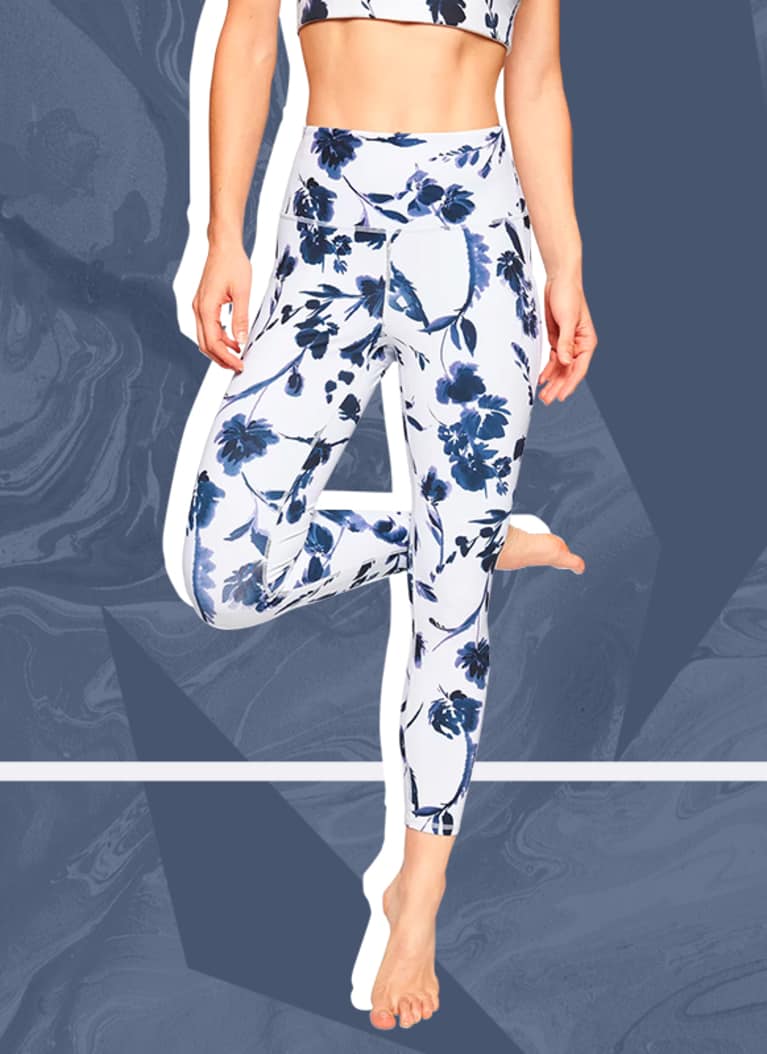 Contrary to highly contested beliefs, floral leggings can be groundbreaking. These Athleta leggings are breathable and sweat-wicking, taking you from one hot yoga class to your favorite studio workout in no time. The fit is comparable to a body-hugging feel but light enough on the skin so you don't feel weighed down by the fabric. They also come in sizes specialized for tall, petite, and plus-size individuals. ($68)
4. Flex High-Waisted Midcalf Pant, Skechers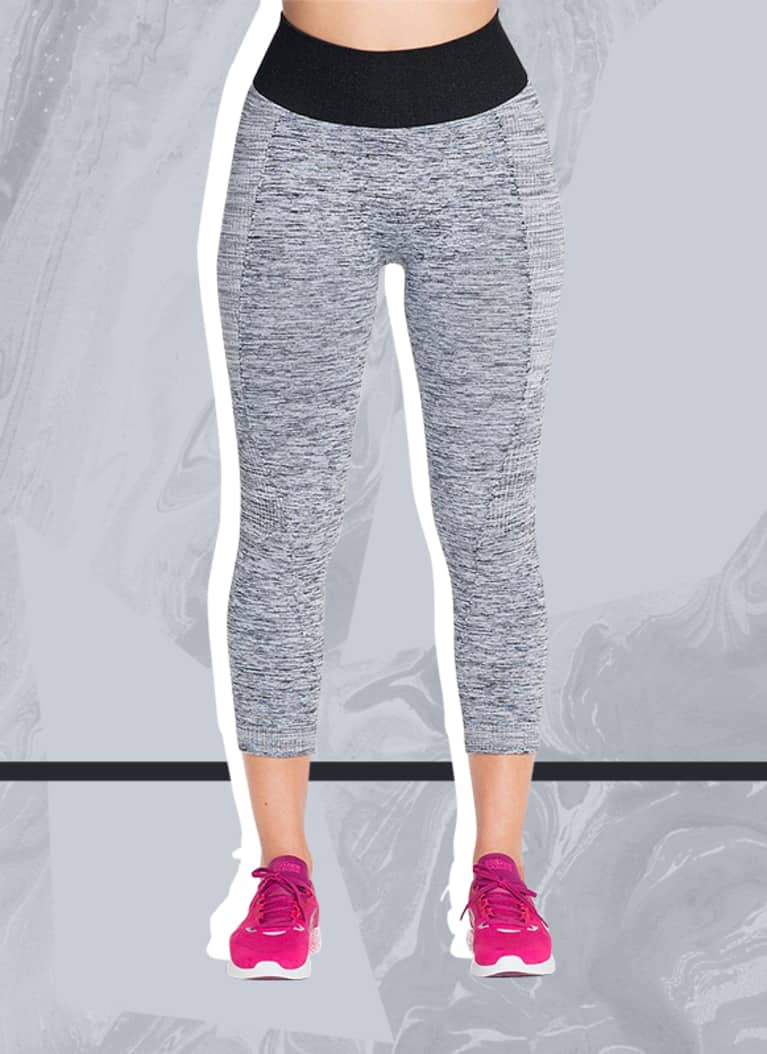 High-waisted and flexible, these Skechers leggings work in any workout situation. The fabric is soft, but the stretch knit material is durable enough to sustain impact and support your body through the movement. ($48)
5. Self-Care Sister Leggings, Lukafit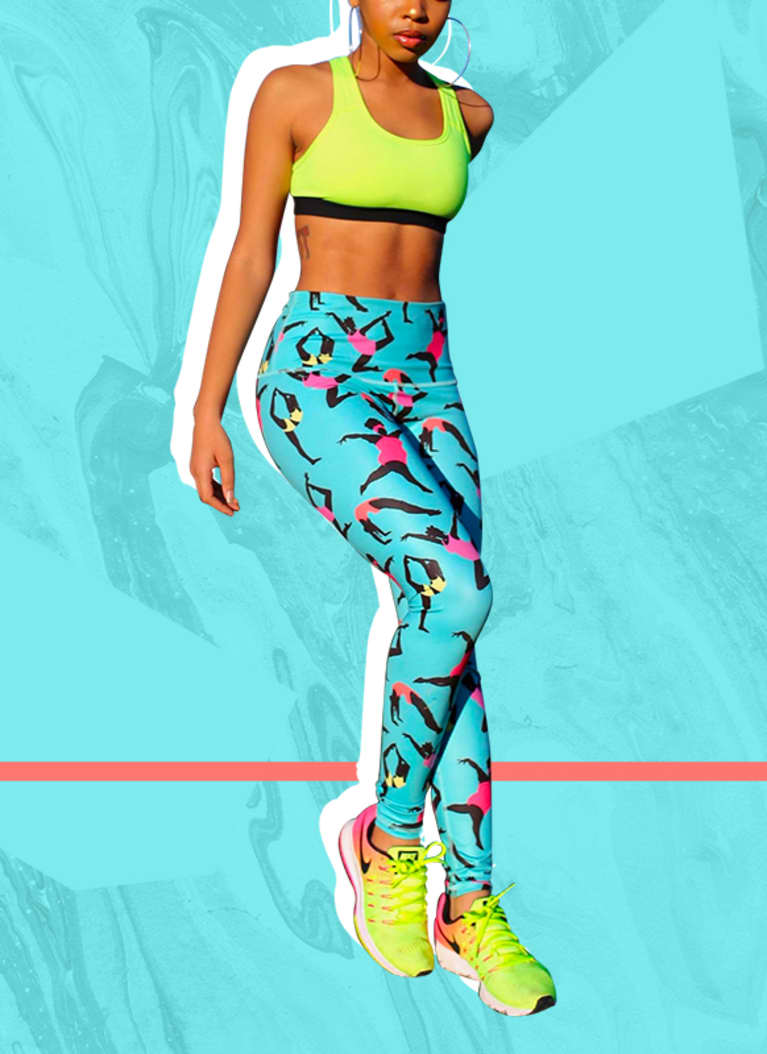 A standout high-waist option for any mover looking for a piece with more flair, Lukafit's limited edition Self-Care Sister Leggings provide full coverage and comfort for your workout of choice. Besides the joyous print, the most unique feature of these leggings might be the hidden adjustable drawstring that puts an end to all waist-gap problems for good. ($45)
6. Chill High-Waisted 7/8 Legging, Aerie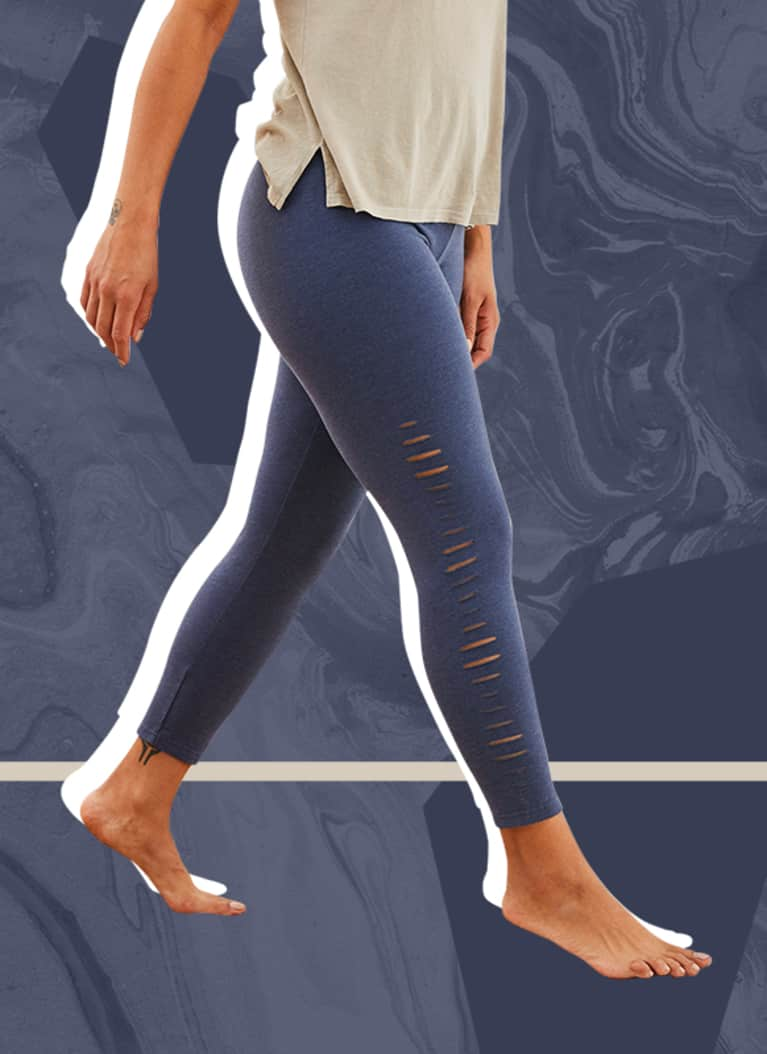 These "chill" leggings are pretty self-explanatory. Relax and enjoy more restorative practices like a gentle yoga flow or Pilates class in these stretchy cotton leggings, made with comfort and flexibility in mind. ($19)
7. Limited Edition Lumia Printed Capris, CALIA Women's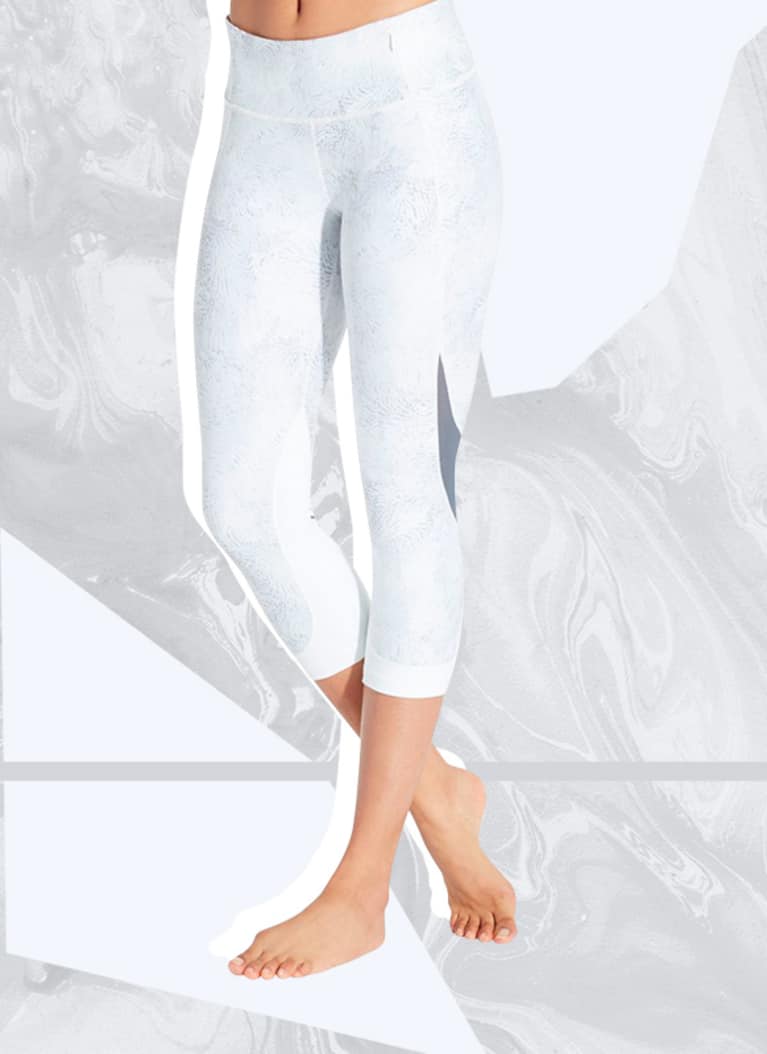 CALIA is all about celebrating the every day women, and these capris are no exception. They come equipped with a tight fit and stretch waistband that falls on your natural waist, so you don't have to worry about any residual material bunching. There's also an invisible hip pocket to store you're essential tickets on-the-go. Plus, the fabric is super smooth and includes antimicrobial technology designed to wick away moisture and to keep you fresh all throughout your workout. ($65)
On the sneaker hunt? Read this before buying your next pair.