Meet The Filmmaker Capturing A More Diverse & Inclusive Outdoor Industry

mbg Sustainability + Health Director
By Emma Loewe
mbg Sustainability + Health Director
Emma Loewe is the Senior Sustainability Editor at mindbodygreen and the author of "Return to Nature: The New Science of How Natural Landscapes Restore Us."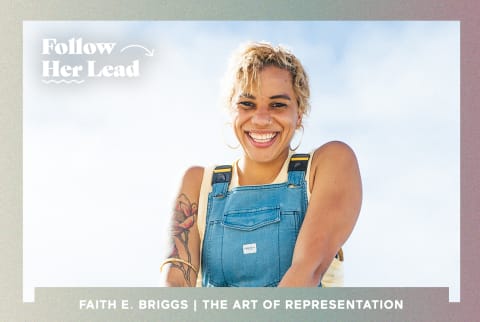 Image by Tyler Wilkinson-Ray / mbg creative
March 15, 2022
We carefully vet all products and services featured on mindbodygreen using our
commerce guidelines.
Our selections are never influenced by the commissions earned from our links.
In honor and recognition of Women's History Month, this March we're highlighting the voices of leading women in the well-being space. Each week, look out for the latest Follow Her Lead installments, where you'll find inspiring stories, ways you can help, and of course, new faces of women worth following.
Documentarian Faith E. Briggs' work is an ode to getting outside. Her films and podcasts feature dynamic protagonists like Rosalie Fish, a student-athlete who runs outdoors in support of the Indigenous women in her tribe, and Rashad Frazier, the founder of BIPOC adventure group Camp Yoshi. Representation is at the core of everything Briggs does. Though her projects are as diverse as the people they follow, they all demonstrate why access to the outdoors should be a basic human right. We caught up with Briggs to chat about how she advocates for a more inclusive conservation movement, navigates a male-dominated filmmaking industry, and finds the energy to keep it all up. (Yep, getting outside helps!)
What inspired you to become a filmmaker?
I grew up at summer camps: My parents met working at a summer camp, and they were educators, so they had summers off to go work there. I spent a lot of time at mainly one summer camp in upstate New York that was for underserved kids from New York City. Being up close and personal with so many Black and Latinx kids, and seeing what kind of media was available to them and what kind of stories they were consuming about themselves, felt really limiting and narrow to me.
Growing up, I've had so much access to educational opportunities. I ended up getting a scholarship to a preparatory boarding school in high school, then I went on to an Ivy League college. It wasn't until I was in those difficult-to-access places that I felt like I was getting access to the best resources from Black and Latina writers, which helped me as a Black biracial woman
I thought, "All this is building me up so much as an individual—and how is it ever going to get to my kids?" I wondered why it took getting to the most exclusive place to finally have access to the type of literature and art and film that could have helped my confidence.
Now, my hope is that through creating a wider spectrum of representation, I can help underrepresented people gain greater self-esteem, believe in themselves, be confident, and go after their dreams.
Who is one woman in your life who never fails to inspire you?
I'm so thankful for all of the women leaders and mentors I have had over the years. In college at Yale, there was this amazing trio of Black women that just had my back: Dr. Elizabeth Alexander, Dr. Terri Francis, and Dean Pamela George. I used to say, "I want to be the next Spike Lee." And they would tell me, "That's cool—but you probably want to be the next Faith Briggs, right?"
From Rosalie to Rashad, your films follow incredible people who are not always in the spotlight. How do you decide what stories to feature?
I always say that my people are my best gift. Most of the people that I highlight in my work are either friends or friends of friends. I don't really know how I find the story a lot of the time; it's more that I find a person that I think has a really cool story and then try to figure out how we can bring it to life.
I know that "conservation" is a word you're working to reclaim and redefine. Why is this important and what are your hopes for the future of the conservation movement?
A lot of early fathers of conservation were actually people who believed in eugenics. The way that they were talking about preserving the white race was the same way they were talking about protecting the redwoods. (Editor's note: For more information on this, look into resources like The Rise of the American Conservation Movement by Dorceta E. Taylor, Black Faces, White Spaces by Carolyn Finney, and The Intersectional Environmentalist by Leah Thomas.) When you understand that about the early history of the environmental movement, it's not at all surprising that those movements tend to be extremely white, extremely male, and extremely moneyed.
Conservation organizations have done an incredible amount of good work. They've also done work that has made a lot of people feel that there's no place for them outdoors.
Conservation organizations have done an incredible amount of good work. They've also done work that has made a lot of people feel that there's no place for them outdoors. After all, our national parks were created on stolen land that Native people were pushed out of. That's a lot of conflicting information to try to hold.
It's very hard to hold these different truths. That said, as a person of color in the United States, I've always had to hold different truths as being my truth. So I do call myself a conservationist now. I don't know if I will for the rest of my life. I think the goal is that at some point, these terms can be changed to mean something else, or we can come up with better words that speak to the needs of planet and people.
What advice do you have for other women starting out in your area of impact?
For a very long time, I tried to do things by myself. The first two films I tried to make, I was making by myself. I was shooting them; I was editing them; I was coming up with the ideas. And I didn't finish either of them. They're still on hard drives. It's not that I don't think they were good, but I couldn't do it by myself. It was too much. So I think my No. 1 advice is, don't do it alone! Look for thought partners who are as excited as you are, are hardworking, and are going to have your back.
If you can, find other women to work with too. I'm still really intimidated when I'm the only woman on the set. Even if I'm the director, I still get insecure and I can see myself sometimes starting to defer to other people. I'm always very collaborative, but I think there's something about having other women with you that's like, "Yeah, girl!"
I saw that you were a runner for a long time. What are some other ways you prioritize your health and practice self-care?
There's a difference between performing self-care and actually caring for yourself. For me, self-care is very much related to movement.
At the beginning of the pandemic, I was so concerned about running from a community care perspective. I saw people complaining about runners via social media, and it really stopped me in my tracks. It wasn't until recently that I realized it's OK not to have running be my primary identity. Now, I can go whatever small distance at whatever pace I want and not feel pressured to share it or to wear a watch or compete in races. It can just be something I do to be in my head and in my body in a different way. I also try to change a lot of my Zoom meetings to phone calls, so I can take walks during them.
For me, self-care has also been about creating boundaries. Before I moved in with my partner who has two kids, I would work from like 8 a.m. to 10 p.m. I'm a freelance filmmaker; there's always work to do. But now I'm really learning to turn my laptop off and let it rest. I put on sleep mode on my phone between 10:30 p.m. and 7:30 a.m. so texts and emails aren't waking me up.
I hope that by protecting my own space, I'm also helping other people protect theirs.
I also started doing this practice of tech Shabbat on Fridays and Saturdays, which was coined by a woman named Tiffany Shlain. I used to attend a Messianic Jewish community, so I did a Friday Sabbath. I'm not practicing the Sabbath anymore, but I still like this idea of having no screens Friday night through Saturday evening. I try to go from 6 p.m. to 6 p.m. without watching TV, going on the computer, or spending time on my phone. That's been really helpful. It also reminds me how much people do text you with work questions or expect you to send emails on a Saturday. I hope that by protecting my own space, I'm also helping other people protect theirs.
And I'll say, vacation! This is a new thing for me. I've said yes to two vacations recently and I felt so weird about allowing myself to do that. But I think time away is something we all need.
What's next for you?
We released our first season of The Trail Ahead podcast last year and then took some time off to fundraise. But podcast Episode 13 launches on March 15, and I'm super excited about it. With each of our episodes, we also do a one-minute video profile with the guest. I'm heading off to film a few different people in March and April. Then we're filming the fourth video in the "Who Is a Runner" series with Brooks that will come out in April or May. And then—I'm going to take some vacation!
This interview has been lightly edited and condensed for clarity.