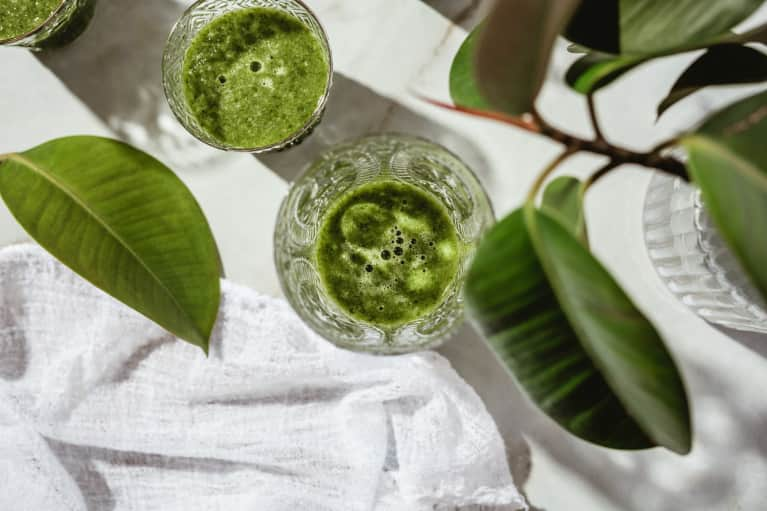 Candy-colored sports drinks, meal-replacement shakes, and shot-sized concoctions promising hours of energy are so old school by now. These days, we can walk into any major supermarket and walk out with a gut-healing kombucha, a plant-based protein drink, and an antioxidant-loaded golden-milk. We can order a CBD latte at corner cafés and buy fizzy dissolvable collagen tablets from beauty counters. Adaptogen-infused cold brew, anyone? You get the picture.
Functional beverages are just about everywhere you look. Typically, these are the clean-label drinks with minimal ingredients and a specific health benefit beyond their nutritional value. They're getting so popular, in fact, that sales of refrigerated juices and functional beverages in 2017—a figure reaching nearly $2 billion—actually surpassed sales of refrigerated milk by $200 million that same year. So yes, there's an undeniable thirst for drinks that ensure us that extra somethin' somethin'.
It's gotten to the point that if you're not into the idea of an added healthful boost from your food and drink, you're in the minority. According to the International Food Information Council Foundation's 2017 Food and Health Survey, 96 percent of respondents want these health benefits, specifically when it comes to vitamins, protein, energy, gut health, and antioxidants.
Sales of functional beverages in 2017—a figure reaching nearly $2 billion—actually surpassed sales of refrigerated milk by $200 million.
More options, more questions
As we eat and drink healthier, we're making more conscious shopping choices. And the more mindful we get about what we put into our bodies, naturally, the more questions we'll have about the integrity of the ingredients: How were they sourced and processed? Are they organic? And beyond that, are the products they go into sustainably and ethically produced?"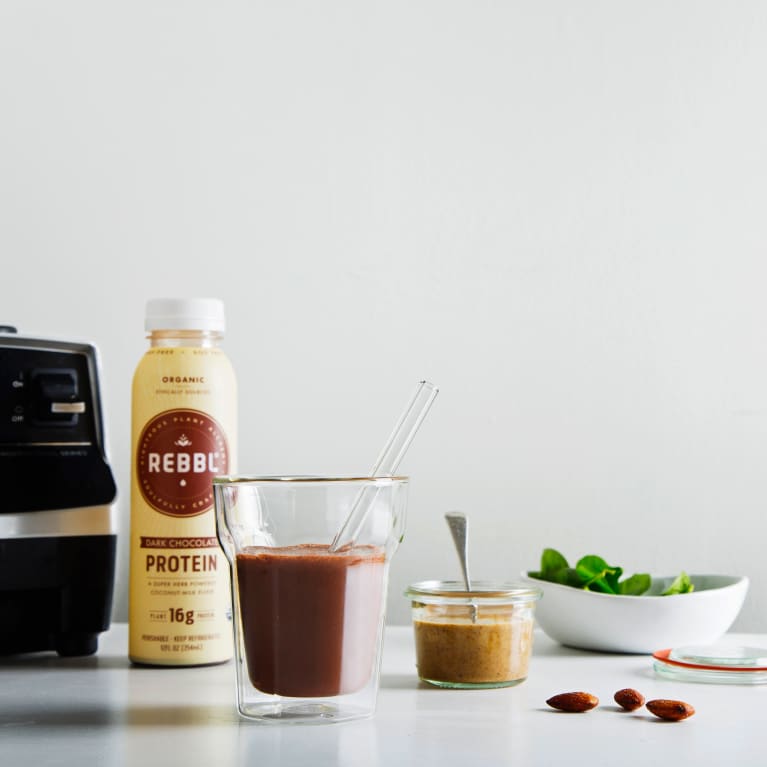 A.k.a. consumers care about the journey of these ingredients and how it got into their hands. So it's going to take more than just slapping "ashwagandha" on a label right now. REBBL, for instance, the makers of the super herb-powered coconut-milk elixirs, that you've probably seen in your grocery store, realized this from the start, and they're answering a lot of these questions. They've created over a dozen elixirs—from an anti-inflammatory Turmeric Golden-Milk that supports digestive wellness to a Dark Chocolate Protein drink with maca for post-workout recovery—so the hardest choice to make here might be picking a favorite.
Right away, REBBL sought out innovation in how their ingredients are sourced. At a grassroots level, the company was built as a sustainable business solution to the problem of human trafficking, the fastest growing illegal industry in the world. Compelled by the urgency to respond and fight this global issue, REBBL made positive social and environmental impact its mission. The idea? Craft delicious drinks from ingredients grown natively in regions by suppliers that exemplify their values, in turn, creating sustainable livelihoods for the surrounding communities and ultimately reducing the risk of exploitation.
Now, REBBL's ingredients are impact sourced from 29 countries and help to support the wellbeing of local communities, and through a 2.5 percent donation of net sales to its non-profit partner, Not For Sale, REBBL is "working to co-create a future without human trafficking," REBBL's SVP of Marketing, Rusti Porter, tells mbg. "So as we grow, the fight towards social and environmental justice grows. At the end of the day, growth for us means we are positively impacting humans' lives."
Seeing a problem, imagining a solution, and making it happen so we all benefit—it's that forward-thinking You. We. All mindset that drives us here at mbg. And if more and more brands hop on board, the future is looking bright for the functional beverage.