This Butternut Squash & Apple Bake Is An Easy, Healthy Breakfast
Weight loss & oncology nutritionist
By Rachel Beller M.S., RDN
Weight loss & oncology nutritionist
Rachel Beller M.S., RDN, is a weight loss and oncology nutritionist with a private practice in TL. She earned her degrees from California State University Los Angeles and conducted extensive research in the role of nutrition in cancer prevention at Cedars Sinai Medical Center,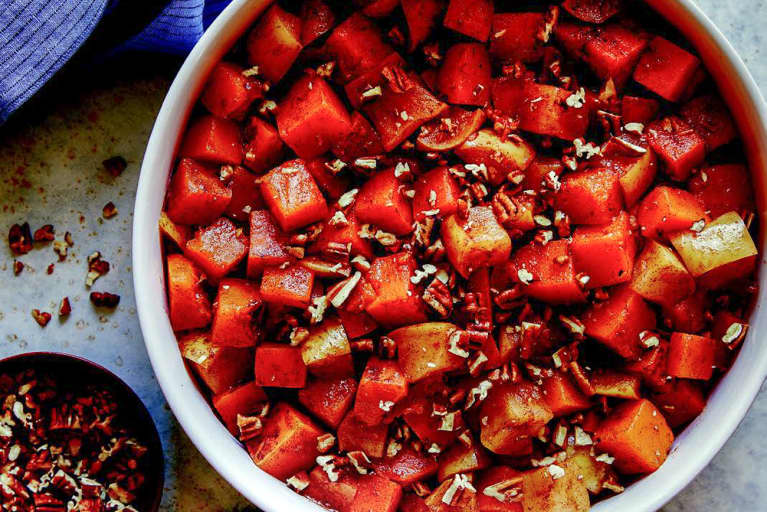 Our editors have independently chosen the products listed on this page. If you purchase something mentioned in this article, we may
earn a small commission
.
Warm, perfectly sweet bites of apples and butternut squash with cinnamon and spice don't need to be reserved for special occasions. I prescribe this recipe to my stressed-out clients, due to its therapeutic aroma and no-fuss directions (all you need to do is cube, mix, bake, and then take individual portions to go).
When the scent of fruit mingled with autumnal spices drifts out of your cubicle, don't blame me if your coworkers stop by to check out your breakfast! When they do, you can tout the antioxidant benefits of ginger and cinnamon and tell them that this combo may help reduce cholesterol levels. But be careful—you may have to share a bite or two!
To add a fiber boost, add a tablespoon of chia seeds or ground flaxseed just before serving. The extra fiber will help you feel full longer. You can enjoy this recipe chilled or warm!
Butternut Squash and Apple Bake
2 large apples, such as Golden or Fuji, cored and cut into 1- to 2-inch cubes
1 medium butternut squash, peeled, seeded, and cubed (about 4 cups)
2 teaspoons extra-virgin olive oil or avocado oil
1 tablespoon ground cinnamon
1 teaspoon ground allspice
½ teaspoon ground ginger
Sea salt to taste
¼ cup slivered almonds or chopped pecans (optional)
Preheat the oven to 375°F.
In a medium baking dish, combine the apples, squash, oil, cinnamon, allspice, and ginger, tossing with your hands or a large spoon to ensure everything is evenly coated. Cover with a sheet of parchment paper and a layer of aluminum foil to seal the edges of the baking dish.
Bake for 45 to 50 minutes, until the squash is tender and can easily be pierced with a fork.
Remove the dish from the oven and sprinkle with sea salt. Stir before serving and top with nuts, if using
Reprinted from Power Spicing. Copyright © 2019 by Rachel Beller. Photographs copyright © 2019 by Teri Lyn Fisher. Published by Clarkson Potter, an imprint of Penguin Random House, LLC.