paid content
 for

This Bright & Airy City Apartment Welcomes Elements Of Nature Inside
Senior Branded Content Editor
By Krista Soriano
Senior Branded Content Editor
Krista Soriano is the Senior Branded Content Editor at mindbodygreen.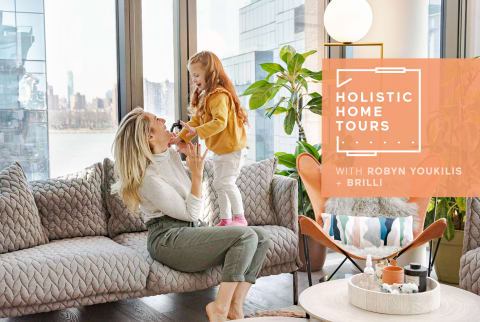 Graphic by Hannah Schwob / mbg Creative
February 28, 2020
Health coach Robyn Youkilis is mom to 4-year-old Navy, the author of two bestselling books on gut health, and a city dweller in South Williamsburg, Brooklyn—and it's safe to say she's mastered the art of apartment living. She's set about appointing her home with a considered mix of vintage and modern pieces, lots of texture, and an aesthetic that brings the outside in.
Below, take a peek into the two-bedroom, light-filled apartment she shares with her family of three, and see how the space inspires Robyn to practice healthy habits and prioritize her self-care—all day, every day.
What are three words that describe your design philosophy at home?
Modern, fashion-meets-function, and cozy.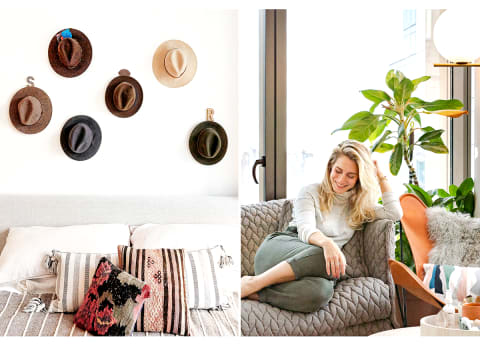 Graphic by Hannah Schwob / mbg creative
What's your favorite room in your home, and how do you use it?
I love the kitchen and living room space. The open-plan layout makes this area perfect for cooking and entertaining our friends and family at the same time. We also have an amazing view of the water, which helps relax me a lot.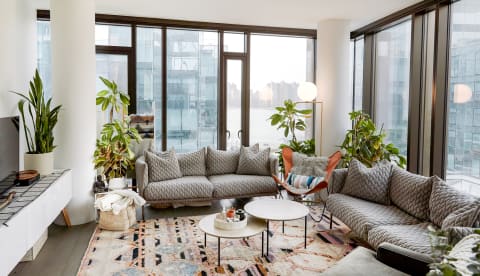 Image by Hannah Schwob / mbg creative
How does your home inspire healthy habits?
In all of our lamps around the house, we use Brilli's Charge Up light bulbs, which emulate the natural brightness of morning sunlight to support healthy circadian rhythms. It's the perfect way to perk up and boost our energy in the a.m. instead of feeling groggy and sleepy first thing in the morning.
Our kitchen is set up in a way so that I can easily throw together a nourishing meal in minutes, and the big, open-plan kitchen has ample counter space for meal-prepping. This helps set my family up for the week ahead with lots of prepped elements like roasted veggies, grains, and greens ready to become #Ruleof5Plates (from my book Thin From Within) that make it easy to "assemble" our meals rather than cooking everything from scratch. So necessary for our busy weeks.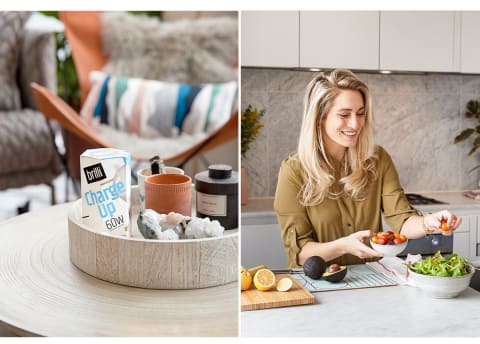 Image by Hannah Schwob / mbg Creative
I also keep my go-to appliances and my daily kitchen supplies on a free-standing shelf in the kitchen so I can easily grab and prep favorites (like my Magical Morning Matcha) without having to dig through drawers and cupboards. This is a huge timesaver for me when I'm trying to get myself and Navy out of the door, and plus, it makes me feel like a real chef.
How does your home change with the seasons?
It doesn't! Who has time to know what season it is? I always think about celebrating the holidays at home with different decorations, but without a Target close by, those intentions haven't really come to fruition. When purchasing accessories for our home, I tend to stick to my signature style—the colors, fabrics, and textures I love—which work well across all seasons. We have a collection of cozy rugs that we keep on hand in the living room—these definitely get more of a workout in the cooler months.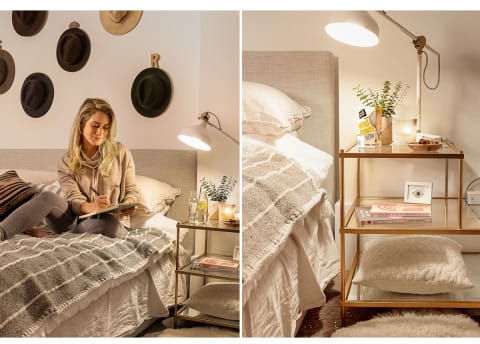 Graphic by Hannah Schwob / mbg Creative
Coziest spot in your home?
This is generally the least messy spot! Sometimes it's beside my bed (where you'll find me meditating on the semiregular or sharing my morning thoughts on Instagram); other times, it's curled up on the couch catching up on TV or snuggled in bed with a good book. (I must have a book I love at all times or I'll just end up scrolling my phone.)
What does self-care mean to you, and how does your home support yours?
First, sleep and rest: The bedroom is where the magic happens, especially because I live in New York and work for myself nearly around the clock. My must-haves for R&R in our home are a humidifier, crystals, temperature-controlled climate, and Brilli's Wind Down Light Bulbs in our bedroom lighting.
Cutting out blue light in the evening made a huge difference in how I feel come bedtime.
These bulbs are designed to help your body naturally relax, reduce stress, and prepare for sleep by cutting out blue light in the evenings. It's made a huge difference in how I feel come bedtime. We also keep our bedroom a peaceful oasis—we have a no-TV policy—because it's a space for rest and sleep.
Secondly, fun! Our spacious living room provides enough space for a spontaneous dance party at any time of the day. We love to sing and dance in our house to anything from the Moana soundtrack to The Beatles.
(Oh, and his-'n'-her sinks in our master bathroom mean that I can indulge in my morning and nighttime skin care routine, which—if I'm honest—is about 10 minutes but makes such a difference!)
What's the best compliment you've ever received on your space?
I absolutely love our apartment, so whenever someone comes over and expresses their appreciation of the space, it's a joy for me. Everyone comments on the natural light and the lighting in the space, which also makes it feel so much bigger. People also love our Moroso couches and ABC Carpet & Home rug. As a Libra, I can be a bit indecisive especially when it comes to home furnishing choices, but the couch and rug were a huge YES for me the minute I saw them!
Recreate Robyn's look: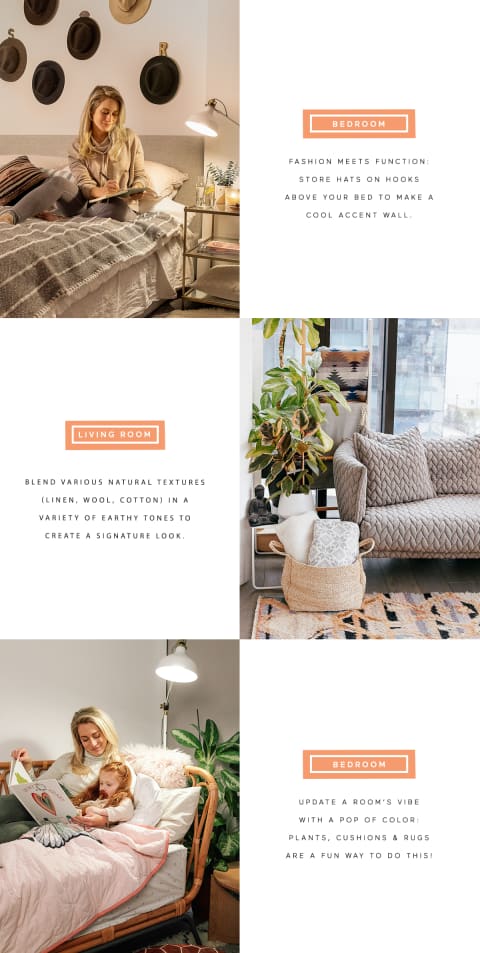 Krista Soriano
Senior Branded Content Editor
Krista Soriano is the Senior Branded Content Editor at mindbodygreen. She holds a B.A. in journalism with a minor in communications from Messiah College, graduating summa cum laude. She has written and edited lifestyle content for over 15 magazines and websites, including ELLE, Esquire, Good Housekeeping, Cosmopolitan, Marie Claire, Women's Health, Men's Health, Runner's World, and DuJour. At mbg, Soriano helps our partners—which include non-profits and Fortune 500 companies—tell their stories, covering everything from the future of regenerative agriculture, ethical banking, and the endocannabinoid system. She lives in New York.