Almond Butter Miso Soup (Yes, It's Possible *And* Delicious)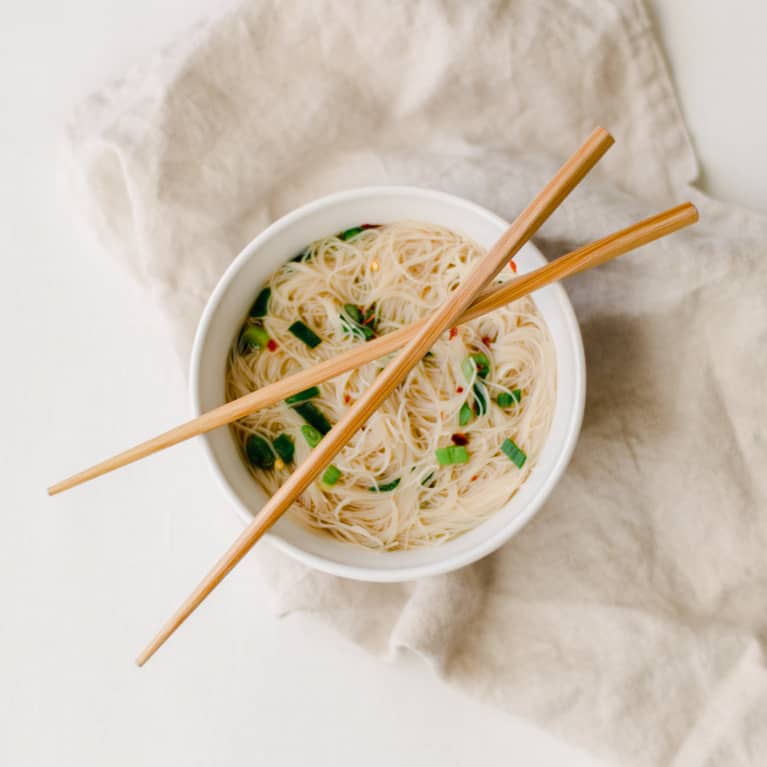 Our editors have independently chosen the products listed on this page. If you purchase something mentioned in this article, we may
earn a small commission
.
There's nothing better than curling up with a bowl of noodle soup, especially as the weather starts to cool. This recipe from Carolyn Cesario and Julie Sullivan's Nut Butter incorporates two unexpected yet complementary ingredients—miso and almond butter—for a luxuriously rich and creamy broth. The almond butter adds a nuttiness, balancing out the tangy miso, and elevates the soup to star-chef quality. Plus, the added nut butter provides plant-based protein and fiber to the meal, making it such an easy (and yummy) way to get your essential nutrients in for the day.
With notes of fresh ginger, garlic, and sesame, this soup is also great if you feel like you're fighting a cold and need an immune boost. Ginger is especially great to help fend off early signs of a cold, as it's the go-to herbal remedy used in traditional Chinese medicine. Once you make this miso soup once, it'll become a weekly staple on your stove this season; trust me.
2 tablespoons sesame oil
½ medium white onion, finely diced
5 white mushrooms, thinly sliced
2 cloves of garlic, minced
1 tablespoon freshly grated ginger
4 cups water
2-inch piece of kombu (optional)
4 tablespoons red miso paste
2 tablespoons classic smooth nut butter
4 ounces rice noodles
1 cup loosely packed spinach
Fresh cilantro, chopped, for garnish
2 lime wedges, for garnish
Red pepper flakes, for garnish
In a medium-size saucepan, heat the sesame oil over medium-high heat.
Add the onion, mushrooms, garlic, and ginger. Simmer, covered, until tender and fragrant, approximately 8 to 10 minutes. Stir occasionally to avoid sticking.
Add the water to the saucepan and increase heat to bring to a boil. Add in the kombu, if using.
Once the water is boiling, reduce heat to a simmer. Stir in the miso paste and nut butter, whisking gently until dissolved.
Add the rice noodles and spinach. Cook for an additional 8 to 10 minutes, stirring occasionally, until the noodles are fully cooked.
Remove the kombu, if using. Divide the soup between two or three bowls.
Top with the cilantro and serve with a wedge of lime. Sprinkle with the red pepper flakes.
And do you want to turn your passion for wellbeing into a fulfilling career? Become a Certified Health Coach! Learn more here.