paid content
 for

This 21-Day Cleanse Completely Reset My Digestion & Energy Levels*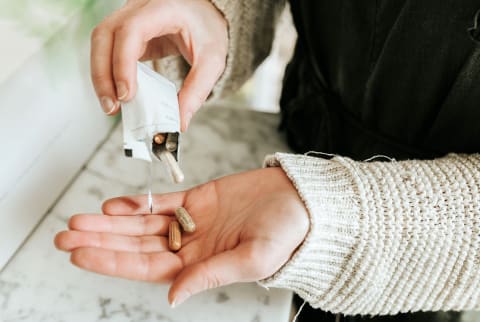 Image by Clean Program / Contributor
December 1, 2021
The human body is a pretty spectacular machine. Underneath its surface are 11 major organ systems, 37.2 trillion cells, and a brain that's still more impressive than the world's most advanced supercomputers. So it's funny how we often oversimplify our health. At least, that is what I had done most of my adult life—chalking things up to too much caffeine, not enough greens... Until it was finally time to explore my health on a deeper level.
There's no end to how much we can understand about health. But there is one consensus that gets clearer the more you learn: Everything is connected. Our digestive system delivers nutrients through our circulatory system, the liver's detoxifying role is directly connected to the immune system1, and so on. Health doesn't come from quick-fix solutions. It's a result of our body's many systems working together in harmony. I didn't realize the extent of this interconnectedness until I was fortunate to experience the three-week journey of the Clean 21 Cleanse Program.
Advertisement
This ad is displayed using third party content and we do not control its accessibility features.
When your body sounds the alarm, you listen.
Let me preface by saying that I've never been a cleanse person. Why? Because I love food, and the thought of juices and broths makes me a little hangry. But it's more than that: I believe in food and its capacity to heal us on all levels: physical, mental, and even spiritual. Cleanses were never on my mind, but my body recently had a different agenda.
I've always classified myself as "healthy," which is why I was so taken aback by the lack of energy that I started feeling inexplicably early this year. No matter how much sleep I was getting, I couldn't shake the dark circles. On top of that, my digestion wasn't moving along at an optimal pace, my skin was drier than usual, and I just felt less than awesome. I gave up caffeine, I changed up my workout routine, but the run-down feeling prevailed. Clearly, my body was sounding the alarms for my attention, which is why when I heard of Clean 21 by Clean Program, I decided to listen.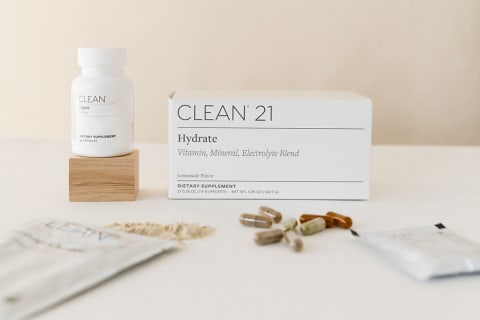 Image by Clean Program / Contributor
Advertisement
This ad is displayed using third party content and we do not control its accessibility features.
A cleanse for everyone.
Clean 21 is not your stereotypical cleanse, starting with the fact that it's simple. Every day looks like this:
Morning: First, you drink one electrolyte vitamin-mineral powder blend mixed with water (tastes like a morning cup of OJ). Then you take one supplement packet, which includes two turmeric, two neem, two triphala, and two liver-kidney capsules.* Then you mix one shake packet into a smoothie with approved ingredients.
Afternoon: In the afternoon, you get to enjoy a cleanse-approved meal. Generally that looks like any combo of whole veggies, fruits/berries, wild fish, organic chicken/turkey, brown rice, quinoa, and oils like avocado or olive. With your meal, you take two digestive enzyme capsules and another supplement packet.
Evening: At the end of the day, you have another shake packet and smoothie, with a supplement packet. Or, instead of a smoothie, you can enjoy a cleanse-approved blended soup, and your shake on the side mixed with water.
Advertisement
This ad is displayed using third party content and we do not control its accessibility features.
This program is a whole-body reset designed to touch on our body's core functions for detoxification: biotransformation, energy, defense, transport, assimilation, structure, and communication.* My whole body was talking to me, and I knew I needed whole body support.* Plus, the fact that this cleanse uses Ayurvedic herbs to provide its digestive, immune, liver, kidney, and colon support—I was in.* But not without worries and hesitation...21 days is a long time. Would I be able to stick with it?
Week 1, 2, and 3.
Let me just cut to the chase. Week 1 was tough—but in all the right ways. Between the daily smoothies packed with Ayurvedic ingredients I love like tulsi, moringa, ashwagandha, and shatavari, and a whole-food meal, my body was surprised it was actually getting the deep clean it asked for. Thankfully, I had my consultation with a Clean Program Coach (which comes with the cleanse) and that clarified everything—like my bloating being a likely sign of microbial imbalance in the gut.
With Week 2, I found my rhythm. I started experimenting with Clean Program recipes like their cleanse-approved pumpkin brownies—yes, really. (Approved sweets can be enjoyed when the craving strikes, so long as it's not after your last shake of the day.) I even made their comforting vegan mac and cheese on a cloudy fall day. As I arrived at Week 3—I can't put it any other way—I felt clean, inside and out.*
Lighter, clearer, accomplished.
But it wasn't just a feeling; I had tangible results: My digestion was more regular than it had been my entire life, my skin was clearer, and most importantly: I had energy again.* After 21 days of herbs, nutrients, and the power of clean, anti-inflammatory food, my body found its reset button.* I feel lighter, clearer, and accomplished, not just because I finished a cleanse (which I swore I could never do), but because I'm already looking forward to my next Clean 21.* And for anyone thinking about trying it too...I can't think of a better way to start 2022.
*These statements have not been evaluated by the Food and Drug Administration. This product is not intended to diagnose, treat, cure, or prevent any disease.
Advertisement
This ad is displayed using third party content and we do not control its accessibility features.
Devon Barrow
Branded Content Editor
Devon Barrow is a Branded Content Editor at mindbodygreen. She received her degree from the University of Colorado. When she's away from her desk, Devon is teaching yoga, writing poetry, meditating, and traveling the world. She's based in Boulder, Colorado.
Devon's first book, Earth Women, is coming soon. To learn more, join the mailing list, and receive updates, head to www.devonbarrowwriting.com.