Close Banner
Advertisement
This ad is displayed using third party content and we do not control its accessibility features.
paid content
 for

These Tacos Have A Crave-Worthy Secret Ingredient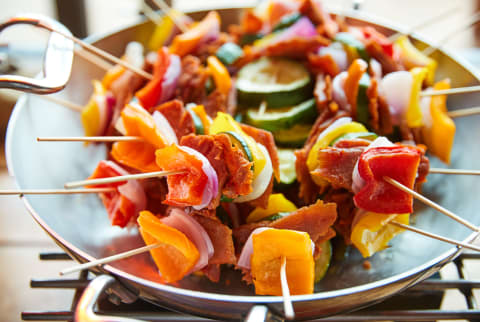 Sometimes nothing but a savory snack will do. Looking for a healthy option that's packed with flavor and hunger-crushing protein? KRAVE jerky, which comes in a variety of unique flavors and features high-quality ingredients, is the perfect high-protein grab-and-go snack that can easily fuel your next adventure. Available in many varieties like Lemon Garlic Turkey, Black Cherry Barbecue Pork, and Chili Lime Beef, KRAVE is a delicious, all-natural, and minimally processed way to get energized and satisfy a range of flavor cravings.
It also works great as an ingredient in healthy meals and appetizers when you've got time to relax and mingle. At this year's revitalize welcome reception, guests enjoyed these delicious, exclusive recipes created by Nicole Cogan of NOBREAD. Now you, the reader, can try them too!
These are sure to be a hit at your next get-together. These creative dishes will awaken your taste buds and nourish your body.
The best part? You can save any extra KRAVE jerky from the recipe to bring on your next trip! These portable packs are perfect for staying ahead of hunger when you're on the road or taking to the sky. Just toss a few into your purse or carry-on, and off you go.
Pink Peppercorn Beef Tacos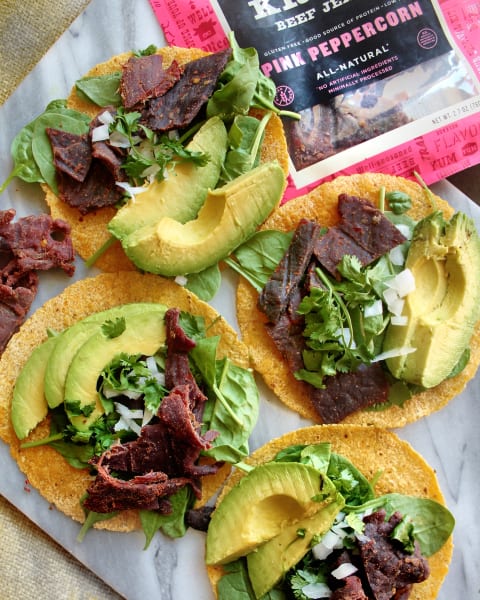 These crowd-pleasing tacos mix slightly spicy KRAVE Pink Peppercorn Beef Jerky with smooth and creamy avocado and refreshing cilantro. The combination of pink Himalayan salt and pink peppercorns perfectly balances the meatiness of the beef and delivers sweetness with a satisfying bite. Using corn tortillas also keeps these gluten-free.
Coconut oil or coconut oil cooking spray for skillet
4 corn tortilla shells
1 avocado
1 handful cilantro
1 large handful of spinach
1 small onion, diced
Spray or coat a skillet with coconut oil or coconut cooking spray.
Heat your corn tortillas on the skillet so that they crisp!
Place spinach on the tortilla shells as your base.
Top with KRAVE, avocado, cilantro, and onion!
Serve!
Honey Habañero Chicken Skewers
These sweet and spicy chicken skewers hit all the right flavor notes. The KRAVE Honey Habañero Chicken Jerky in this recipe features tender chicken breast from chickens raised without antibiotics or hormones, honey, peach juice, and smoky spices like paprika, plus a kick from habañero pepper. A breeze to prepare, these are a fun way to enjoy fresh veggies and tasty protein. To save time, you can slice the veggies ahead of time so they're ready to go when you are.
4 skewer rods
2 tablespoons olive oil
1 onion
1 pepper
1 zucchini
Preheat the oven to 350ºF.
Wash and slice veggies. Cut the zucchini into simple rounds.
To cut the pepper and onion for the skewers: Stand a bell pepper upright and slice the outer walls of the pepper off of the stem and seeds. Discard the stem and seeds. Lay the bell pepper walls flat and cut them into pieces roughly 1 to 1½ inches square. For the onion, slice it in half lengthwise and discard the skin. Also slice off the ends. Cut each half into another half, making four quarters. The onion will peel apart into perfect squares
Lay all veggies on a baking tray and top with 2 tablespoons olive oil, salt, and pepper.
Roast for 20 minutes at 350ºF. If more time is needed, crank the oven to 400ºF and cook for another 5 minutes or so.
Skewer the veggies, rotating zucchini, onion, pepper, and KRAVE Jerky.
Serve!
More On This Topic
more Food
Advertisement
This ad is displayed using third party content and we do not control its accessibility features.
Advertisement
This ad is displayed using third party content and we do not control its accessibility features.