You've Gotta Try These Vegan Fudge Pops From The Pollan Family
RYT-200
By Caroline Muggia
RYT-200
Caroline Muggia is a writer and environmental advocate with a B.A. in Environmental Studies & Psychology from Middlebury College.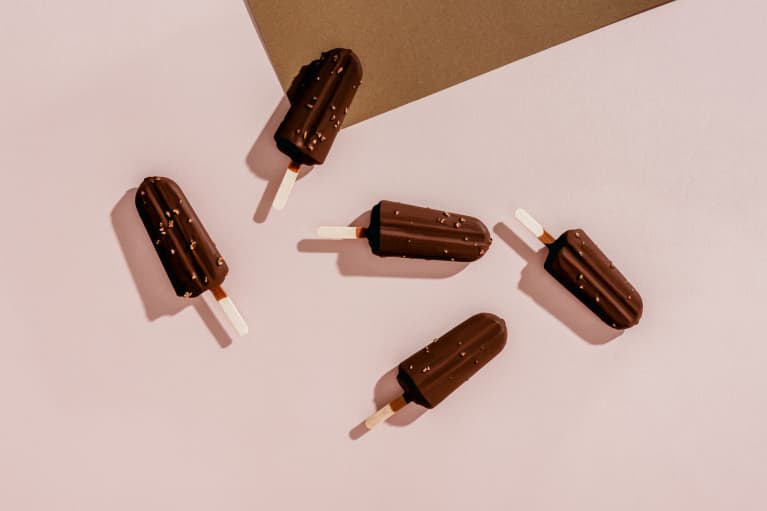 Our editors have independently chosen the products listed on this page. If you purchase something mentioned in this article, we may
earn a small commission
.
Sometimes you just need a sweet treat, and these peanut butter salted fudge pops hit that spot.
In the new cookbook Mostly Plants, the Pollan family—aka sisters Lori, Dana, and Tracy, alongside their mother, Corky—share some of their favorite, predominantly plant-based recipes. So while their brother and son, Michael Pollan, coined the seven words "eat food, not too much, mostly plants," that doesn't mean you can't ever indulge.
These frozen treats feature healthy fats including full-fat coconut milk known to improve mental clarity, chocolate chips to help boost your mood, and peanut butter for some quality protein.
This is a great recipe to make with family and friends because everyone can make their own pop. In fact, the Pollan siblings loved making this recipe as young kids, and every time they eat them, it brings back childhood memories. So here's to making your own memories and enjoying these delicious vegan delights when a sweet tooth strikes.
Vegan Peanut Butter Salted Fudge Pops
One 13.5-ounce can full-fat coconut milk
1 cup semisweet chocolate chips (vegan)
3 tablespoons natural creamy peanut butter
2 tablespoons agave nectar
1 teaspoon pure vanilla extract
Sea salt
Ice pop molds
6 to 8 ice pop sticks
Pour the coconut milk into a saucepan over medium heat. Add the chocolate chips, peanut butter, agave nectar, vanilla, and a pinch of salt. Stir until the ingredients are melted and well incorporated, 2 to 3 minutes. Pour into a large liquid measuring cup or pitcher.
Pour the fudge mixture into the molds and freeze for 30 minutes, then remove from the freezer and insert a stick into the center of each mold. Freeze until solid, at least 4 hours, before serving.
To remove a pop from the mold, fill a coffee mug with warm water and briefly submerge.
Based on excerpts from
Mostly Plants
by Lori, Dana, Tracy, and Corky Pollan with the permission of Harper Wave. Copyright © 2019.