The Wind Down: How A Bioengineering Professor Gets High-Quality Sleep

Professor of Bioengineering
By Russ Biagio Altman, MD, PhD
Professor of Bioengineering
Russ Biagio Altman is the Kenneth Fong Professor of Bioengineering, Genetics, Medicine, Biomedical Data Science and (by courtesy) Computer Science, and past chairman of the Bioengineering Department at Stanford University.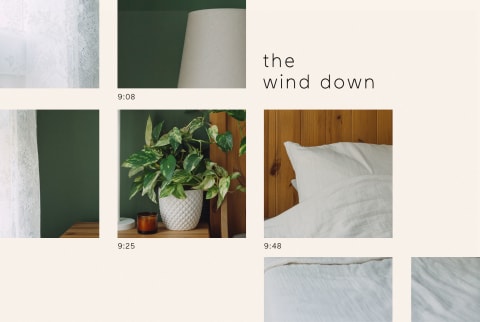 Image by Tanya Yatsenko / Stocksy
August 23, 2023
We carefully vet all products and services featured on mindbodygreen using our
commerce guidelines.
Our selections are never influenced by the commissions earned from our links.
Our sleep series, The Wind Down, provides a minute-by-minute peek into the wind-down routines that get well-being experts ready for bed. Today, we're relaxing with bioengineering and genetics professor
Russ B. Altman, M.D., Ph.D.
, who is lucky enough to have good sleep written into his genes.
I've been a great sleeper my whole life; I can fall asleep in any situation pretty easily. (I'm famous among my friends for falling asleep on a chair or couch if they stay over too late!)
As an undergrad, I remember asking my M.D. adviser if it was abnormal to sleep for 10 hours/night (which is what I did), and he said, "No, always get the sleep you need." I still live by that. As a medical intern, I didn't drink coffee and always tried to get sleep. Sometimes I had to stay up very late or all night, but then I did my best to catch up right away. Some say there is no "catching up" on sleep, but I found it was important to get as much sleep as possible as soon as possible after a late night taking care of patients.
Note: I'm not chronically sleep-deprived, and I have not been diagnosed with narcolepsy (other reasons that people fall asleep easily) although I sometimes wonder if I should be checked to be sure I don't have something like sleep apnea. I once told a friend who is a sleep expert about my profound ability to fall asleep, and the part that impressed him most was that when I'm anxious at night, I go to sleep even earlier. I have found that when I feel nervous (like before tests or big days), it makes me sleepy, so I always go into big days with lots of sleep. I also notice that I am more tired during allergy season, and I do have big-time hay fever. My father was ill for about a year, and worrying about him disrupted my sleep. For the first time in my life, I woke up at 4 a.m. worrying about things, though this stopped eventually.
All I need to sleep is a bed and a good pillow (I previously didn't even need the bed—but at my age, I do). I never regret sleeping. I'm pretty positive and energized in my life—and I attribute some of this to my high levels of sleep.

Average hours I sleep a night: 8.5
Ideal bedtime: 10:30 p.m.
Ideal wake-up time: 6:30 to 7 a.m.
Nightstand essentials: Illuminated clock (I don't like pitch dark, and I like to check the time when I have micro-wakes.)
Sleep bad habit: My wife and I go to bed with the TV on and set a timer to turn it off after 30 minutes.
Caffeine consumption: All day, not sensitive to caffeine. After reading Why We Sleep: Unlocking the Power of Sleep and Dreams, I reduced evening caffeine... But having said that, I just had an espresso tonight at 6 p.m.
How I track my sleep: I don't use a sleep tracker.
The last product or habit that changed my sleep for the better: My sleep has always been great. But bad mattresses give me a backache, so new mattresses are always a joy.
The first thing I do when I wake up: Say good morning to my wife.

10 p.m.: I check with my wife about when she is ready for bed. She's usually in her home office—sometimes I'll even go to bed and call her to tell her that I'm in bed while she's wrapping up work.
10:30 p.m.: I go to bed and turn on YouTube's Country Life Vlog, which has hypnotically beautiful and relaxing videos of people cooking.
10:35 p.m.: Turn on auto timer to turn off TV in 30 minutes.
10:36 p.m.: Close eyes and say good night.
10:37 p.m.: Fall asleep.... and get up to pee 1-2 times per evening. Welcome to being 61 years old.
7 a.m.: Alarm plays "And She Was" by the Talking Heads. Get up. Have coffee and get on with my day.

Russ Biagio Altman, MD, PhD
Professor of Bioengineering
Russ Biagio Altman is the Kenneth Fong Professor of Bioengineering, Genetics, Medicine, Biomedical Data Science and (by courtesy) Computer Science, and past chairman of the Bioengineering Department at Stanford University. He also serves on the advisory board of Nebula Genomics, a personal whole genome sequencing company. His research applies computing (informatics, data science and AI) to problems relevant to medicine. He is interested in methods for understanding drug action, efficacy and adverse effects while integrating molecular, cellular, organism and population data. His lab has a special focus on how human genetic variation impacts drug response—pharmacogenomics. He is the founding Principal Investigator of the Pharmacogenomics Knowledgebase (PharmGKB.org). He helps lead an FDA-supported Center of Excellence in Regulatory Science & Innovation, and is an Associate Director of the Stanford Institute for Human-Centered Artificial Intelligence.
Dr. Altman holds an AB from Harvard College, an MD from Stanford Medical School, and a PhD in Medical Information Sciences from Stanford. He received the U.S. Presidential Early Career Award for Scientists and Engineers and a National Science Foundation CAREER Award. He is a fellow of the American College of Physicians (ACP), the American College of Medical Informatics (ACMI), the American Institute of Medical and Biological Engineering (AIMBE), and the American Association for the Advancement of Science (AAAS). He is a member of the National Academy of Medicine. He is a past-president, founding board member, and a fellow of
the International Society for Computational Biology (ISCB), and a past-president of the American Society for Clinical Pharmacology & Therapeutics (ASCPT). He has chaired the Science Board advising the FDA commissioner, served on the NIH Director's Advisory Committee, and co-chaired the IOM Drug Forum. He is an organizer of the annual Pacific Symposium on Biocomputing, and a founder of Personalis (NASDAQ: PSNL). Dr. Altman is board certified in Internal Medicine and in Clinical Informatics. He directed the Stanford Biomedical Informatics training program from 2000-2018, and currently directs the undergraduate major in Biomedical Computation. He received the Stanford Medical School graduate teaching awards in 2000 & 2020 and its mentorship award in 2014. He is the founding editor of the Annual Reviews of Biomedical Data Science, and hosts a podcast entitled "The Future of Everything."