The Rise Of The Circular Economy & What It Means For Your Home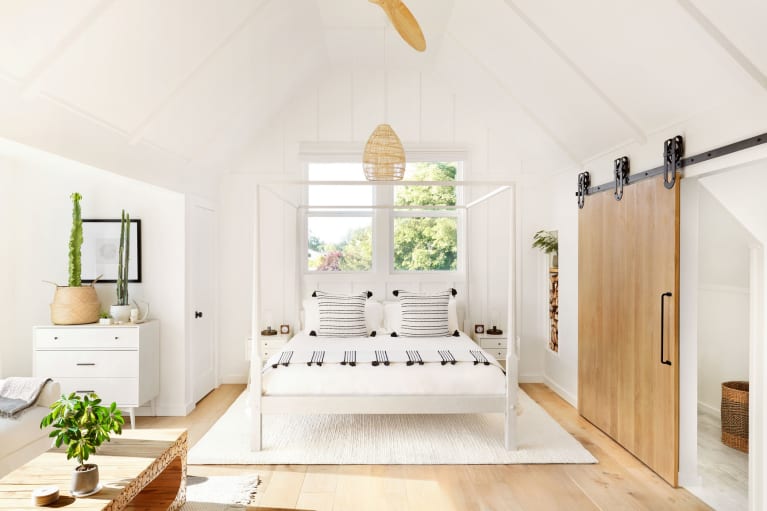 Our editors have independently chosen the products listed on this page. If you purchase something mentioned in this article, we may
earn a small commission
.
The life cycle of most of the stuff we buy looks something like this: The item—let's say it's a mattress—is created out of raw materials, bought and used for a few years, and then discarded. Then, it's off to the landfill or a recycling plant where some of its material can be extracted and reused for industrial goods like insulation.
This is a best-case scenario since the recycling industry in the U.S. is at a bit of a standstill right now. Ever since countries like China stopped accepting our recycling last year, recyclers in this country don't have the infrastructure to get rid of goods responsibly, and many have resorted to sending it off to landfill instead.
This means that we are now trashing more goods than ever before. The circular economy has emerged as one way to reduce the massive amount of waste people around the world cycle through every year.
A quick intro to the circular economy.
The birth of the circular economy can't be traced back to one person. It's a concept that's been building off existing schools of thought like Cradle to Cradle, biomimicry, and regenerative design for the last 50 years but feels more relevant and necessary today than ever before.
When applied to physical products, designing for circularity means creating things that can be reused multiple times or broken down into their constituent parts and then rebuilt into equally valuable items. It's about designing out that end-of-life step altogether and making objects that can stay in use, in some form, indefinitely.
In addition to being more sustainable, this way of doing business has clear economic benefits.
By thinking circularly, companies can reduce their environmental impact in two major ways: by creating less waste and gobbling up fewer raw materials. In addition to being more sustainable, this way of doing business has clear economic benefits. According to research by Accenture, a circular economy could generate $4.5 trillion of additional economic output by 2030, and the International Labour Organization predicts it could generate 18 million new jobs by then too.
Groups like the Ellen MacArthur Foundation, a U.K.-based organization, are busy working with businesses and governments to expedite the transition to a circular economy. Most recently, the group collaborated with fashion industry leaders including Gap, H&M, and Reformation on a "Jeans Redesign" framework that will keep denim in circulation for longer.
New corporate standards like these certainly push the circular movement forward—but ultimately it's up to everyday consumers to drive it home.
Initiatives like Good Stuff, an experimental pop-up in NYC, are helping get more people excited about it. The one-month exploration of how to live well in the circular economy displayed furniture, fashion, and home goods that were built using circular economy principles or bought off of secondhand websites like Apt Deco and The Real Real. Visitors were welcome to browse the space, attend educational sessions like "Refashion: Upcycled Boas" and "Say Goodbye to Stuff Sustainably," and bring in their own items to be repaired or recycled.
Borrowing from food legend Michael Pollan, Good Stuff operated off the motto "Have Good Stuff. Not too much. Mostly reclaimed."—one that we could all stand to adopt in our own lives. Here are a few shifts happening in the home space right now that show our future is decidedly circular.
Electronics: E-waste is getting a makeover. 
Back in 2015, Google made a commitment to incorporate circular economy principles into its infrastructure, operations, and products. "We really look at it through the lens of three key principles: Designing out waste, keeping our products and materials in use, and promoting healthy materials that will enable us to perpetually cycle our resources," Kate Brandt, Google's chief sustainability officer, explained on a call to mbg.
In the four years since, the company has found ways to make it easier to break down its electronics into component parts that can be scrubbed and then resold on secondary markets. It's also started incorporating recycled plastics into hardware like the Google Home and Chromecast.
"Through these practices, we've found that we're able to save hundreds of millions of dollars a year and use far less new raw materials," Brandt said.
In nature, there is no waste... So how do we bring that thinking into our modern economy?
Her team has also released a circular economy tool called Your Plan Your Planet to give users quick tips on how to reduce household impact. So far, 300,000 people have pledged to extend the life of their stuff using the tool, and teachers have begun to teach its companion curriculum in their classrooms across the U.S.
"In many ways, it's about returning to what we've learned from nature," Brandt said of the circular economy. "In nature, there is no waste. Everything gets reused and repurposed and reborn again. So how do we bring that thinking into our modern economy?"
Textiles: This company is breathing new life into old bedding.
Two years ago, Coyuchi, an organic bedding and towel brand, teamed up with The Renewal Workshop, a circular company in the fashion space, to create a subscription model that would extend the life span of its products. In a first for the home textile industry, Coyuchi has been able to divert 4,500 pounds of textile waste from the landfill by reimagining and reselling the old sheets people have swapped out.
"Essentially you're chopping up the product and turning it into fiber again, and then you're able to re-spin that," Eileen Mockus, Coyuchi's president and CEO, told mbg. "We're trying to make sure that we're incorporating that last step, the end-of-life use of a product, into our sustainability goals."
Pantry: Your ice cream container doesn't belong in the trash anymore.
Earlier this year, recycling company TerraCycle made a splash with its new Loop program—which promises to deliver common household items from companies like Unilever, Procter & Gamble Company, Coca-Cola, and Haagen-Dazs in reusable packaging. It's a subscription program that delivers items to participating households and picks up the empties (to be cleaned and reused) once they're done.
"When consumers purchase virtually any product, they don't want the packaging. Loop solves for that," Eric Rosen of TerraCycle told mbg of the closed-loop solution when it launched in January. The program has since piloted in New York, New Jersey, Pennsylvania, Maryland, and Washington, D.C., and is now taking orders in Delaware, Connecticut, Massachusetts, Rhode Island, and Vermont. (If you live in those areas, you can learn more about how to sign up here.)
"Recycling is like Tylenol: You take it when you have a headache, but there are better ways to never get the headache to begin with," TerraCycle's founder and CEO Tom Szaky told us last year, speaking to his mission to design single-use materials out of the everyday lexicon.
Furniture: Subscriptions are in, and low-quality materials could be on their way out.
Furniture subscription companies like Feather and Fernish let people rent high-quality furniture on a month-to-month basis and return it when they're done so it can be cleaned and recirculated to a new home. This type of service is becoming more common, especially among millennials craving more freedom to move to cities unencumbered, and it has the potential to clean up some of the 9.8 million tons of furniture we send to landfill in the U.S. every year.
At the same time, large furniture producers like IKEA are starting to think more circularly too. "We're trying to make more from less to make less waste in our production," Lena Pripp-Kovac, head of sustainability at Inter IKEA Group, said at IKEA's annual Democratic Design Days press event held this spring.
As it stands now 30 to 40% of the company's footprint comes from raw material extraction, Pripp-Kovac said, so building higher-quality pieces that won't need to be replaced as often will be key if IKEA wants to achieve its ambitious sustainability goals. To make this happen, the Swedish brand is experimenting with more modular pieces that can be broken down and rebuilt, as well as buyback programs and furniture rentals in select markets.
"We know that overconsumption is a problem," Pripp-Kovac said. "We need to start to think about products in a different way in the home."