Furniture Subscriptions Are Going Mainstream & The Planet Is Thanking Us

mbg Sustainability + Health Director
By Emma Loewe
mbg Sustainability + Health Director
Emma Loewe is the Senior Sustainability Editor at mindbodygreen and the author of "Return to Nature: The New Science of How Natural Landscapes Restore Us."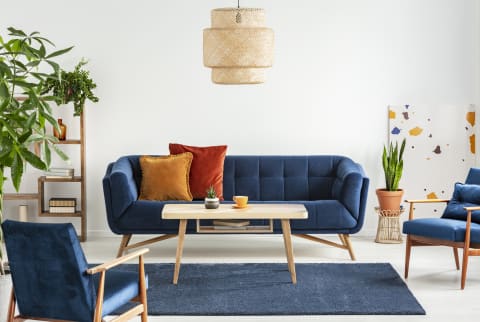 Image by Katarzyna Bialasiewicz / iStock
July 12, 2019
Here in Brooklyn, it's not uncommon to see a stack of books, a fan, or even a couch strewn on the sidewalk. That's just where belongings end up when they're outgrown by their owners. If passersby are interested—and have easy access to a U-Haul—they can take them home and give them a second life. And, if not, it's off to the landfill they go.
According to a report from the U.S. EPA, furniture accounts for 9.8 million tons of trash every year. With a less than 1% recycling rate, it's the least recycled category of waste. When I attended an event for Junkluggers, a local trash removal service that clears out people's homes and offices during big moves, I learned that they collect upward of 10 tons of waste every single day. They charge a premium for the service (it starts at $228)—and plenty of people are willing to pay it. After all, depending on what you're looking to get rid of, there just aren't many ways to dispose of furniture these days.
Advertisement
This ad is displayed using third party content and we do not control its accessibility features.
Companies like Feather and Fernish want to change that. By applying the billion-dollar Rent the Runway subscription model to home goods, they're hoping to clean up our sidewalks and landfills—and save nomads everywhere some headache in the process.
How the furniture subscription model works.
Both furniture subscription companies launched about two years ago when their respective founders grew tired of the drudgery of moving furniture from apartment to apartment.
"Each time you move, the layout of your space is changing. Its style is changing. Your personal style is changing. Life is just changing so rapidly," Jay Reno, founder and CEO of Feather tells mbg. His idea to offer things like couches, end tables, and lighting on a pay-by-the-month subscription service has since ballooned to a multimillion-dollar business that's now active in New York City, San Francisco, Los Angeles, and Orange County. (To give you a sense of how big it's gotten, a Google search of the word feather shows the company's site before the bird outgrowth.)
Fernish, which started in Los Angeles and quickly spread up to Seattle, has a similar origin story. "You think about urban professionals and they're constantly changing different professional opportunities or relationships," founder Michael L. Barlow says of his inspiration to start the company. It's since been featured on the front page of the New York Times Sunday Style section, in an article that declares furniture rentals have "become almost posh."
Here's how they work: At Feather, customers can either opt to subscribe as a member or non-member. Members pay a $19 monthly service fee, but it buys them the ability to get discounted prices on furniture and swap out pieces annually. Members and non-members both get billed monthly for the furniture they subscribe to—say, $77 for a media console from Joybird and $37 for a West Elm bed frame. They can return the furniture to Feather at any point (where it will then be deep-cleaned and offered to the next customer) or choose to pay out its total retail cost over time and keep it. Fernish has a similar model, but it doesn't offer memberships.
Who's signing on to it? And why?
Both companies have seen early adoption from millennials, many of whom are also forgoing homeownership in favor of increased mobility and freedom. Their customer appreciates well-designed, high-quality home goods but is put off by the idea of being stuck with them forever.
"The relationship people have with their stuff is changing, and you're seeing that in other areas too," says Reno, referencing other popular subscription models in clothing (Rent the Runway), transportation (Lyft and Uber), and music and entertainment (Spotify and Netflix). "The customer who is coming to us realizes that when it comes to ownership of physical stuff—there could be a better solution."
Beyond affording more flexibility, furniture subscriptions have undeniable environmental benefits since they should theoretically keep pieces in circulation for longer. Both Feather and Fernish only stock pieces that they believe will stand the test of time and can be easily repaired or refurbished. As Barlow puts it, "Our goal is to never have low-quality products ever be put into landfill."
Advertisement
This ad is displayed using third party content and we do not control its accessibility features.