The Skin Care Supplement Recommended By mbg's Beauty Director*

mbg Beauty Director
By Alexandra Engler
mbg Beauty Director
Alexandra Engler is the Beauty Director. Previously she worked at Harper's Bazaar, Marie Claire, SELF, and Cosmopolitan; her byline has appeared in Esquire, Sports Illustrated, and Allure.com.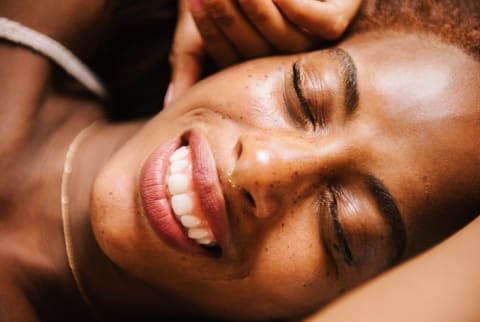 Image by Jamie Grill Atlas / Stocksy
October 31, 2021
As a beauty editor, a big part of my job is recommending products. I do it on the website in my stories, via my podcast while I'm chatting with other guests, and—well—in person when friends or co-workers come to me with questions or complaints about their current lineup. I never get bored of it. This is largely due to the fact that product recommendations are so unique to the individual, so whittling down the list of options until you get the perfect match is really about getting to know someone—their likes, specific tastes, needs, and concerns.
And one question I get asked about frequently is what skin care supplements are worth it? A valid question considering how many products are on the market, and their wide range of sparkly and spectacular promises. They all can't live up to the hype, no? In short: No! Many fall short on formulation, efficacy, innovation, and transparency—which makes it hard to offer meaningful recommendations to folks looking in earnest to help their skin from the inside out.
One I have no problem with recommending to just about anyone I come into contact with? Our cellular beauty+, a one-of-a-kind blend of four premium bioactives that actually delivers. Sure, I'm biased, but I also know what went into the making of the supplement—so I can feel confident with my glowing recommendation.*
Advertisement
This ad is displayed using third party content and we do not control its accessibility features.
Why this beauty editor recommends cellular beauty+ to any skin care fan. 
Listen, I love learning about the science of skin—and how you can use science to improve your own. That's why this formula piques my interest so much: It's a revolutionary formula that combines four targeted cosmeceutical ingredients that are shown to enhance the quality of the skin and be proactive in its care for the long term.*
Let's start with astaxanthin. This potent carotenoid phytonutrient and potent antioxidant is clinically shown to protect skin cells (notably against UV exposure) and help preserve the collagen layer.* But what does that mean for your complexion as you take it?
Well, several clinicals point to real, tangible skin care benefits of taking the phytonutrient: ​​In one study, astaxanthin supplementation significantly improved skin elasticity, smoothness, and hydration in just 12 weeks.* Another study found astaxanthin improved skin wrinkles, age spot size, and skin texture.* And in a recent double-blind clinical, subjects reported significant improvement in moisture levels (especially around the eyes), overall improved elasticity, and appearance of tone.* On that latter point: I've been taking the new formula and have noticed significant improvement in the appearance of my eyes—they're less sallow and sketched with fine lines and far more supple and bright.*
This is folded in with another favorite of mine: phytoceramides. Ceramides are a natural lipid found in the skin barrier and play an important role in keeping the skin hydrated. Plant-derived versions, when taken orally, can enhance your natural moisture levels—up to 35% according to one study.* The cool part is it really doesn't take that long to see soft, supple skin in the mirror; just halfway through my first bottle, my skin looked and felt more dewy: Like I had upgraded to the super-luxe face cream that holds a special place on the top shelf.* It's not in my imagination either, research also shows that you may see improved skin hydration after just 15 days.*
Next on the noteworthy list is pomegranate whole fruit extract, a premium botanical concentrated in antioxidants. While consuming antioxidants, in general, is always beneficial, I love having this one in my routine. Why? Its ability to promote cellular resilience and its anti-inflammatory properties.* Plus, it's clinically shown to enhance antioxidant responses, which can help the body attenuate oxidative stress (basically when your body is in free-radical free-fall) by increasing antioxidant capacity in the body.* In fact, pomegranate extract has been clinically shown to reduce biomarkers of oxidative stress.*
Finally, coenzyme Q10 is a naturally occurring antioxidant in the body. Your body makes it all on its own, and it plays many necessary functions—notably by aiding the cells' mitochondrial function. Literally: CoQ10 is required for cellular energy production and rejuvenation.* But, like most good things in the body, it declines with age. But when you supplement with ubiquinol (the most bioavailable and bioactive form of CoQ10, we might add) it is clinically shown to increase CoQ10 levels.* And this has some pretty exciting benefits for your skin cells: One clinical trial found that CoQ10 supplements reduce wrinkles and lines while enhancing skin smoothness.*
The takeaway.
I hardly—if ever—believe in a one-size-fits-most approach to beauty. I think the most effective approach to skin care is to get to know your own and build a routine from there. But I truly believe that almost anyone can benefit from adding this into theirs—as the formula contains powerful ingredients that can improve skin health from the inside out.*
If you are pregnant, breastfeeding, or taking medications, consult with your doctor before starting a supplement routine. It is always optimal to consult with a health care provider when considering what supplements are right for you.

Alexandra Engler
mbg Beauty Director
Alexandra Engler is the Beauty Director at mindbodygreen. She received her journalism degree from Marquette University, graduating first in the department. She has worked at many top publications and brands including Harper's Bazaar, Marie Claire, SELF, and Cosmopolitan; her byline has appeared in Esquire, Sports Illustrated, and Allure.com. In her current role, she covers all the latest trends and updates in the clean and natural beauty space, as well as travel, financial wellness, and parenting. She has reported on the intricacies of product formulations, the diversification of the beauty industry, and and in-depth look on how to treat acne from the inside, out (after a decade-long struggle with the skin condition herself). She lives in Brooklyn, New York.