Butter coffee has quickly caught on in the wellness industry. The coffee concoction is made of black coffee blended with grass-fed butter and MCT or coconut oil. Some swear by starting their day with this hot and unique cup of coffee because they say it helps suppress hunger, promotes weight loss, and provides some mental clarity. Plus, whenever you see some successful businesspeople or bloggers trying something, chances are you want to try it, too.
But what to do if you're plant-based?
Whether you eat a vegan diet, or butter and dairy simply aren't your thing, how do you hop on this trend? What if you don't do coffee or caffeine?
Well, I'm here today to share something I am quite excited about—My Plant-Based, Coffee-Less, Dark Chocolate Superfood Latte. Alert the press: This is going to be the next hot thing in the wellness space.
Inside this sweet and satisfying latte are a handful of ingredients I like to have daily for their wide range of health benefits. I use Califia Farms Almondmilk Creamer instead of the traditional butter to make this creamy and satisfying while keeping things plant-based. I also love that Califia Farms Almondmilk Creamers are low in sugar despite their seriously dreamy flavors. They're also non-GMO; carrageenan-free; and have no gluten, dairy, or soy (all super important in my book!).
Here's how I make it:
Coffee-Less, Butter-Less, Adaptogenic Latte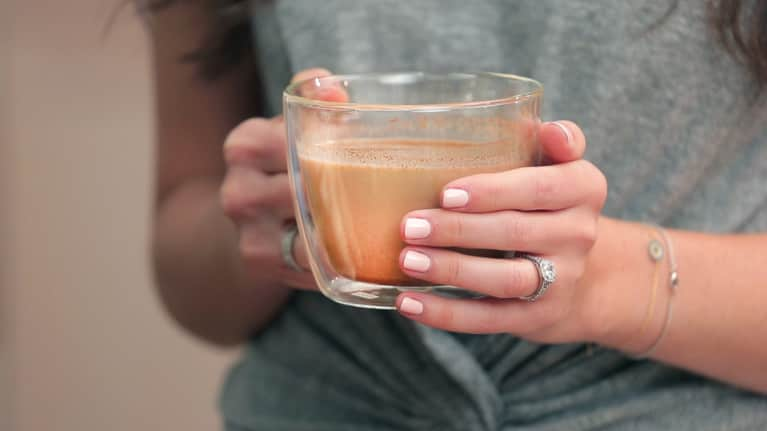 ½ cup hot water (you can also use Califia Farms Cold Brew Coffee heated up, but it won't be caffeine-free then!)
2 tablespoons Califia Farms Almondmilk Creamer (I used the unsweetened)
1 tablespoon coconut or MCT oil
½ teaspoon cacao powder
½ teaspoon ashwagandha powder
½ teaspoon maca powder
½ teaspoon vanilla bean powder
½ teaspoon cinnamon
Add ingredients to your blender.
Blend on high for about 30 to 60 seconds or until the tea, Almondmilk Creamer, oil, etc., are mixed well.
Pour into your favorite cup and enjoy!