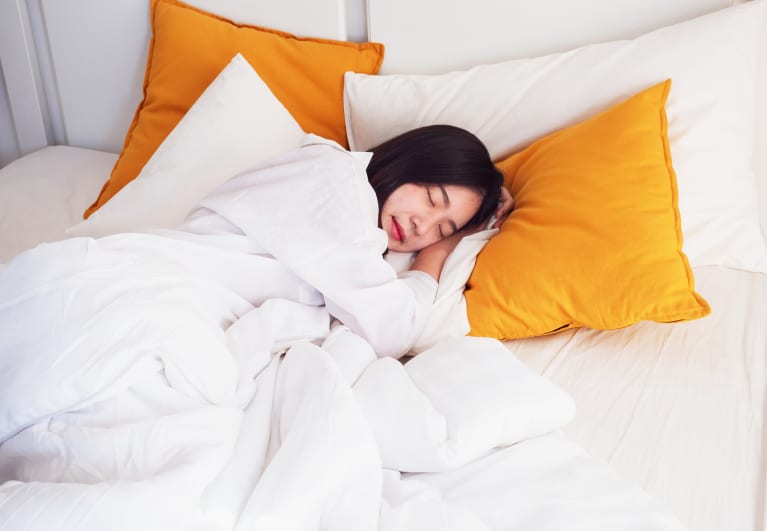 Is there anything that feels as good as getting into bed at the end of a long day? Deep, restorative sleep is something both our bodies and minds biologically crave—and the amazing thing is that we get to do it every single day.
The reality? Our bedtimes get disrupted by nightly scrolling sessions, the kids, pets, that new TV show with a cliffhanger at the end of every episode, stress, work obligations, late dinners, the list goes on. While we know we should be aiming for at least seven to eight hours of sleep each night, more than one-third of Americans actually don't get enough, according to the CDC, which can mean bad news for our physical and mental health over time.
Thankfully, we've got an internal biological clock—our circadian rhythm—that nudges us when it's time to wind down and get that shut-eye. As daylight fades, our brain signals the release of melatonin to shift us into night mode and relax our bodies to sleep. We can help this natural process along with a few healthy bedtime practices, like dimming the lights and shutting off our screens. And for those nights we need a little extra help falling asleep, taking a high-quality supplement like Nature Made Melatonin one to two hours before bed can help kick our levels into high gear.
As if we needed any more convincing beyond our comfy bed, we break down why prioritizing slumber is so important below.
Click on the numbers below to see the immediate benefits of quality rest; then, hit the arrow on the left to see what could happen without one night of good sleep.
If you
slept well
last night...
Close
1
You're a better learner and problem-solver
Good rest doesn't just keep you alert and attentive—research shows that it supports memory performance, clear thinking, and complex decision making.
Close
2
Your creative juices flow
Experts agree that when the brain fog lifts thanks to restorative sleep, it's easier to tap into your creativity.
Close
3
You're more productive
That full day's to-do list has nothing on the energy you get from a full night's sleep.
Now, click on the numbers below to see the long-term impact of quality rest; then, hit the slider arrow to see the impact of poor sleep over time.
Over time,
quality sleep
helps with...
Close
1
Less stress
Sleep has a direct effect on your stress hormone — high blood pressure is associated with not getting enough restorative rest.
Close
2
A stronger immune system
While you sleep, your body produces cytokines, which protect against infection-causing viruses and bacteria. Getting at least seven hours of sleep can help ward off the common cold.
Over time,
poor sleep
could lead to...
Close
3
A higher risk for heart disease
A review of 15 studies found that people who don't get enough sleep are nearly 50 percent more likely to develop heart disease than people who regularly get in seven to eight hours.
Close
4
A higher risk for type 2 diabetes
One study found prediabetic symptoms in normally healthy adults after getting only four hours of sleep six days in a row. (The symptoms went away after a week of regular sleep!) And repeatedly sleeping less than six hours a night can up your chance of developing type 2 diabetes.
Close
5
A link to weight gain
Studies have shown a strong tie between sleep deprivation and obesity—adults consistently sleeping fewer than five hours a night are 55% more likely to become obese.