8 Of The Healthiest Frozen Meals You Can Buy At The Grocery Store

Contributing Health & Nutrition Editor
By Stephanie Eckelkamp
Contributing Health & Nutrition Editor
Stephanie Eckelkamp is a writer and editor who has been working for leading health publications for the past 10 years. She received her B.S. in journalism from Syracuse University with a minor in nutrition.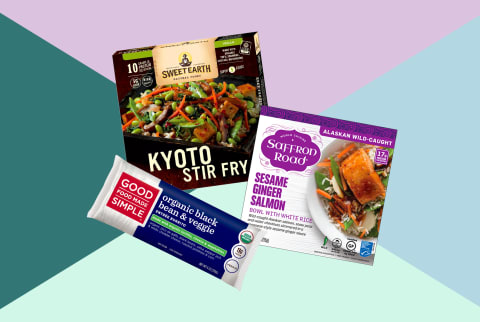 May 31, 2019
Some nights—after you've managed to drag your tired body to a post-work sweat session at the gym—you get home and the thought of preheating the oven or chopping vegetables makes you want to cry. You're. Just. So. Tired.
And so, maybe you call for takeout—which is fine once in a while. But this is also the situation when having a stockpile of healthy frozen meals can be a lifesaver. We're not talking about the rubbery, flavorless, nutritionally questionable frozen meals of yore, either. The frozen meal category has come a long way in terms of taste and quality, with plenty of options that are free of preservatives, excessive sodium, and artificial ingredients.
Here are eight of our favorite healthier frozen entrees, including some plant-based and paleo-friendly picks, that you can find at most grocery stores. (Be sure to check out these five frozen meals you can order online, too.)
Good Food Made Simple Organic Burritos
For a super-quick dinner you can still feel good about, Good Food Made Simple offers two new all organic burritos: Organic Black Bean & Veggie, loaded with organic cheddar and pepper jack cheese, black beans, salsa, roasted potatoes, and corn; and Organic Cilantro Lime Chicken, featuring organic chicken, brown rice, salsa, black beans, corn, bell peppers, and lime.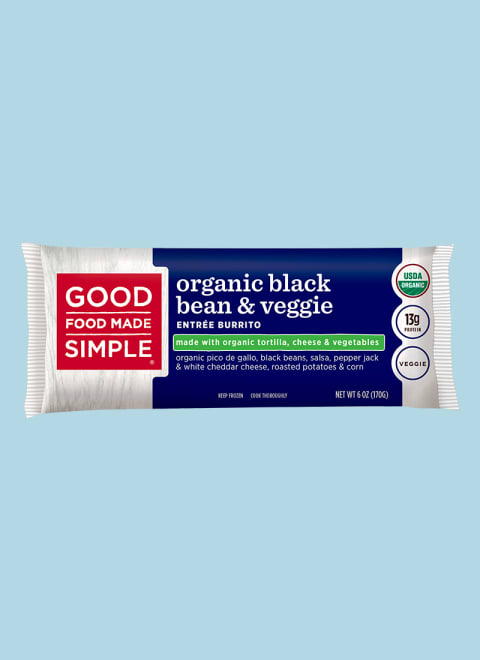 mbg creative + custom
Kashi Amaranth Polenta Plantain Bowl
Kashi offers six plant-based frozen entree bowls, featuring whole grains, seeds, roasted veggies, and delightful blends of herbs and spices. Their Latin-inspired Amaranth Polenta Plantain Bowl—also featuring black beans, sweet potatoes, kale, and ancho chili sauce—is one of our favorites and packs 11 grams of fiber (44 percent of your recommended daily intake) per serving. Bonus: All ingredients are non-GMO.
mbg creative + custom
Saffron Road Sesame Ginger Salmon
Saffron Road brings a variety of cuisines (Indian, Thai, Mexican, and more) to the freezer aisle with their meals, which feature grass-fed beef, wild-caught fish, antibiotic-free chicken, and zero GMOs. This gluten-free Sesame Ginger Salmon Bowl packs a nice dose of omega-3s and protein (17 grams), thanks to the wild Alaskan salmon, plus a crunchy combo of carrots, snow peas, and water chestnuts.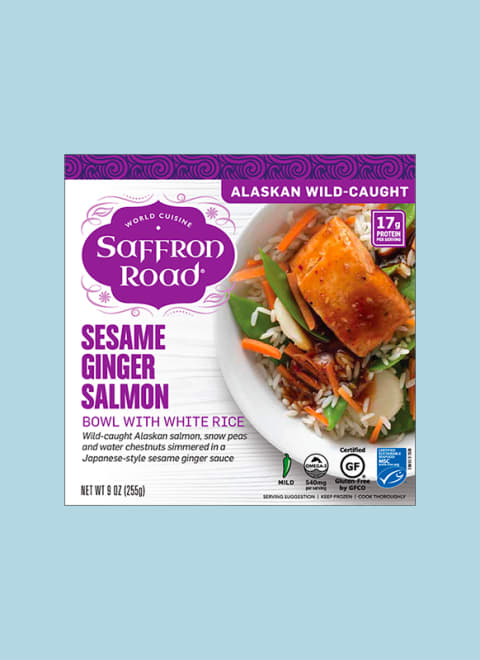 mbg creative + custom
Evol Boost Be Well Bowl
Evol's four Modern Nutrition Bowls are packed with veggies, whole grains, and protein from either plants or antibiotic-free chicken. Their Boost Bowl, featuring whole-grain soba noodles, edamame, and veggies in a creamy cashew sauce tastes like it shouldn't be good for you. Bonus: It packs 90 percent of your recommended daily intake for vitamin A and 40 percent of your vitamin C.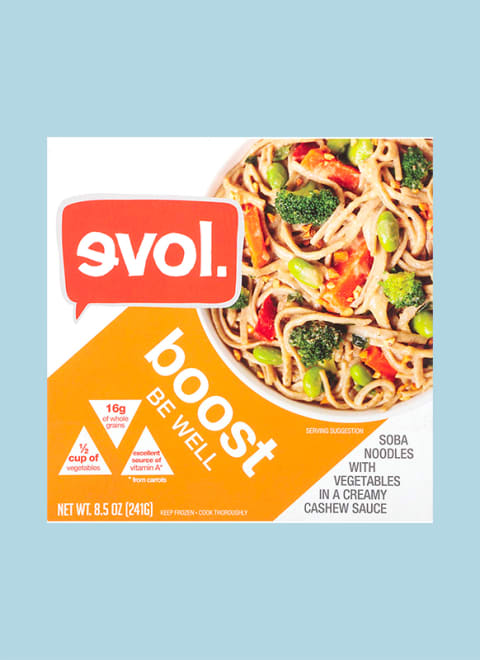 mbg creative + custom
Great Value Whole30 Rosemary Chicken & Vegetables
Walmart's Great Value line recently launched a variety of Whole30-approved bowls, all of which are free of milk, grains, soy, and added sugars. The Rosemary Chicken & Vegetable Bowl features antibiotic-free chicken, potatoes, and asparagus in a rosemary herb sauce (which is made with ghee—no funky, ultra-processed oils here!).
mbg creative + custom
Love the Wild Hawaiian Style Tropical Bowl
Love the Wild is helping make quality fish more accessible with these delicious bowls, and they're changing the reputation of farmed seafood in the process. Each bowl features fish or shellfish that has been raised via the most stringent aquaculture practices—certified ASC Farmed Responsibly Certification and Best Aquaculture Practices certified. Our top pick: the Hawaiian Style Tropical Bowl with barramundi, packed with flavor from pineapple, macadamia nuts, edamame, carrots, seaweed, jasmine rice, and a miso sesame vinaigrette.
mbg creative + custom
Sweet Earth Foods Kyoto Stir Fry
Sweet Earth is known for their tasty plant-based creations, including this Kyoto Stir Fry bowl, which is made with mostly certified-organic ingredients and absolutely packed with veggies, including shiitake mushrooms, carrots, snow peas, spinach, and nori seaweed. Plus, organic edamame delivers a nice dose of protein.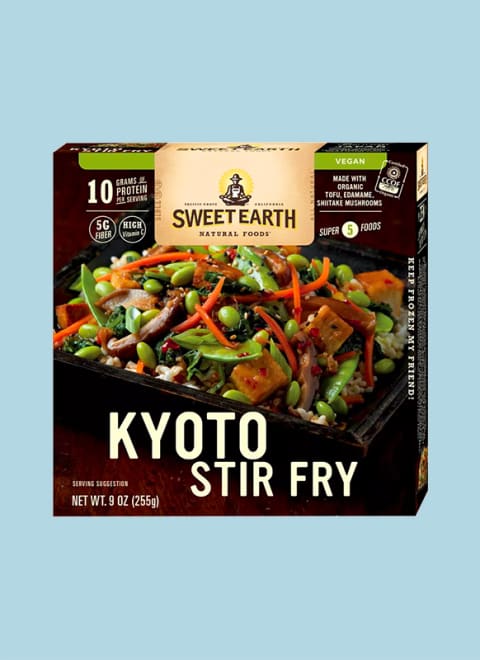 mbg creative + custom
Amy's Thai Vegetables & Rice Bowl
Amy's has been a leader in healthier frozen vegetarian and vegan fare for quite some time—so we couldn't leave them off this list. This Thai Vegetables & Rice Bowl is an umami flavor bomb, featuring organic mushrooms, tofu, jasmine, rice, spinach, roasted sweet potatoes, coconut milk, tamari, and other gluten- and dairy-free ingredients.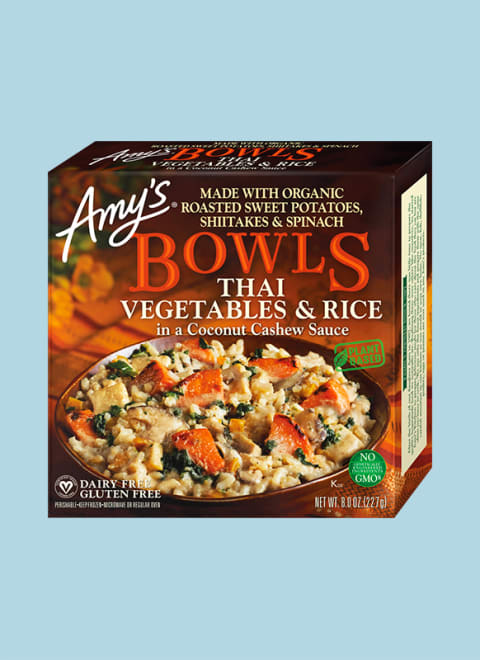 mbg creative + custom
Want to turn your passion for wellbeing into a fulfilling career? Become a Certified Health Coach! Learn more here.