These 8 Anti-Inflammatory Powerhouses Cost Less Than $1 Per Serving
Contributing Food Editor
By Liz Moody
Contributing Food Editor
Liz Moody is a food editor, recipe developer and green smoothie enthusiast. She received her creative writing and psychology degree from The University of California, Berkeley. Moody is the author of two cookbooks: Healthier Together and Glow Pops and the host of the Healthier Together podcast.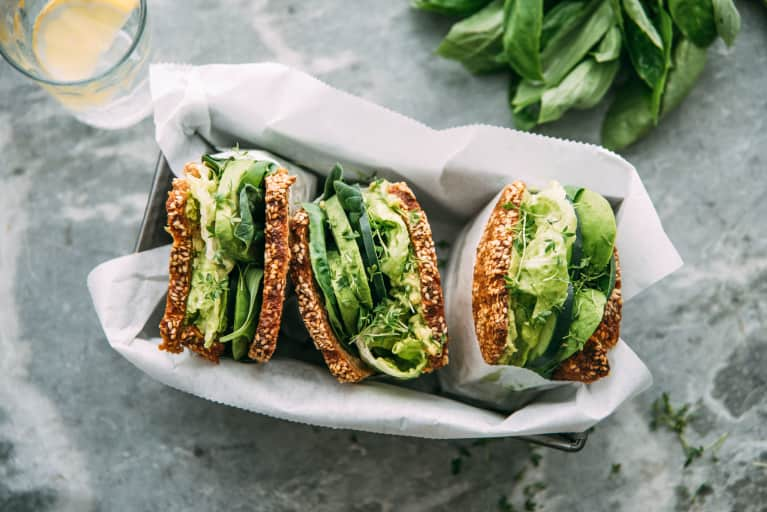 Our editors have independently chosen the products listed on this page. If you purchase something mentioned in this article, we may
earn a small commission
.
We're all about eating healthy, anti-inflammatory food, but loading up your cart with specialty superfoods can quickly get pricey. Luckily, there are a few foods that, while often overlooked in favor of trendier options, pack a heady anti-inflammation punch. We tapped registered dietitian and Tovita Nutrition founder Leah Silberman for her favorite functional foods to buy on a budget.
"Believe it or not, this spice is among the highest ranked on the ORAC scale, which stands for oxygen radical absorbance capacity. The higher the ORAC number, the better!" Silberman says. Most commonly associated with Italian cuisine, oregano adds an earthy green flavor to scrambled eggs, popcorn, and pizza. You could also do as the Greek centenarians do and make a tea by steeping the fresh leaves for 10 minutes in boiling water, then sipping hot or iced. Simply Organic Oregano costs $7 a jar, which provides around 30 servings.
"Not far below dried oregano, cocoa powder scores super high on the ORAC scale," Silberman explains. The caveat? "While the darker the chocolate, the higher the percent cocoa and the lower the sugar, there's still often tons of unhealthy ingredients in your average chocolate bar." She recommends adding a tablespoon of organic cocoa powder to a banana and nut butter smoothie. You can get a pound of organic cocoa powder for $10.43, which will get you through more than 50 smoothies.
"Pecans are a great source of antioxidants, which are key to fighting existing inflammation and preventing future inflammation," Silberman says. They make a delicious snack on their own and can be added to salads for a satisfying, hearty dose of texture. You can also process a few handfuls of pecans with a bit of cinnamon and salt in a food processor to make a decadent nut butter (with bananas, it's a deeply satisfying dessert). When using nuts, it's always worth taking the time to gently toast them in the oven until they're golden, as it creates a richer flavor and makes them more bioavailable, meaning your body can glean more nutrients from them. Trader Joe's sells bags of raw pecan halves for just $4.99, making a $0.50 cost per serving.
Raw garlic has been shown in a number of studies to have a powerful anti-inflammatory effect in the body, in addition to being immune-boosting and anti-carcinogenic. It's also incredibly affordable and can be found at most grocery stores for under a dollar a bulb. You can add it to soups, sauces, dressings, and marinades to boost the flavor, or use it on toast to stave off the flu or a cold. Cooking garlic, too, long reduces its benefits, so try to add it toward the end of your preparation.
"Spinach is a wonderful source of antioxidants, as are most leafy greens," says Silberman. Because of its neutral flavor, spinach makes a great base for green smoothies. It can also be eaten raw in salads or sautéed in some avocado oil with garlic and sea salt for a savory side dish. A clamshell of Organic Girl spinach costs just $3.99 and can be used for several dishes.
"Green tea gets a lot of great press, so it's probably not surprising that it's loaded with antioxidants called polyphenols and catechins, which have proven anti-inflammatory properties," explains Silberman. You can drink it hot or make a big batch at the beginning of the week to store in the fridge, so you can sip iced tea whenever you crave it. A box of organic Yogi Green Tea averages $3.50 and contains 16 tea bags, making it just over 20 cents a serving.
"Cinnamon contains a number of flavonoid compounds that have proven anti-inflammatory benefits," says Silberman. It also has a flavor that helps food register as sweet, making it the perfect way to help satisfy sugar cravings. Sprinkle it on apples, in your morning coffee, or on popcorn for a satisfying snack. It's also great to add depth and a can't-put-your-finger-on-it flair to tomato-based savory dishes like Bolognese or soup. A jar of Simply Organic cinnamon costs $8.73 and will help you get your cinnamon fix for months.
"Typically any fruit or veggie with a deep, dark colored skin is going to be high in antioxidants and thus will have great anti-inflammatory properties," Silberman says. "Red grapes specifically are high in resveratrol, a polyphenol antioxidant compound." You can brighten the flavor of grapes with a squeeze of lime juice (which is rich in vitamin C, another anti-inflammatory antioxidant) for a delicious treat. Most grapes are around $6 a bag, which contains six to eight servings.
Want more healing foods that won't break the bank? These 10 gut-healing foods cost less than $1 a serving.