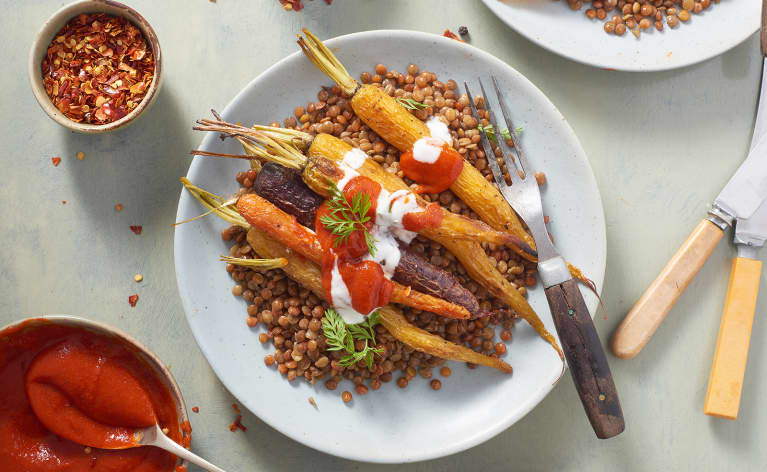 Every once in a while, it happens. You're stocked up on yogurt for the week, but the breakfast parfait boredom hits and you're left wondering whether your culinary chops are good enough to make something, anything else with it.
The answer, of course, is yes. And because the yogurt aisle looks a lot different from the one we knew growing up (read: way more plant-based options!), we don't have to categorize yogurt as a breakfast food anymore. The plant-based yogurt on shelves right now are just as creamy, tart, and delicious its dairy-based counterparts—and there's such a wide variety available.
That means more versatility in recipes, and it's only going to get better. In fact, thanks to an increase in health- and planet-conscious food shopping, sales of plant-based yogurt grew 39 percent in the past year, and the global non-dairy yogurt market size is poised to reach $1.53 billion by 2023! So yeah—yogurt isn't just for parfaits and smoothies. Read on for inspo on how to use it in your favorite recipes.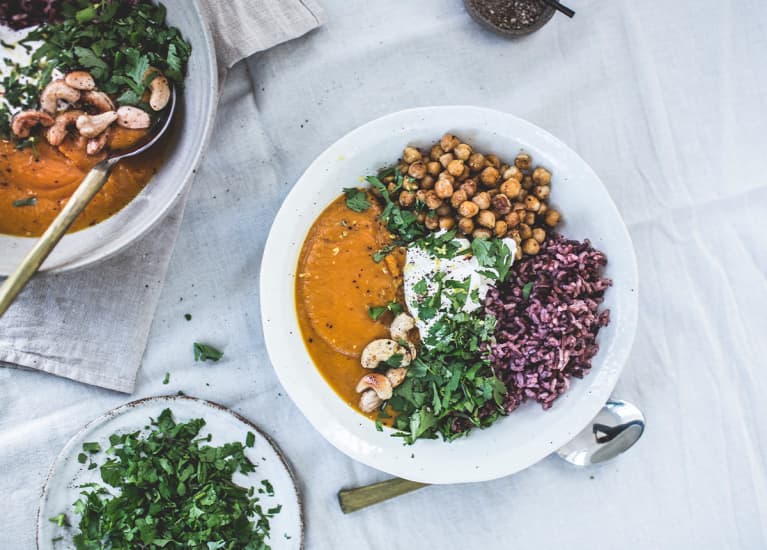 1.
Drizzled onto savory grain bowls.
Cooking up a big batch of grains on Sunday is one of our favorite meal-prep moves. Add a little more depth and heft to your weeknight dinners with a drizzle of unsweetened non-dairy yogurt. To keep it on the savory side, just mix the yogurt alternative with finely grated garlic and a bit of olive oil and lemon juice. It'll work with nearly any cooked grain, from freekeh to barley to farro.
2.
Swapped in for whipping cream or creme fraiche for dessert.
Looking at you, oat milk. Of all the non-dairy milks out there, oat's creaminess is virtually unmatched. Now that Oatmilk Yogurt from So Delicious Dairy Free has arrived—and even though we'll happily eat it right out of the spoon (hello, Sweet Mango)—we've discovered that it's a seamless swap for dairy ingredients like whipped cream for our favorite no-bake desserts. And for the bakers out there, you can even cut back on oil in some recipes by substituting half the amount of oil with three-quarters the amount of yogurt. For instance, if a recipe calls for 1 cup of oil, you can try replacing half of that oil with ¾ cup of non-dairy yogurt.
3.
Layered as a bed underneath grilled or roasted veggies.
It sounds fancy, but this is one of our favorite ways to use yogurt outside of breakfast because it's actually so easy. Think charred veggies and cool yogurt. The next time you grill, roast, or bake veggies or legumes (everything from whole carrots, cauliflower, eggplant, sweet potatoes, chickpeas, even mushrooms), mix up a yogurt bed in a bowl to use as a base for serving. All your non-dairy yogurt needs is a bit of acid or brightness, like a squeeze of lime juice and chopped mint, plus a drizzle of olive oil and a sprinkle of salt. Bonus: You'll feel like a culinary genius plating it, too.
4.
Stuffed and baked into veggies.
Call it the baked potato (or jalapeno popper?) effect, but we're big fans of stuffing veg with creamy fillings that are loaded with a combo of herbs, grains, and more veggies. This is another instance where you can swap in an unsweetened non-dairy yogurt (instead of using, say, sour cream)—the moisture from the yogurt makes the filling taste deliciously smooth when it's baked. Try filling heirloom tomatoes, bell peppers, portabella caps, and potatoes.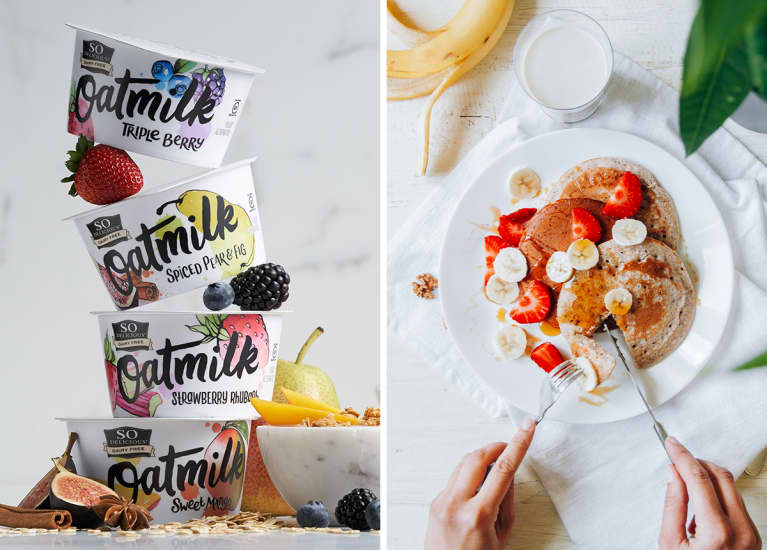 5.
Mixed into pancakes and waffles.
These weekend breakfast classics don't need much improvement, but we'll say this: If you want fluffier pancakes and waffles with a richer flavor, yogurt is the ingredient to know. Whisk up to 1 ½ cup of your favorite non-dairy yogurt right into your usual mix if you're serving up stacks for a group. Our suggestion? Lean into flavor: So Delicious Dairy Free's Oatmilk Yogurt Alternative comes in some of the yummiest ones we've seen, from Strawberry Rhubarb to Spiced Pear & Fig.
6.
Turned into herby, creamy salad dressings.
In a pinch, grate a bit of garlic into plain non-dairy yogurt, then whisk in olive oil and lemon (or lime) juice with a sprinkle of salt and pepper for a simple salad dressing. You can fresh herbs like chopped dill or parsley if you're feeling fancy. Greens that are great for creamier-texture dressings include arugula, romaine (or any lettuce, really!), radicchio, watercress, endive, and broccoli.
7.
Paired with party foods as the ultimate dip.
With help from just a few simple ingredients, you turn a tub of plant-based yogurt into a savory dip for veggies or a sweet dip for fruit. Add fresh herbs like chopped parsley and mint, minced garlic, olive oil, lemon juice, and salt and pepper to an almond or cashew yogurt for an irresistible garlic sauce. Make the perfect pumpkin dip with your favorite non-dairy yogurt, pumpkin puree, pumpkin spice, and maple syrup. Just be prepared to repeat the recipe to everyone asking how you made it.