Study Outlines Optimal Healthy Eating Strategies For People & The Planet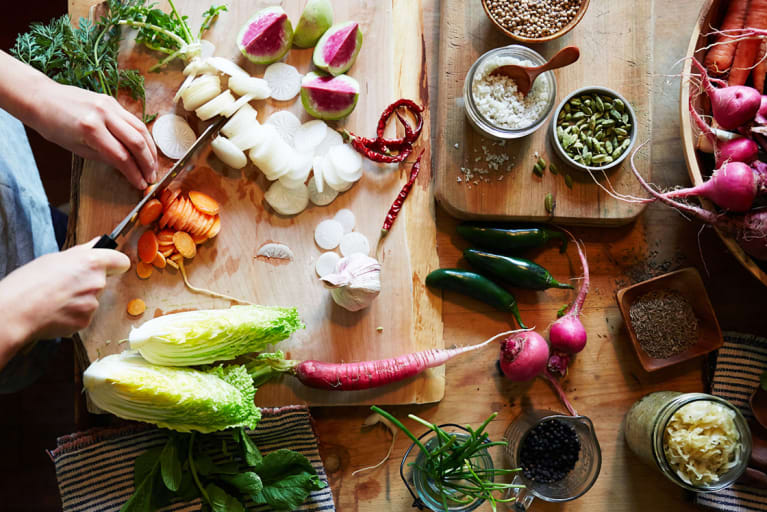 September 1, 2020 — 10:34 AM
The existing global food system is currently threatening both human health and environmental stability, according to an EAT-Lancet Report published last year. To address these critical issues, the authors developed a "universal healthy reference diet," which would support humans and the planet for years to come.
What is the universal healthy reference diet?
The recommended diet is rich in fruits, vegetables, whole grains, legumes, and nuts, and is low in red meat, sugar, and highly processed foods. A diet within these guidelines could feed 10 billion people by the year 2050 without jeopardizing the health of the environment, the EAT-Lancet report stated. To make these changes happen, agricultural production, land governance, supply chain efficiencies, food environments, and energy transitions should all be considered.
While these areas are important, a new study published in the journal Nature Food says an even broader, more comprehensive approach needs to be taken to create sustainable, lasting change.
What's wrong with the current food system?
To better understand the current issues, let's review last year's EAT-Lancet report:
"Providing a growing global population with healthy diets from sustainable food systems is an immediate challenge," the report said.
In terms of calories, food production has kept up with population growth. However, 820 million people are still inadequately nourished due to lack of economic resources or access to healthful foods. Because of this, even more people are consuming low-quality diets. These diets contribute to deficiencies in micronutrients, which can lead to obesity, heart disease, stroke, and diabetes, as well as an increased risk of death, the authors wrote.
Additionally, the current agricultural and food production systems push the boundaries of environmental safety. Because of the combined reasons, the researchers pushed for a "global transformation of the food system."
So, what changes need to be made?
Implementing the recommended diet—and making it last—will require even broader research. "If we really want to enact this change, we need to look beyond the technological advances that will contribute to food system transformation," lead researcher of the Nature Food article Christophe Béné, Ph.D., says. "There is a whole series of tricky and challenging changes that come along with it."
These "tricky and challenging changes" span across economics, politics, cultural norms, equity, and governance. Here are the existing issues within each sector and proposed actions for each one, according to the study:
Healthier diets tend to be more expensive than less nourishing diets and therefore may not be attainable for most of the population. In fact, one study estimates 1.6 billion people would not be able to afford the EAT-Lancet reference diet.
Additionally, the costs of transforming the current food system, including reducing food waste and altering current food production techniques, are unknown.
Possible actions:
Provide fruit and vegetable discounts to low-income households.
Formulate national and international land tenure rights, to safeguard land and resources while also protecting local populations and environments.
In order to reduce the rates of obesity, undernutrition, and other diet-related health risks, researchers say the current industrial food system should be completely altered to prioritize production of healthy foods.
Possible actions:
Increase support for local and small-scale landowners, and encourage them to grow healthy foods.
Increase funding for research and development of non-staple crops.
Inexpensive but healthy plant-based foods, such as beans, lentils, and millet, are considered "poor man's food," according to the study. For middle-income countries, consuming pork or beef is seen as a sign of economic success. Because of the deep-rooted cultural beliefs and stereotypes associated with certain foods, consumer choice will be the main determinant in transforming the food system.
"Unhealthy norms emerge all the time, as foods high in fat, sugar and salt become more widely available and marketed at lower prices throughout the world," the study says. "Guiding cultural norms towards sustainability may also be challenging, more so because of the infinite diversity of diets from place to place, and the weak or incomplete evidence base on which to encourage these changes."
Possible actions:
Change the food choices presented by increasing a diverse range of fruits and vegetables available at any given grocery store around the world.
Add nutrition labels to food packages.
The EAT-Lancet diet recommends reducing red meat consumption by 50% to promote human and environmental health. However, the Nature Food study says animal-based proteins have shown improvements in the health of certain populations—primarily women and children in poor, rural areas. This suggests the diet should be adapted to meet certain cultural contexts.
"Beyond this specific example, the food transformation debate also needs to consider issues of social justice while averting promoting the message that changes involve only high-income countries," the study says. Examples of social justice issues in the food industry include poor working conditions, child labor, and slavery.
Possible actions:
Implement full supply-chain traceability to increase transparency of working conditions.
Create laws to protect vulnerable groups and sustainable food systems.
Create laws to increase access to food and other human rights within the food system.
Educating citizens and decision-makers on these various issues is critical to creating change within the four previous sectors. These issues should be prioritized along with poverty, migration, security, natural disasters, and pandemics, the study writes.
Possible actions:
Identify, prioritize, and manage various priorities, then develop foresight to determine the possible outcomes of different policy and economic decisions.
"The EAT-Lancet report did an excellent job of waking the world up to the interlinked issues of health and environment and showed that diets are the common denominator," the study concludes. "But, at the crux of the great food transformation is the critical issue of science-policy interactions." The five issues and possible solutions proposed by the authors are necessary first steps to a sustainable global dietary shift.