Close Banner
Advertisement
This ad is displayed using third party content and we do not control its accessibility features.
paid content
 for

The 10-Minute Daily Practices This Wellness Entrepreneur Swears By
Co-founder and CEO of Barre3
By Sadie Lincoln
Co-founder and CEO of Barre3
Sadie Lincoln is the co-founder and CEO of barre3, a fitness company focused on teaching people to be balanced in body and empowered from within, with more than 140 studios and an online-workout subscriber base in 98 countries.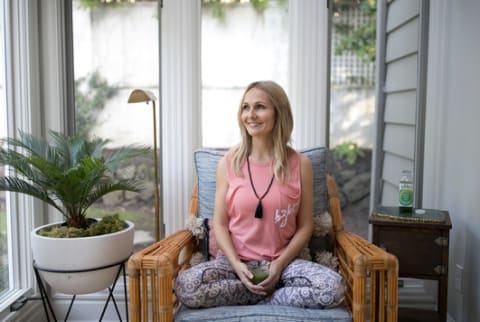 Photo by Madeline Metcalf
What is your day but a series of moments? It's the little decisions you make along your way that add up to a balanced life. Evolution Fresh® launched their #MySmallSip initiative to spark small, healthy daily choices we each make to better our lives. With the second annual National Green Juice Day on January 26, 2017, what better way to celebrate than to share the healthy habits of some of our community members? Read on for wellness inspiration you can incorporate into your own life.
I did a core values exercise recently that forced me to prioritize what I value the most. I had to take 72 values (and they were all good!) and weed them down until I was left with the five that were most important to me. Being conscious of what is most important to me has helped me shape my daily life in a really healthy and fun way.
Every day, we're faced with thousands of choice points. I've found that developing awareness of those choices helps me make mindful decisions, ultimately bringing me closer to my values and how I want to feel. The trick is to realize it's a practice—just like barre3, meditation, or journaling.
Because, think about it: How you feel on a day-to-day basis is the result of every decision you make, all day long. That goes for everything from the time you decide to wake up to what kind of green juice you have with lunch. After all, whole-body health is a journey, and sometimes the tiniest decisions can have the biggest effects. So in honor of Evolution Fresh's #MySmallSips, here are some of the simple things I choose to do every day that bring boundless positivity and good energy into my life.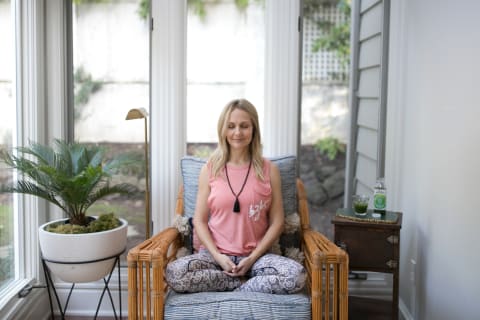 Photo by Madeline Metcalf
Morning:
Hug my husband. I spend a ton of time with my husband. We equally parent our two kids, and as co-founders of barre3 we lead our company together. Ironically, being connected and having quality time together is challenging—but our relationship is the foundation to my life. So, here's the very simple and incredibly effective way that we keep our relationship strong: a hug a day. Not a quick pat on the back or a kiss on the cheek. A hug like we mean it: 20 seconds of simply standing in the kitchen hugging. Hugs are healthy and results-oriented!
Meditate. Meditating is important to me, even if it's 10 minutes a day. During January, our barre3 team as well as our clients around the world in studio and online are doing B3 ALL IN, a program designed to support you not only in January but all year long. I depend on barre3 to keep my body strong, and meditation helps me keep my mind clear, giving me the energy and focus I need to help others.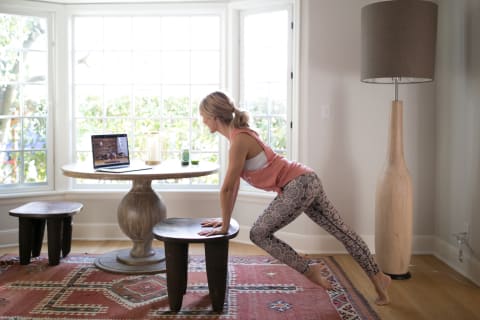 Photo by Madeline Metcalf
Afternoon:
Stay hydrated. One of my all-time favorite and simple tricks to stay hydrated is to place four rubber bands on my 20-ounce water bottle each day. Every time I fill it, I take a band off. The goal is to have all four off by the end of the day. Another favorite way to stay hydrated is to add flavor to my drinks. When I'm craving something more than water, I reach for an Evolution Fresh green juice. My go-to flavor is Smooth Greens & Kale. I buy these at my local grocery store or Starbucks® and love to keep them on hand for hydration with extra flavor and nutrition.
Move. Find time to move, even if it's just for 10 minutes a day. It's not necessarily about burning calories but more about boosting energy and helping to restore balance. If I haven't scheduled a class on a given day, I do a quick 10-minute B3 Online workout or walk around the block—it clears my mind and helps me feel less stressed.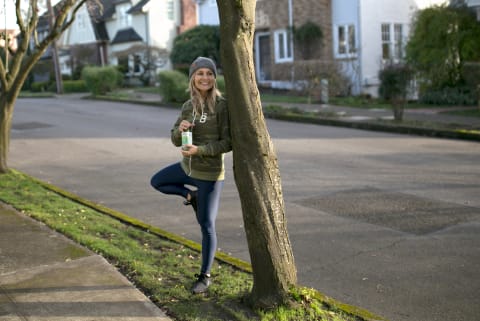 Photo by Madeline Metcalf
Evening:
Get outside. When I did my values exercise, I found that one of my top values is spending time in nature, but I wasn't actually living that value each day. So, I set a small goal to get outside in nature 10 minutes a day—rain or shine. This very achievable goal has led to bigger adventures. I just planned four epic nature trips in 2017 including a dog-sledding trip in Alaska!
Connect. I love to connect with my family in the evenings, recapping our day and spending time together.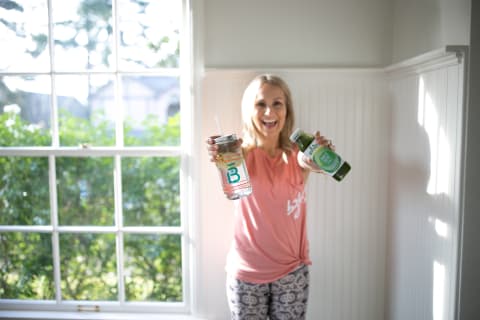 Photo by Madeline Metcalf
I've found when I make intentional decisions that honor my values, I bring myself closer to how I want to feel. For example, my morning hugs with my husband are all about slowing down, connecting, and enjoying the in-between moments of life that bring me joy. And ultimately, the conscious choices I make are empowering—because every day, I'm reminded of what really matters to me.
More On This Topic
more Mindfulness
Advertisement
This ad is displayed using third party content and we do not control its accessibility features.
Advertisement
This ad is displayed using third party content and we do not control its accessibility features.