The Beauty & Wellness Routine Clean Beauty Pioneer Tata Harper Is Using Right Now
Assistant Beauty & Health Editor
By Hannah Frye
Assistant Beauty & Health Editor
Hannah Frye is the Assistant Beauty Editor at mindbodygreen. She has a B.S. in journalism and a minor in women's, gender, and queer studies from California Polytechnic State University, San Luis Obispo. Hannah has written across lifestyle sections including health, wellness, sustainability, personal development, and more.
December 6, 2022
We carefully vet all products and services featured on mindbodygreen using our
commerce guidelines.
Our selections are never influenced by the commissions earned from our links.
Beauty routines are never truly stagnant—practices evolve and change like we do. In As of Late, we chat with influential folks about their current products and rituals. Here, we get a snapshot of what they're doing right now: the sacrosanct formulas they use until the last drop, the fresh launches they've got their eyes on, and of course, the why behind it all.
As a pioneer in the clean beauty space, Tata Harper has been creating luxury skin care with the highest-quality all-natural ingredients since 2007. Since Tata Harper Skincare took off in Vermont, she's gradually grown the line to include plenty more products and better formulas, focusing on sustainability, efficacy, and a premium sensorial experience.
Harper's brand is famous in the beauty space for providing products that are worth every penny—the natural active ingredients are potent but never overpowering. The raw extracts are sourced from all around the world, with a particular emphasis on regenerative farming so you can do good for your skin and the planet.
Last year, Harper launched a new collection called Superkind—formulated to deliver real results for sensitive, reactive skin types. The Superkind collection is formulated to be free from known allergens like nuts, wheat, gluten, fragrance, essential oils, sulfates, harsh exfoliants, and even BHAs—as the latter can be particularly irritating for sensitive skin. However, unlike plenty of sensitive-skin lines out there, Harper included specially formulated actives that help brighten, smooth, and encourage healthy skin aging—not just prevent irritation.
I got the chance to sit down with Tata Harper herself and hear all about what she's loving right now, from her underrated go-to products to nonnegotiable daily rituals. To follow, everything Harper has been doing, as of late.
The tried-and-true: Elixir Vitae.
"I want to give a shoutout to Elixir Vitae, which is a serum that we formulated for mature skin. I've been using it every single day, twice a day, for years. Like, maybe a decade. It's definitely my desert island product.
"It's our most powerful serum. It has a total of 72 actives, so it creates a filling effect in the skin. It has natural redensifiers but also contains a lot of new neurotransmitter peptides, targeting technology that's all about relaxing wrinkles, and it has a lot of cellular energizing technology.
"It's gone through two rounds of technology updates already—now it's like the skin care of tomorrow."
Tata Harper
Tata Harper
Elixir Vitae Serum
$490
This formula is so nutrient-dense you'd be hard-pressed to find another product with so many high-performing actives in one bottle. The serum is formulated for easing the appearance of fine lines and wrinkles, adding volume to the skin, and overall rejuvenating a dull or mature complexion. Plus, it contains everything you need—from antioxidants to supercharged hydrators and more.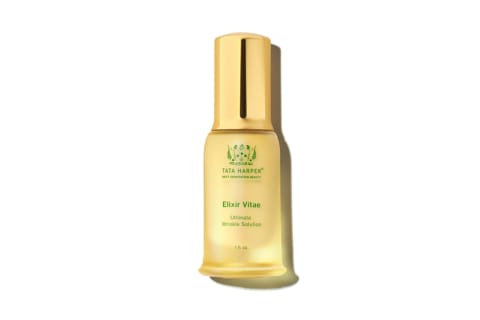 The surprise hit: Intermittent fasting.
"I closely follow the studies around longevity. I was definitely a bit skeptical about intermittent fasting; I thought that because I'm snacking constantly that it was something I'd never be able to incorporate into my life. But I've been surprised by how much I actually like it.
"I typically do 10:30 a.m. to 6:30 p.m. So I do that three or four days a week, more or less, and I've been doing it for two years. I like it because I know I'm doing something good for my body—it's not necessarily something you do to lose weight. It's not a diet strategy.
"I don't necessarily feel more energized or that it's cleared my mind—it's more that I just feel like I'm doing something great, and I truly believe in the science behind it."
The underrated brand: Avasol sunscreen.
"A line that people don't know about is this sunscreen brand called Avasol. I discovered it in Hawaii through friends—they were giving us surf lessons, and they always brought the Avasol with them.
"It's a family affair. My kids are obsessed with it, and it's the only sunscreen we use.
"They're sticks and they're made of paper, so it's super sustainable. It has really nice shades, it blends so well, and it's all mineral. It's good for the reefs and just amazing."
The splurge: An infrared sauna.
"I love my infrared sauna. It's definitely a bit of a splurge. I got my infrared sauna on Amazon as a Christmas gift to myself four years ago and I've been using it as much as I can. I use it multiple times a week, even if I just go in for 20 minutes.
"I love it because it's really good for your heart, and I want to be proactive to strengthen my heart. Plus, it feels great."
The secret: Gently exfoliate every day.
"I've been exfoliating daily for decades. Even before I had my line, I used to exfoliate every day with very fine sugar and honey. If you're someone who is super minimal and just likes to do one thing, then exfoliate.
"It might be a little unexpected because people have been trained that exfoliation is something that happens once a week or once a month, but the reality is that it depends on what you're exfoliating with.
"I created the Regenerating Cleanser to be that perfect daily exfoliant. It's gentle enough that you can use it daily, and it's not harsh because it doesn't rely on big particles. But it gets rid of the accumulation of dead skin that happens every single day. Then, all of the products you apply after will penetrate better into the skin."
Tata Harper
Tata Harper
Regenerating Cleanser
From $46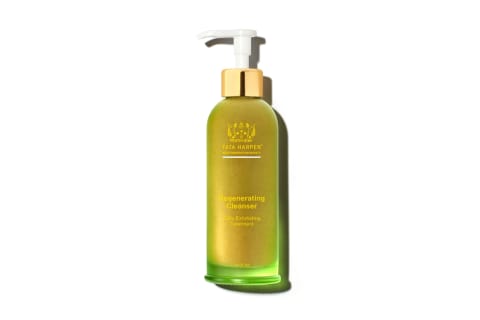 What the women in my family taught me.
"My grandmother and my mother taught me my skin care routine, really more than anything to view that routine not as a chore but as a moment that marks the most relaxing part of your day. That attitude is everything—that's why it's so motivating, that's why I look forward to it, and that's why I've stuck with it for so long.
"It's really like a self-soothing ritual in a way. It's generations of women in my family who have done it this way—that's one part of my life that is very traditional. I do it with my kids, too. I try to help them all embrace self-soothing as a way to reconnect with yourself. For me, skin care is always, as you can tell from my line, a very sensorial experience. It's all about the smell, how it feels on the skin, and I love where it takes you.
"Clinical skin care that hurts is not part of my philosophy at all. If anything, it needs to be super soothing and super comforting. It can make you feel good and look good, so it's a win-win."
Hannah Frye
Assistant Beauty & Health Editor
Hannah Frye is the Assistant Beauty & Health Editor at mindbodygreen. She has a B.S. in journalism and a minor in women's, gender, and queer studies from California Polytechnic State University, San Luis Obispo. Hannah has written across lifestyle sections including skin care, women's health, mental health, sustainability, social media trends, and more. She previously interned for Almost 30, a top-rated health and wellness podcast. In her current role, Hannah reports on the latest beauty trends and innovations, women's health research, brain health news, and plenty more.