T. Morgan Dixon Of GirlTrek On The Radical Power Of A Saturday Morning Walk

mbg Sustainability + Health Director
By Emma Loewe
mbg Sustainability + Health Director
Emma Loewe is the Senior Sustainability Editor at mindbodygreen and the author of "Return to Nature: The New Science of How Natural Landscapes Restore Us."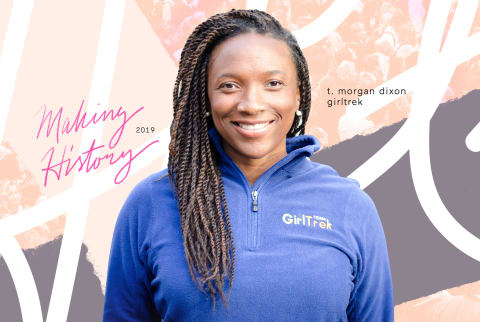 Image by mbg Creative x GirlTrek
August 21, 2019
In our series Making History, we're talking to people who are leading the charge to bring much-needed diversity to wellness. They're sharing with us the work that they do, highlighting the voices that need to be heard, and telling us what we as a wellness community aren't talking about—but should be. This week, we spoke with T. Morgan Dixon, the co-founder of
GirlTrek
, the largest national public health nonprofit for black women. Every Saturday, groups of GirlTrek's 200,000-plus members across the country join together to walk, talk, and support one another. By 2020, Dixon and her co-founder Vanessa Garrison hope to motivate 1 million black women and girls to walk as a way to reclaim their health.
What inspired you to start GirlTrek?
Audre Lorde said that we don't live single-issue lives. I feel like that even for founder stories. I didn't picked it up off the ground and, "Eureka!" We didn't have a story like that. I literally have been trying for the last 20 years of my life to save my own life from the pitfalls and the trappings that come with being a black woman in America.
My best friend from college was doing the same, and we were on this kind of parallel track of holding each other accountable, of making good decisions, of budgeting our time in ways that honored things that lit us up. In doing so, we started doing that in a very public way, which looked like rallying our own friends with different health challenges, doing 5Ks, that kind of thing. It also looked like showing up at my classroom as a healthy teacher, which is hard. Part of being a healthy teacher was finding a solution to so many of the issues that were plaguing young black girls. So I started taking them hiking, so I could just talk to them about everything. Sex, eating right, depression, self-esteem, everything. I could just talk to them—because I didn't have time to do it when I was teaching history. And that's why it was called GirlTrek.
We thought walking was powerful, because it is iconic. It's super visible. It's slowing down, which is radical.
We got great results, leading these middle school girls hiking. But it wasn't big enough to impact my life, or my best friend's life. So we said, "What if we got their mothers, a million of them, to start walking for better health? We could actually change the game. We could change the culture generationally." That's what we set out to do. So the first thing we did was we asked our own friends to start walking with us in our neighborhoods. We thought walking was powerful because it is iconic. It's super visible. It's slowing down, which is radical. It is kind of a walking audit of everything happening in our lives. It is a chance to connect and talk. It combats loneliness. It's damn good for heart health, for all the obesity preventive and reduction. It's an amazing thing, and it's culturally relative. Black women walk, things change, is what we said in our TED Talk, and it's true. From Harriet Tubman liberating herself using her own feet to the women of the Montgomery bus boycotts. So, we asked our friends; there were about 500 of us—532 I think—women to walk with us 10 weeks straight, five days a week because we read on the CDC's website that that's what it takes!
What happened is that it became a cascade of positive impact. Women who were battling depression got more vitamin D. Women who were feeling lonely in their apartments all of a sudden had people they could walk with and feel accountable to. Women who were 10 pounds, 30 pounds, 100 pounds overweight started shedding weight, just walking every day. So we knew we were onto something, and we set to rally a million black women to do the same.
How are black women in America disproportionately affected by preventable diseases?
Eight out of 10 black women who sit on a church pew every Sunday are over a healthy weight and have an advanced risk of dying early because of it. And the weight we carry comes from systemic injustice, comes from trauma, comes from poverty, comes from overworking, being under-resourced. Because of that, we are dying at higher rates. One hundred thirty-seven black women are dying every day. About 90% of black girls are projected to be over a healthy weight by the year 2030.
What does it feel like to look back and see all the progress you made so far?
Insufficient. Unfortunately it feels insufficient because the scale of the crisis is so big, but it feels absolutely energizing at the same time.
How long is a typical GirlTrek walk?
We go at what we call a GirlTrek pace—it's a 15-minute mile. We try to get in 4 miles in one hour on Saturday mornings.
What is the energy and conversation like during the walks?
It is counseling a woman who wants to get out of a bad marriage. It is laughing at the kids who are laughing at us. It is getting honked at by really good-looking guys who drive by and wonder why all these women are wearing blue shirts. It's going to beautiful lakes and basking in the sunshine and realizing that there is a river or a lake just three or four blocks away from your neighborhood. It's acknowledging that there needs to be a crosswalk in front of the school and then advocating for it.
It is starting with what we call a "Talk before the walk," which informs women about the crisis, and ending with what we call a "Victory bridge," which is where we leave no woman behind and every single woman goes through the bridge before we all go home. That's what it feels like.
Can you talk a little about the self-care retreat that you have coming up in September?
A thousand black women are going to the Rocky Mountains, and we're going to self-care our lives away. We are going to roast marshmallows, we're going to learn African dance, yoga. We're going to eat healthy food; we're going to convene and set intentions. We're going to do beautiful old hikes to Alpine lakes. And we're going to rest, and lie in the sun, and figure out how we collectively support each other in pacing our lives in a way that feels restorative.
What does self-care mean to you?
It means making decisions every moment, every hour, that allow you to experience the abundance of God's grace. It means in a more radical sense, eliminating every barrier to that abundance. It's interesting, care-taking has been at the center of every labor movement. Care-taking is really about labor, and how you spend your labor. And how do you invest your labor on yourselves as opposed to giving it all away. It is not a bubble bath concept.
What do you think the mainstream conversation about self-care is lacking these days?
History. History of labor in this country. Because if we talked about the history of labor, we're not talking about sitting on porches and sipping lemonade for self-care. We're talking about, there are not enough hours in the day for me to eat. There are not enough hours in the day for me to alleviate stress before I go back into work.
When we say that 70% of black women engage in no leisure time physical activity, it's because there is no leisure time. Where is the leisure? It's not about bubble baths, because black women are the cleanest women I've ever met in my entire life. We always smell good. It's not nail polish. We invented nail polish! When it comes to living and not dying, when it comes to prioritizing the care of your passion and purpose in life over service to others, that's when it becomes more radical.
How can people find walks in their area?
Go to our website, and we have a national map where you put in your ZIP code and find a walk. If there's not a walk in your ZIP code, we encourage women to start one.
Where in the world is your favorite place to walk?
I've walked in so many amazing places. I really like the Nāpali Coastline in Hawaii. I love the hike that we do in the Rocky Mountains. It's maybe one of the most beautiful in the world. I'm currently in Ghana. I really enjoy walking in my neighborhood here. If I can walk with anybody in the world, that's a different question. I would really love walk with Wangari Maathai, who recently passed but was a Nobel Prize winner, because she's already done this. She's already mobilized women to plant 50 million trees in Kenya and has solved environmental deforestation. That's the level of social change we're going for.