paid content
 for

Yes, Sweets Can Be Part Of A Well-Balanced Lifestyle. Here's How
Recipe Developer and cookbook author
By Samah Dada
Recipe Developer and cookbook author
Samah Dada is a New York City-based recipe developer, food photographer, and the blogger behind Dada Eats.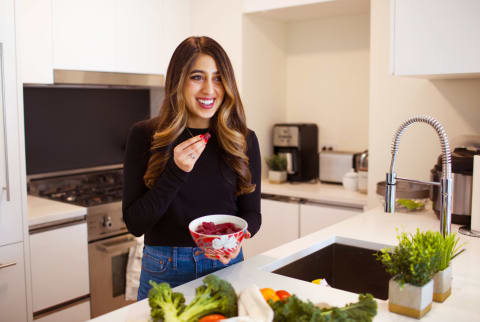 May 1, 2018
I'm not shy about admitting that I have an undeniably stubborn sweet tooth. I'll just come right out and say it. I love my desserts. I'd be lying if I told you that I can resist chocolate, cookies, or candy…because the truth of the matter is: They get me every time. All I can really say is this: Gone are the simple days of merely considering myself an "ice cream person."
But as a busy New Yorker—I write and develop healthy recipes for my blog, DadaEats, and work in broadcast television, starting work at 4 in the morning and often going until late evening—I'm not always able to satisfy my sweet tooth by whipping up one of my own better-for-you creations in the kitchen. So I've learned some ways in which I can keep my sweet tooth satisfied in a healthy way, even if I'm always on the go!
1. Focus on real, natural, and recognizable ingredients.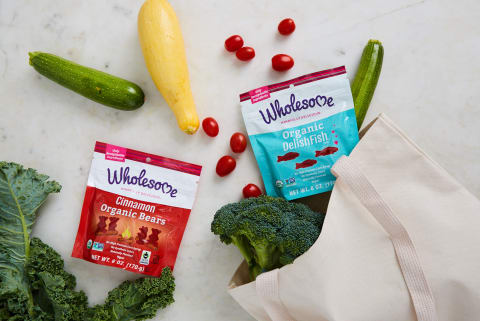 While I love my sweets and am definitely the type of person who needs an afternoon pick-me-up (especially at around 2 or 3 p.m.…it's like clockwork, honestly), at the same time I'm passionate about health and fitness, always striving to make sure that what I'm putting into my body is whole and natural. This is why nearly all of the recipes I develop are health-focused—using real and unprocessed ingredients that nourish my body and my cravings! I'm always mindful of this same criteria when I'm looking for a sweet pick-me-up on the go.
2. Be prepared: Grocery shop ahead!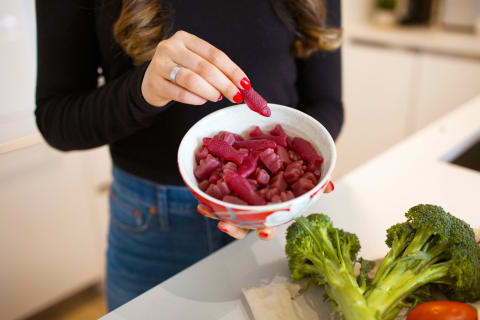 My favorite way to snack smarter when I know I'll be running around town during the week is paying a visit (or two. Or three? But who's really counting when you're a grocery shopping fanatic like me…?) to your favorite local grocer on the weekend with—and this is important—a list in hand. This allows you to tackle everything you have on the list while also giving you flexibility to stroll down the aisles and pick up what entices you. I find it helpful to include portable fruits on my list (apples, grapes, berries) and pair them with nut butter, seeds, granola, or kombucha.
Recently I've also been keeping my favorite organic better-for-you candy, Wholesome, on hand (can't get enough of their Cinnamon Bears and Delish Fish). These candies are a prime example of what I look for in my on-the-go treats—recognizable, real ingredients, no additives or corn syrup, and they're organic! My local grocery store carries them, and you can find a store easily that has them too, or when in doubt, snag some on Amazon!
3. Give yourself options.
I'm the type of person who often has trouble meal prepping because I never really know what I'll be craving at any given moment. The same thing goes for what kind of sweet I'll feel like the next day! I always keep a few different options in my bag—an apple with almond butter, grain-free granola, and some Cinnamon Bears or Delish Fish for when I'm craving candy (a frequent occurrence, let me tell you! These particular flavors are my favorite because the taste is so satisfying that snacking on just a few of them keeps me going as I run around the city). I also love to pack a container of rolled oats with cinnamon and chia seeds so I can just add fruit, water, and pop it in the microwave at work.
4. Don't deprive yourself of sweets!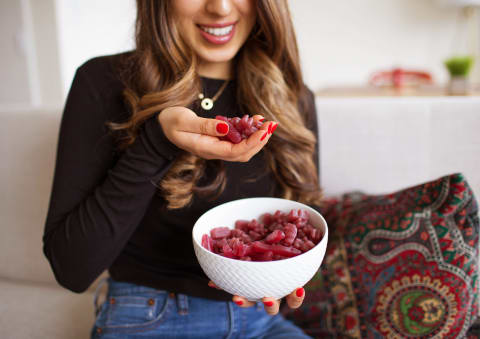 If you forbid yourself to have sweets, chances are, you may just crave them more. You'll likely wind up going in circles, eating around what your body actually wants and consequently never really feeling fully satisfied. It is so crucial to understand that it is healthy to indulge. It is healthy for both your mind and your body to strike that balance, to maybe have a salad for lunch and also grab that chocolate chip cookie or a scoop of ice cream from that place around the corner you've been dying to try. I always say that life is too short to not eat what makes you happy—it fills you up physically and emotionally!
5. Round it out with whole, unprocessed foods.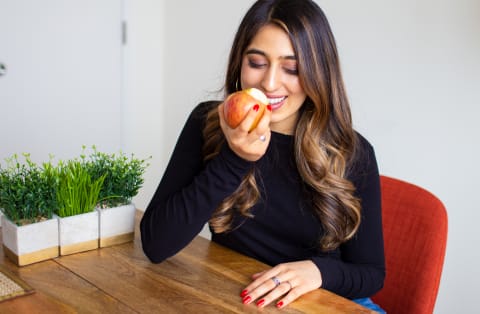 If you consciously and consistently focus on filling your meals with whole foods, fruits, vegetables, and good fats, indulging in sweets just becomes a part of maintaining a healthy mindset and a sustainable lifestyle!
As someone who is constantly on the go and essentially out of my house from 3:30 a.m. until late afternoon, it is, of course, a challenge to find and consume healthier sweets. But with some good prep work and a little foray into your local grocery store, you can indulge mindfully and on your own schedule.

Samah Dada
Recipe Developer and cookbook author
Samah Dada is a New York City-based recipe developer, food photographer, and the blogger behind Dada Eats. Drawing inspiration from her Indian heritage and inspired by the foodscapes of London, California, and New York she is the host of #Cooking on the Today show's digital channel and the author of Dada Eats: Love To Cook It.