Try This Update On Classic Falafel For A Plant-Based Protein Punch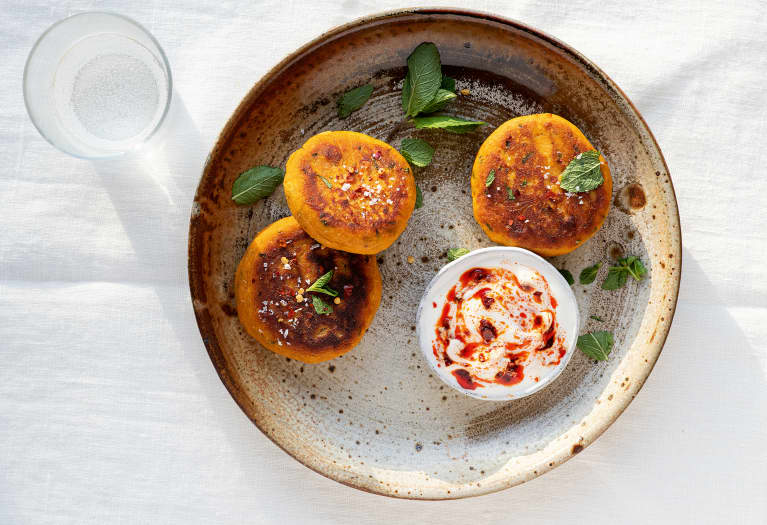 A delicious, healthy midweek supper that is pretty simple to make. The sweet potato makes the falafels lovely and moist, and the spices and lemon perk up the chickpea flour. These falafels are so good dipped in spicy harissa yogurt. You can also try wrapping them in a warmed wholemeal pitta. Harissa is one of my store cupboard staples, and I would urge you to get a few jars—it has a slow-burning chili heat, balanced with a sweet smokiness that adds a real depth of flavor to any dish. You can dollop harissa on eggs or avocado toast, use it to marinate vegetables, or add it to couscous or grilled halloumi.
Sweet Potato Falafels With Harissa Dip
Serves 4 (Makes 12 falafels)
2 medium sweet potatoes, weighing about 1 lb., 9 oz.
1½ teaspoons ground cumin
2 garlic cloves, crushed
1½ teaspoons ground coriander
2 tablespoons freshly chopped coriander
1 tablespoon freshly squeezed lemon juice
4½ oz. chickpea flour
1 tablespoon olive oil
Sea salt and freshly ground black pepper
1 tablespoon harissa paste
7 fl. oz. Greek yogurt
Juice of ½ lemon
1 teaspoon fresh mint, chopped, plus extra sprigs to serve (optional)
Preheat the oven to 400°F.
Place the sweet potatoes on a baking tray and roast for 45 minutes or until tender. Remove from the oven and leave the sweet potatoes to cool, then peel them.
Put the sweet potatoes, cumin, garlic, ground and fresh coriander, lemon juice, and chickpea flour in a large bowl. Season well with salt and pepper, and mash until smooth. Shape into 12 small patties and place in the fridge for an hour to firm up.
Place a frying pan over medium heat and add the oil. When the oil is warm, add the falafel and brown on each side. Reduce the heat and allow to warm through for about 10 minutes.
To make the harissa dip, place all the ingredients in a small bowl and whisk together. Season with salt and pepper to taste.
Serve the sweet potato falafels on warm plates with a dollop of the harissa dip and a sprig of fresh mint, if you wish. Any leftover dip will keep in the fridge for up to a week.