Naturopathic Doctor
By Kellyann Petrucci, M.S., N.D.
Naturopathic Doctor
Kellyann Petrucci, M.S., N.D. is a weight-loss and natural anti-aging expert, concierge doctor for celebrities, board-certified naturopathic physician and a certified nutrition consultant.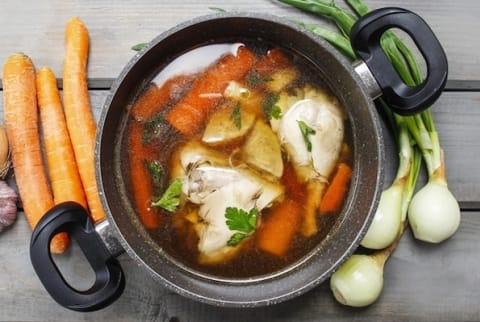 May 2, 2015
Bone broth is about as close as any food could be to qualifying as a magical elixir. From healing the digestive tract and detoxifying organs to encouraging fat burning and warding off inflammation, there's little this humble dish can't do.
I've talked in previous posts about the amazing benefits of bone broth and how to prepare it. But I didn't address an obvious question — one I'm asked all the time: "Where exactly do I get the bones, and what kind should I use?"
For starters, to create the healthiest broth, you have to begin with the healthiest ingredients. So you want to think about the same things you consider when purchasing meat. That involves terms like organic, pastured, and grass-fed.
Really, you can use the bones from just about any quality meat you like. Great choices include:
Beef
Bison
Chicken
Duck
Goose
Lamb
Pork
Turkey
Venison
Parts of the animal that you don't normally eat can be excellent for bone broth — knucklebones, bones with marrow, and chicken feet, for example, are quite nourishing and health promoting. (Of course, you don't need to work with anything that makes you squeamish!)
Now, obviously, if you roast a chicken or a turkey, you can simply save the bones and use them for your broth.
But when you need to get bones specifically for broth, you have several options. A local butcher will almost always have plenty to offer here and be very happy to sell them to you. The same is often true for local farmers, and you might connect with one by exploring your local farmers' markets.
A local health food store with a meat department or your nearest Whole Foods could also be a source if you just ask for soup bones. In addition, you can order a variety of healthy bones (and meats) online from U.S. Wellness Meats.
The important thing is to just give making and eating bone broth a try, even if purchasing bones seems a little weird at first. Trust me — it won't seem weird for long, and you'll be glad you did.

Kellyann Petrucci, M.S., N.D.
Naturopathic Doctor
Dr. Kellyann Petrucci, M.S., N.D., is a world-renowned expert and leading voice in health and wellness. A frequent contributor on Nationally Syndicated TV programs like Good Morning America, The Talk and Good Day LA, she is also the host of her own highly rated PBS specials. In addition, Dr. Kellyann is a regular contributor to publications like USA Today, Forbes, Everyday Health and Bloomberg. She reaches 428K people across her social media platforms and 3.2M unique visitors to her website monthly.

A New York Times Best Selling author of 10 books translated into 9 languages, Dr. Kellyann's most recent success is The Bone Broth Breakthrough (2022). Debuting as number 1 in multiple Amazon wellness categories, The Bone Broth Breakthrough was named a number 1 new release and Dr. Kellyann is listed as a Top 10 author on the prestigious Publisher's Weekly List.

As a naturopathic physician who works with many well-known celebrities, Dr. Kellyann helps people reduce dangerous belly fat, heal digestive discomfort, and feel slimmer, younger, and better. With her simple-to-follow lifestyle changes, Dr. Kellyann empowers others to take control of their health.