This Kale & Cabbage Slaw Is Perfect On Its Own Or As A Topping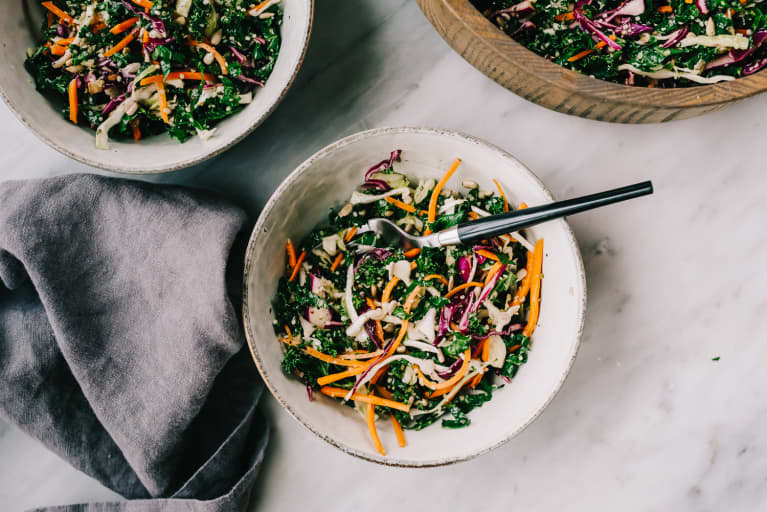 Our editors have independently chosen the products listed on this page. If you purchase something mentioned in this article, we may
earn a small commission
.
It's amazing how the simple act of thin slicing and adding a perfect dressing can totally transform a pile of vegetables into something special, and this slaw is exactly that.
"This slaw reminds me of kale's trendy goodness every time I make it," writes Tara "Teaspoon" Bench, a former food editor and stylist for Martha Stewart, in her new cookbook Live Life Deliciously. "I slice the kale thinly, then let it marinate in dressing for a few minutes. The vinegar softens the hearty, cruciferous leaves and makes them tender yet still crunchy."
And the crowning glory of this dish is the homemade cilantro-lime dressing. "It is so luscious, and the spice is perfectly balanced," writes Bench. "No salad is safe when this dressing is on hand! I drizzle it on anything relatively green served in a bowl and even use it for a marinade for chicken or skirt steak."
One of our favorite things about slaws, like this zesty dressing, is their versatility: while they may be a great side dish, they're also a lovely addition to top salads and more—a trait Bench has some advice to take advantage of: "This kale slaw can hold its own out of the bowl, but it's also great as a slaw for tacos, awesome with black beans and grilled chicken."
Kale & Cabbage Slaw With Radishes & Pepitas
3 cups finely sliced and chopped kale, thick stems removed
1½ cups thinly sliced cabbage
1 cup julienned or shredded carrots
½ cup thinly sliced radishes
½ cup roasted pepitas
1 recipe Subtly Spicy Cilantro-Lime Dressing (below), prepared
In a large bowl, toss together the kale, cabbage, carrots, radishes, and pepitas.
Drizzle with several tablespoons Subtly Spicy Cilantro-Lime Dressing, and toss.
Let salad sit for 10 minutes, and then toss with more dressing and serve.
Subtly Spicy Cilantro-Lime Dressing 
¼ cup fresh lime juice
2 tablespoons apple cider vinegar
¼ teaspoon cayenne pepper
½ teaspoon ground cumin
¼ teaspoon kosher salt
1 tablespoon honey
2 tablespoons chopped cilantro
⅔ cup avocado oil
In a medium bowl, stir together all of the ingredients except the oil until well combined.
Slowly add the oil, whisking constantly. Serve or store in a covered container at room temperature up to 3 days or in the refrigerator up to 3 weeks. If chilled, bring to room temperature and shake well before serving.