Solange Knowles Just Changed Up The Meditation Game & We're In Love
mbg Contributor
By Krysten Peck
mbg Contributor
Krysten Peck is a freelance writer specializing in arts, wellness, brands, and visual storytelling. She received a bachelor's degree from Dickinson College.
Singer-songwriter Solange Knowles has tapped into the world of alternative healing for her latest installation, Metatronia, on display at the Hammer Museum in Los Angeles.
Metatronia is "an interdisciplinary performance piece and reflection featuring dance and sculpture," states the museum website.
According to Solange's artist statement, the piece pays homage to the process of Metatronia—a form of therapy that focuses on vibrational sound healing—as a tool to create space for clarity, creativity, and meditative movement. "Metatronia explores the process and mapping of creation. The piece is an exercise on following the intuitive force that guides us, helping us to create space, and silence the mind to create the work."
For Solange, Metatronia also serves as an exploration of interests in wellness as they relate to the interplay of movement, meditation, and architecture. "Continuing my practices and interest in exploring the relationship of movement and architecture as a meditation, Metatronia centers around building frequency and creating change through visual storytelling."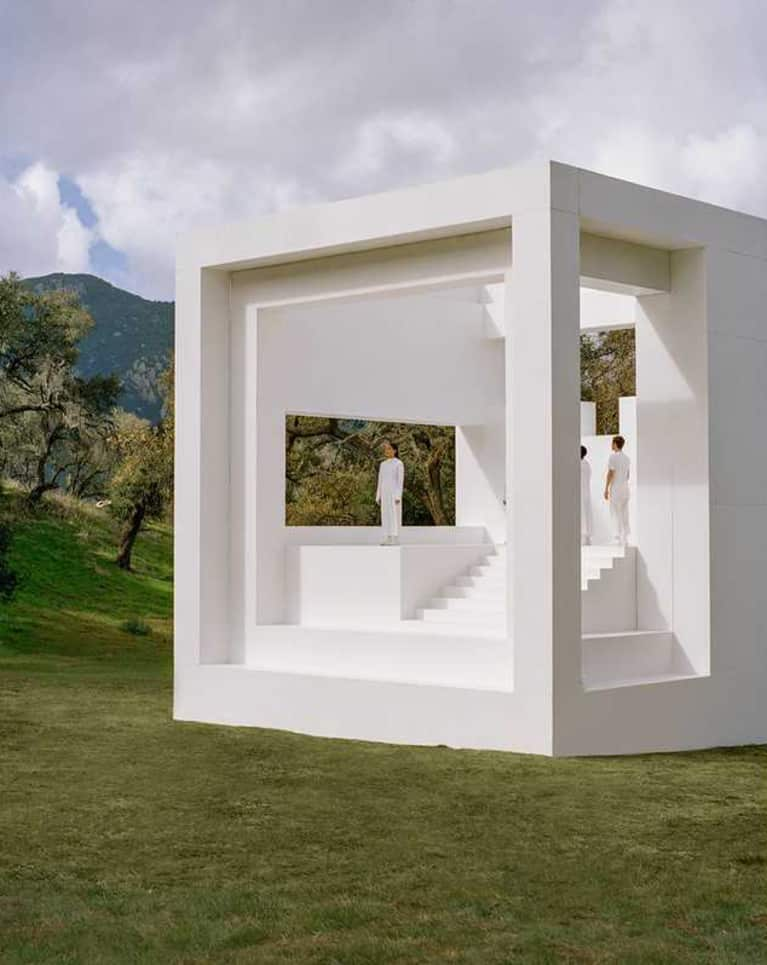 The video features a diverse cast of dancers from California State University, dressed mostly in white and moving rhythmically to music that is fittingly akin to the audio you'd likely hear in a sound bath meditation session. The stark aesthetics painted against the green pastures of California are striking in the least and call upon the calming effects of nature as integral to the piece's overall majestic quality. It's like being transplanted in the middle of the outdoors with a meditation soundtrack and soothing visuals.
This isn't the singer-songwriter's first foray into meditation as a medium for artistic expression. Her 2017 "Musical Meditation" performance piece fixated on the premise of healing to "encourage a moment of meditation and reflection to build internal energy through music and fellowship," according to a statement.
The therapeutic benefits of art and landscape are perhaps underexplored in the realm of wellness, but leave it to Solange's unwavering curiosity with visual storytelling to combine sculpture and dance to create community and access to different modalities of healing.
Curious about other methods of meditation? Here's how boxing became the new form of meditation.