This Light & Fluffy Baked Omelet Is The Perfect Easy Sunday Brunch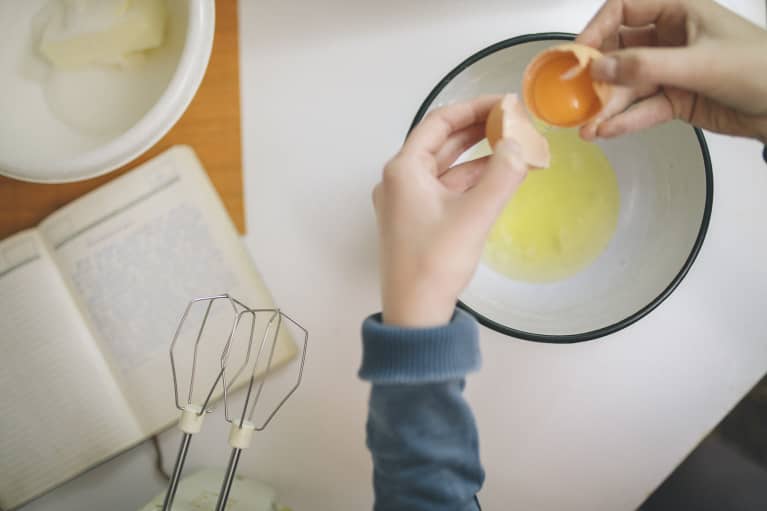 Our editors have independently chosen the products listed on this page. If you purchase something mentioned in this article, we may
earn a small commission
.
For an alternative take on a classic omelet, this baked option is like a fluffier frittata and so much easier to make than what you might think. From Michelle McKenzie's new kitchen tome The Modern Larder, it takes what I thought I knew about making a perfect omelet and completely changes it—making me realize I've been working far too hard.
The star of this dish is, of course, the eggs. But other ingredients such as yogurt, ghee, and fresh turmeric give the recipe a more full feel than most simple egg dishes. Plus, you can dress it up even more if you so choose.
"Make it a biggish meal by serving it with bread, lavash, toast, or steamed rice; or daal, pickles, and a green salad," McKenzie advises. "It is best eaten warm from the oven while the omelet is still custardy in the center." She also shares that, if you have leftovers, the cold slices make a nice base for a sandwich with labneh, herbs, and tomato.
Baked Omelet With Yogurt & Fresh Turmeric
8 medium or large eggs
¼ cup plain yogurt, preferably full-fat Greek or sheep's milk, plus more to serve
½ teaspoon fine sea salt
1½ tablespoons ghee
2 teaspoons finely grated fresh ginger (use a Microplane for best results)
2 teaspoons finely grated fresh turmeric (use a Microplane for best results)
1 garlic clove, finely grated (optional)
1 teaspoon cumin seeds, toasted and ground with a mortar and pestle or spice grinder
½ cup cilantro, whole leaves and tender stems
Thinly sliced scallions, white and light-green parts, to serve (optional)
Thinly sliced green chile (such as serrano), to serve (optional)
Flaky sea salt
Preheat oven to 400°F. Whisk the eggs with the yogurt and sea salt until just combined; set aside. Heat the ghee in a large ovenproof frying pan over medium-high heat and add the ginger, turmeric, garlic, and cumin. Sauté for 1 to 2 minutes; don't let the cumin burn or garlic brown.
Adjust the heat to low, add the eggs, and stir until they just start to scramble, 1 to 2 minutes. Transfer to the oven and bake, uncovered, until just set, 4 to 5 minutes; or cooked to your liking (I like them soft and wet in the center).
Dollop with yogurt (or serve a bowl alongside) and shower with cilantro, scallions (if using), a few sliced chiles (if using), and flaky sea salt. Serve at once.