So This Is Why Women Everywhere Are Shaving Their Faces

Contributing Wellness & Beauty Editor
By Lindsay Kellner
Contributing Wellness & Beauty Editor
Lindsay is a freelance writer and certified yoga instructor based in Brooklyn, NY. She holds a journalism and psychology degree from New York University. Kellner is the co-author of "The Spirit Almanac: A Modern Guide to Ancient Self Care," with mbg Sustainability Editor Emma Loewe.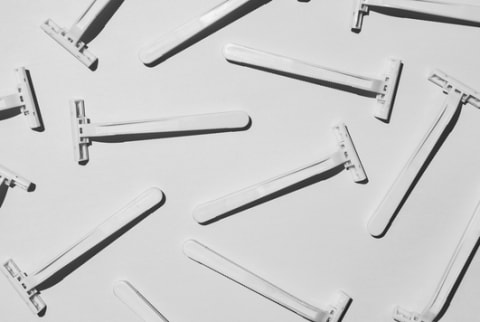 October 11, 2017
Everybody has facial hair, even if you can't see it. But traditionally, men are the ones who shave to get rid of it, until now. A recent movement in skin care has women shaving their faces, too.
Kate Somerville, a well-known celebrity aesthetician, told the Times that she's shaved her face for more than 20 years, recommends it to her A-list clientele, and points out that Marilyn Monroe and Elizabeth Taylor shaved their faces too. Evidently, female face shaving is not a new practice but one that's been brought to light in the last couple of years. A handful of beauty influencers on Instagram and YouTube are evangelical about the practice. Holistic dermatologist Cybele Fishman, M.D., said there's an upside to shaving, too, because it's less inflammatory than waxing and even threading, but she thinks that there are better ways to exfoliate the face, including alpha-hydroxy acids and retinoids.
That said, the craze continues. Several YouTube videos that explain the process have hundreds of thousands, if not millions, of views. Most people recommend shaving downward, and some, including Somerville, have even moved on to men's razors like the Mach3. But the razor of choice for first-timers is called a Tinkle, and it's definitely different from using your leg or underarm razor. The product has a steel razor cover, which is meant to protect delicate skin, is smaller, and is angled so you can reach all the contours of the face.
It's true, shaving your face will exfoliate the top layer of skin—the technical word for this process is "dermaplaning." One New York City spa that offers the service—often performed with a scalpel by an aesthetician—has seen a threefold increase after adding dermaplaning to its menu of services. Dr. Fishman said that face shaving is safe with a few precautions. She recommends using a razor like the Tinkle, changing the blade often, and taking care with other products. "You will likely have tiny openings or breaks in the skin that you can't see, so products may sting that normally would not," she warns. She also recommends avoiding retinoids for three days, since retinol-treated skin is irritated more easily. And of course, wearing a daily sunscreen remains a top priority.