You Can Create Your Own Intimacy With Whomever You Desire. Here's How

Contributing Wellness & Beauty Editor
By Lindsay Kellner
Contributing Wellness & Beauty Editor
Lindsay is a freelance writer and certified yoga instructor based in Brooklyn, NY. She holds a journalism and psychology degree from New York University. Kellner is the co-author of "The Spirit Almanac: A Modern Guide to Ancient Self Care," with mbg Sustainability Editor Emma Loewe.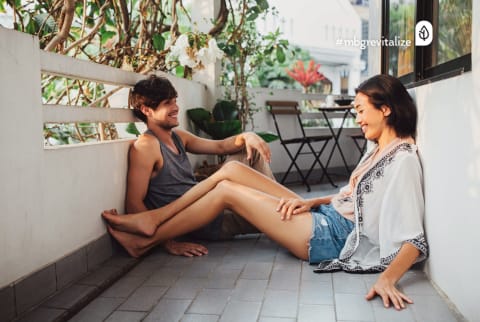 June 25, 2018
We just wrapped
revitalize
2018! Our fifth annual revitalize gathered together the world's most knowledgeable experts and influential thought leaders for discussions on the biggest issues facing the world today—and how wellness is part of the solution. We brought you highlights all weekend long on mbg's homepage and at #mbgrevitalize on
Instagram
and
Twitter
! Now you can dive into
all the videos
from the biggest event in wellness!
After dinner on Saturday night, John Wineland, Los Angeles–based speaker and teacher focused on spiritual intimacy and sexual polarity, and his partner, Guru Jagat, of Kundalini notoriety, had a fireside chat about intimacy. They discussed what modern intimacy really means, how to achieve it, and how to use it to have mind-blowing relationships and sex.
In an age when we're spending more time face-to-face with cellphones than with other human beings, intimacy is a call to action. The duo explains how we "learn" our intimacy patterns as early as five months in utero, which play out unless we change them. Intimacy has to do with regulating the nervous system and breath, and both Guru Jagat and Wineland discuss how holding space and being spacious both have strong correlations to yoga practice. Wineland answered questions from the crowd on how to receive love, how to become more lovable, and how to evoke the feelings you desire in yourself and in any relationship.
The main take-away was that intimacy is simpler and more accessible than you may think—all it takes is a daily practice and the willingness to hold space and to give it. Watch the full talk here!