mbg Sustainability + Health Director
By Emma Loewe
mbg Sustainability + Health Director
Emma Loewe is the Senior Sustainability Editor at mindbodygreen and the author of "Return to Nature: The New Science of How Natural Landscapes Restore Us."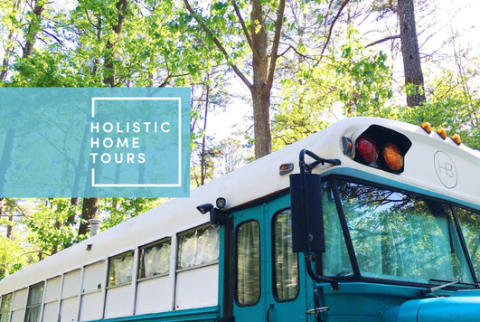 July 2, 2017
Today on Holistic Home Tours, we're checking out an unconventional home on wheels currently parked in the Atlanta area.
Advertisement
This ad is displayed using third party content and we do not control its accessibility features.
It's the age of minimalism, #vanlife, and Tiny House Nation, more people than ever are looking to streamline their routines. Julie Puckett and her husband, Andrew, first chased the simple life just over two years ago, and they're still rolling with it (pun very much intended). The couple's 200-square-foot home, which they somehow also share with their dog, Starbuck, and cat, Mr. Butters, is fashioned from an old school bus. Let's take a tour of the teeny-tiny sanctuary.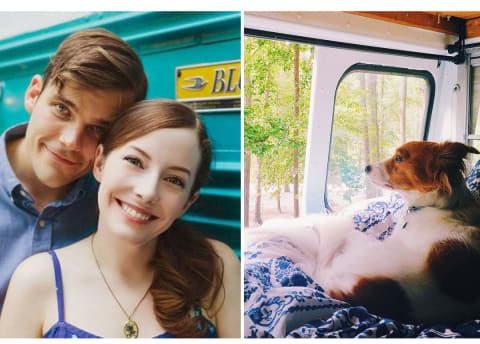 What inspired you to move onto the bus?
It really began with wanting more control over our finances. We were ready to move past apartment living, but not interested in the burden and commitment that comes with investing in a traditional home. The prospect of being able to move our home to a new location for vacations, or even for months at a time, was also very appealing.
Advertisement
This ad is displayed using third party content and we do not control its accessibility features.
How long did it take you to make it feel like home?
I spent countless hours choosing decor as we completed the renovations, so as soon as those were done it immediately looked and felt so perfectly cozy. I fell in love right away.
What was the biggest design challenge when you were moving in?
The biggest challenge was trying to choose colors and textures that wouldn't overload the senses in such a small space. I didn't want it to feel sterile, either. About a year into living in the bus, I added a few punches of color by switching out the rug and throwing in some coral pillows, and it made it feel so much more vibrant.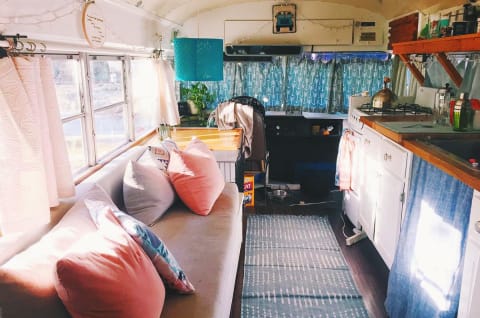 Advertisement
This ad is displayed using third party content and we do not control its accessibility features.
What's the most frustrating part about living in such a small space? The most rewarding?
The most frustrating part is definitely maneuvering the space when both Andrew and I are home. The bus is a very narrow area to begin with, and when you add furniture and appliances, it can be even trickier to navigate.
The most rewarding feeling is when the bus is clean and tidy and the windows are open. I love being in a beautiful, serene space I've created from top to bottom. It was hard work, but I'm so proud of it.
You must have a lot of great storage hacks. What's your favorite?
I like to think I do! I don't know how I'll ever live in a typical house again that doesn't come outfitted with hidden storage. We built all the furniture ourselves—the couch opens up to reveal storage, as does the bed. But the storage solutions I love the most are the ones in plain sight. Our side table—a silver drum with a wooden lid that's just the right height to set your coffee on—is gorgeous, and it hides extra storage really well! We're always looking for pieces that do double duty.
Advertisement
This ad is displayed using third party content and we do not control its accessibility features.
What's the oldest thing in your home? Newest?
The oldest thing in our home is my great-grandmother's menorah. I feel honored to have such a special family heirloom in our home. The newest thing? A brass narwhal tea light holder from CB2! I'm obsessed with narwhals and whales.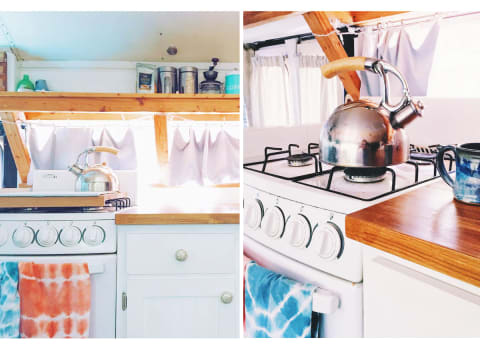 Advertisement
This ad is displayed using third party content and we do not control its accessibility features.
What noises can be heard in your home?
We can hear a little bit of ambient noise from neighbors, but not much, which surprised me. What we can hear a lot of is rain! The metal roof magnifies the sound of the rain, so we can hardly hear each other talk if it's raining hard enough. I've come to like it, though. It's a comforting sound now.
What are three words that describe your design philosophy at home?
Comfortable, classic, quirky. I don't like high-maintenance design that feels more like a museum than a space people live in. I want people—myself included—to feel at ease in our home, and part of that is choosing fabrics and pieces that are pleasing to the touch as well as the eye.
While I keep track of design trends, I never fully design a space around them. Home design shouldn't be fast fashion, unless you're redesigning every few years. I'll occasionally find ways to incorporate trends I like with small pieces that are easily swapped out. I like to place a few fun, eccentric touches here and there that really speak to who I am as an individual. Design should be fun! It's a living, changing thing, and if it's taken too seriously, the space is reflective of that.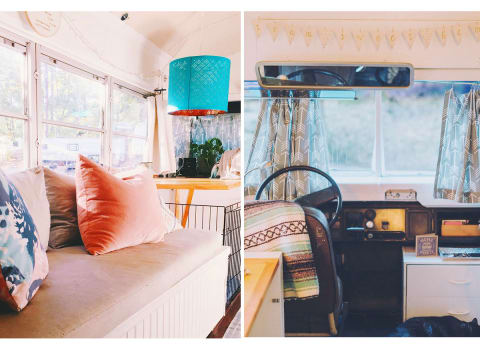 How does your home relax you? How does it motivate you?
Our home feels like a beach house in a lot of ways, and that makes me feel so calm and at ease. When everything is organized, it feels like everything inside me is tidy and calm, as well. Tiny spaces get cluttered very quickly, and a messy 200-square-foot home is a bit of a nightmare.
What's the best compliment you've ever received on your space?
When people say that seeing our space (whether in person or on the internet) has inspired them to do something they care about. I don't think everyone should rush out and buy a bus or a tiny house, but I do think it's important to give yourself the grace needed to take risks in your life. If I'm helping people go after their dream, that's the best thing that I could possibly be doing.
What does the future hold for you?
We have absolutely loved the time we've spent living in our bus full-time, though that time is drawing to a close. My business is growing, Andrew is starting one of his own, and we're looking to start a family, so we will be transitioning into a new adventure in a new space. We still love our bus, though, and want to open its doors to those who are interested in moving toward living tiny.
Over the next year or so, we're going to find land of our own to host the bus as an Airbnb! To someone looking to make the transition to tiny, the idea of a tiny home or bus conversion is mostly abstract until you spend time in one, and our hope is that opening our bus to others will help them find the peace of mind to pursue another avenue. I also think it would be the perfect retreat for someone looking for some cozy, quiet time. And who knows: If children are in our future, I may need a retreat of my own!
Get the look.
Here's a primer on how to bring some of Julie's style into your own space, no matter what size it is.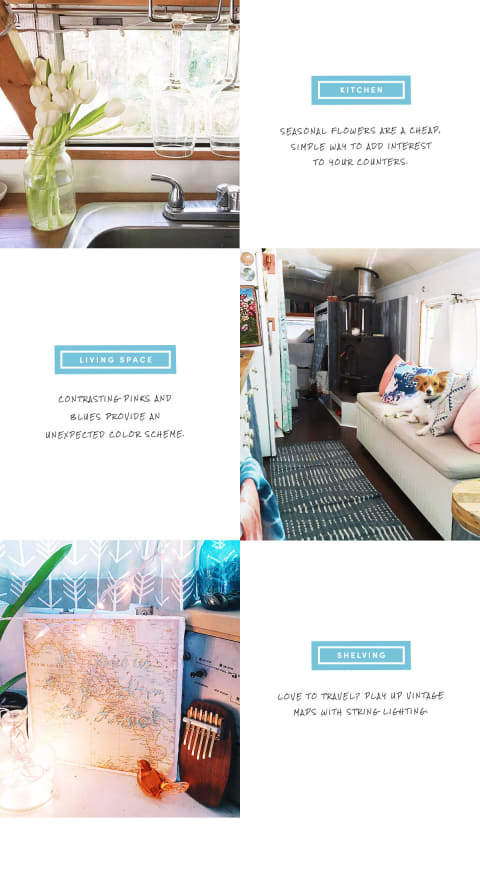 To peek inside more feel-good sanctuaries from around the world, check out the rest of our Holistic Home Tours.