My Husband And I Live In A Converted School Bus—And We've Never Been Happier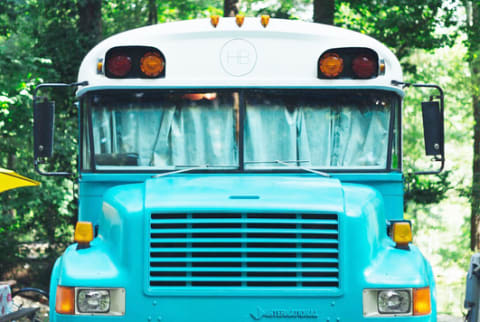 Photo by Samuel Laubscher
March 25, 2016
A little over a year ago, my husband Andrew and I were living in downtown Atlanta, in our shabby Little Apartment That Could.
We had recently relocated from Chicago—where we'd worked an ungodly amount to pay for less than 1,000 square feet—in an effort to restore some semblance of a work-life balance. Much of the area where we lived in Atlanta was seedy, dilapidated, and unsafe—which was exactly why we could easily afford it.
But city planners eventually decided it was time to gentrify our neighborhood, and unfortunately while the city bigwigs were giving things a much-needed face-lift, our landlord got a similar idea. Slowly, neighbors in our building began receiving letters that their rent was increasing exponentially, and in January of 2015, ours came, too. Our rent was going up 30 percent.
I knew I couldn't resume a 50-hour workweek that left me with no time or energy for creative endeavors, my husband, or myself. It was essential I avoid returning to that sickly, exhausted, emotionally unpredictable person I was when most of my time was allotted to working in a windowless office.
I decided we would simply find another way.
Being busy doesn't equate to being fulfilled.
One night over dinner, I casually blurted out, "What if we bought a tiny house?" Andrew chuckled, took another sip of wine, and kept eating. I persisted. Eventually, he agreed to look into them with me.
We were shocked by what we discovered.
Despite the buzz, tiny homes aren't cheap. A well-built one starts at $20,000, with just bare-bones. We did find an alternative, if a somewhat bizarre one: a school bus that had been transformed into a crude camper.
It wasn't pretty by any stretch of the imagination. However, it was nearby, it would be ready to live in by the time our lease expired, and (!) it was well within our budget.
We spent a few days soul-searching and discussing whether or not this was really the right choice for us. If we bought the bus, we'd have very little left in our savings. We'd need to find a place to park it that was close to the city for work but far enough away for us to lean into this entire lifestyle change—we didn't want to feel like we were in a parking lot. Most importantly, we weren't sure a bus could feel like a home. But we decided to be brave and trust our instincts.
The next week we were driving to Tennessee with our life's savings in a cashier's check, ready to hand it over to a total stranger.
It was the best decision we could have made.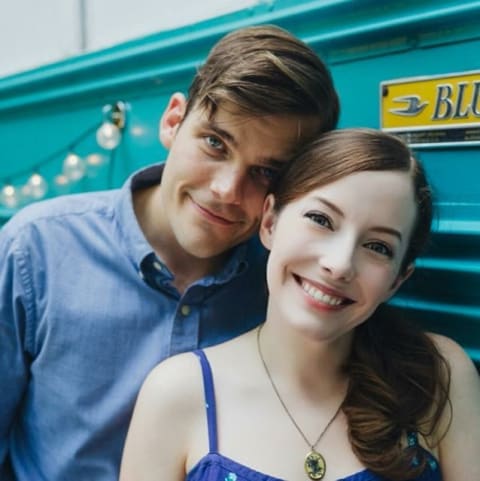 Photo by Samuel Laubscher
Working on our bus together over four months was such a special experience for my husband and my family. My father (a talented carpenter) and my mother (a gifted seamstress) both pitched in their expertise and helped make the transformation of our home an adventure. It's a place we love to be in, thanks to the thought and care we lavished on it over four months.
We designed and built everything—from the furniture to the cabinets and curtains—much of which is multifunctional. Our custom-built couch and bed house tons of storage, our side table can double as extra seating, and our fold-down table can transform into a crate for our dog, Starbuck.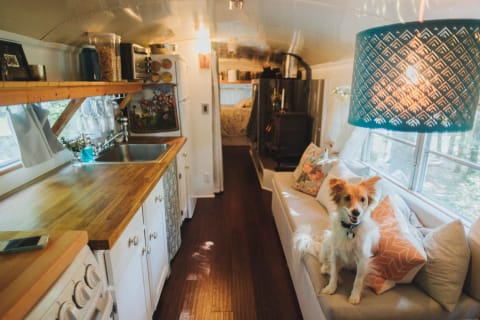 Photo by Samuel Laubscher
It took a little time for us to learn the dance that must take place for two adults to make dinner in such a small space, or get dressed together, or share a tiny bathroom. We weren't prepared for how hyper-aware the space would make us feel, or how easily it would get cluttered. But we were happy to discover that the adjustment period was brief, and life barreled on.
After all, if you're a person seeking happiness, you'll be able to continue that journey in any size space.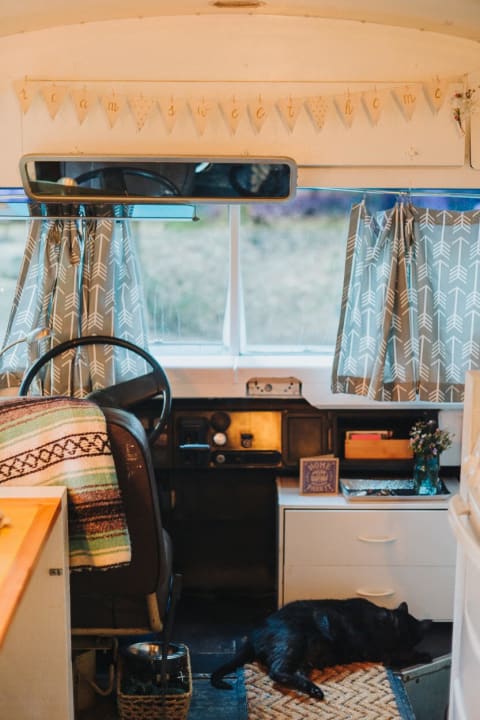 Photo by Samuel Laubscher
May 1 will mark our first year of living in the bus, and we've learned so much in that time. In a microscopic space, all of your feelings become much more tangible to the people around you. You have to learn how to immediately, productively address and resolve any tension or conflict, and that's not an easy skill to learn as adults. We've also become better at considering each other: if I don't leave my shoes in the hallway, Andrew won't trip on them. If I just take out the garbage instead of nagging Andrew about it, we'll avoid an argument and our home will be cleaner.
We're currently parked in a state park outside of Atlanta (where Andrew works part time creating content for seminars and training workshops), and living here together has been nothing short of magical. Outside the van, we frequently hike in the woods and up the mountainside, kayak on the nearby lake, and write music under the stars. We have the great gift of working less and having more time for each other.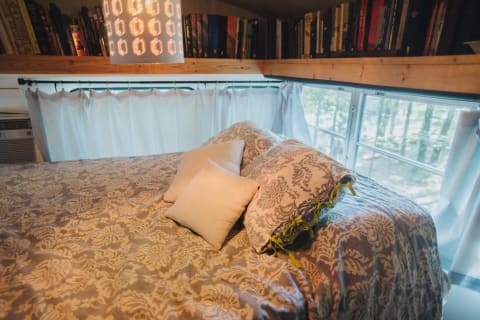 Photo by Samuel Laubscher
Before the move, we were often too busy hustling to have the lightning "Ah-ha!" moments of thoughtfulness we find ourselves with now.
We're at peace here in a way we never were before, and we've been able to be intentional with our energy. After all, being busy doesn't equate to being fulfilled. Today, we're so much more available, emotionally and otherwise, to do kind, satisfying things on a daily basis.
I'll be grateful to our little home for that forever.
Julie Puckett
Julie Puckett is an actor, writer and musician turned designer. She lives in the school bus conversion she designed with her husband, their dog, Starbuck and their cat, Mr Butters.