These Savory Buckwheat Pancakes Will Give Your Brunch A Gut-Healthy Boost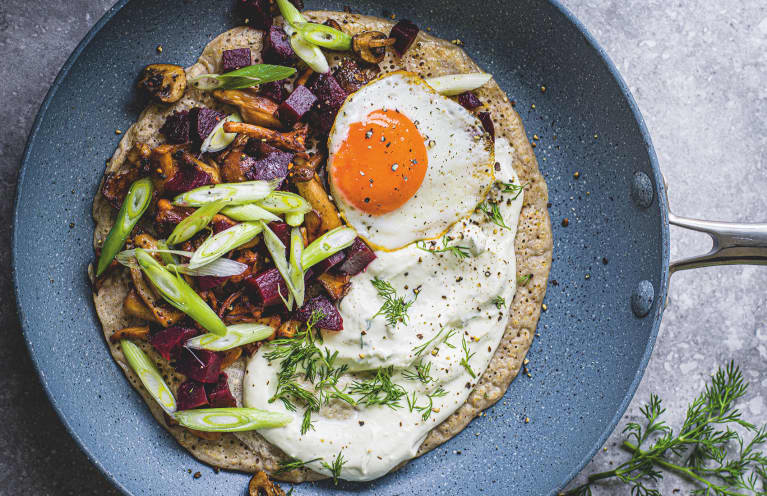 Our editors have independently chosen the products listed on this page. If you purchase something mentioned in this article, we may
earn a small commission
.
Looking for the perfect savory dish to shake up your brunch (or breakfast) routine? Look no further: These savory pancakes are just the ticket. From Good To Eat, by David Atherton, they pair whole grains with a super-flavorful filling. You may know Atherton as a former winner of the Great British Baking Show, but he's also a champion of healthy eating—especially eating gut healthy and feeding your microbiome.
"These pancakes are not just a feast for you but a picnic for your microbiome, too," he writes. "The batter features lots of different grains that provide indigestible starches. Indigestible starches are the starches in whole grains that are not absorbed into the body by our small intestine. They pass through our large intestine, but they are not wasted because good bacteria love to feed on them and produce all kinds of compounds that our body uses."
And that's just the pancakes themselves—the filling has its own benefits too: "The filling is packed with good bacteria and bacteria-friendly foods, but most of all it is packed with flavor." Don't let the unique flavor combo of blue cheese and wasabi scare you: These pancakes are just the thing to make to impress a group of friends with a delicious (and healthy!) at-home brunch, as opposed to the sugar-fest of sweet pancakes or plain old eggs.
100 g (3½ oz) buckwheat flour
20 g (¾ oz) wholemeal plain (whole-wheat all-purpose flour)
25 g (1 oz) millet
5 g (⅛ oz) ground flaxseeds
100 g (3½ oz) sourdough starter (or 50 g/2 oz of plain flour, and 50 ml/2 fl oz water)
½ tsp instant yeast (if you're not using sourdough starter, add another ½ tsp yeast)
1 egg
300 ml (10 fl oz) warm water
Olive oil, for frying
70 g (2½ oz) unpasteurized blue cheese
30 g (1 oz) live natural yogurt, store-bought or homemade
¼ tsp wasabi powder/paste
½ tsp flaky sea salt
10 g (¼ oz) fresh dill leaves
150 g (5 oz) mushrooms
10 ml (¼ fl oz) olive oil
1 garlic clove, minced
4 eggs
100 g (3½ oz) cooked beetroot (pickled in vinegar, if you prefer), cut into small cubes
3 spring onions (scallions) sliced
Mix all the pancake ingredients together in a bowl and leave, covered, on the countertop, for 1 hour.
When the batter is almost ready, blend the cheese, yogurt, and wasabi together, then mix in the salt and dill leaves. Gently fry the mushrooms in a drizzle of olive oil until browned (5 minutes), then stir through the garlic and set aside. Finally fry the 4 eggs (however you like them); transfer to a plate and set aside.
Put a nonstick frying pan on a medium-high heat, lightly grease with olive oil, then pour in a ladle of batter.
Cook for 2 to 3 minutes without being tempted to poke around at the pancake, then gently flip.
Once on the other side, cover half the pancake with a quarter of the fillings—scatter the mushrooms, beetroot, and spring onions; add one egg and spread the other half with the whipped cheese mixture. Gently fold in half and slide onto a plate. Repeat for the other 3 pancakes.