This Rustic Grain-Free Loaf Features Sweet Potato For Nutrients & Structure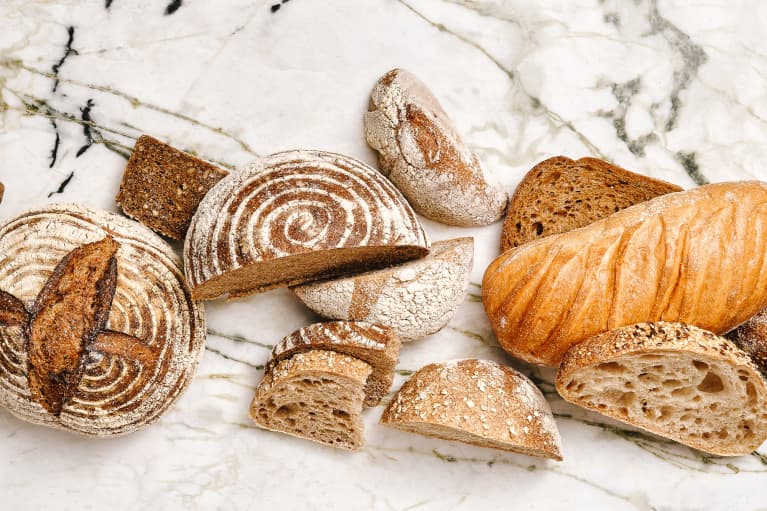 Our editors have independently chosen the products listed on this page. If you purchase something mentioned in this article, we may
earn a small commission
.
When it comes to homemade bread, most hinge on gluten for structure—whether they feature whole grain, rye, or some other type of flour. But I've got good news: You can make a high-quality artisan loaf without any grains using this recipe from Sweet Laurel Savory. What's even better, it features one of our always-in-the-pantry favorite root veggies: sweet potatoes.
"In order for that delicious, robust flavor to come through, yeast partners with gluten to develop the structure needed for a chewy interior and perfectly crisp crust," explain the cookbook authors Laurel Gallucci and Claire Thomas. "To replicate this effect without gluten, we used sweet potatoes and flax meal for a hearty texture and flavor."
This delicious alternative will satisfy any want for crusty artisan bread but with nutrients from the sweet potato, eggs, and flax meal. Flax, in its many forms, is a good source of omega-3 fatty acids, protein, and soluble fiber. Sweet potatoes are actually something of a super ingredient themselves: They add a wealth of vitamins and minerals to this loaf, like vitamin A, vitamin C, manganese, vitamin B6, magnesium, and potassium.
1 cup chopped peeled sweet potato (We prefer to use white sweet potatoes for their color in this recipe, but any kind will work.)
¼ cup avocado oil, plus more for greasing
4 large eggs
1 tablespoons cider vinegar
⅔ cup coconut flour
2 tablespoons psyllium husk
2 tablespoons flax meal
1 teaspoon baking soda
½ teaspoon Himalayan pink salt
Preheat the oven to 400°F. Line an 8-by-4-inch loaf pan with parchment paper, letting the paper hang over the sides for easy removal.
In a blender or food processor, combine the sweet potato, avocado oil, eggs, vinegar, and ⅓ cup of water, and blend until completely smooth, 2 to 3 minutes.
In a medium bowl, combine the flour, psyllium husk, flax meal, baking soda, and salt. Add the sweet potato mixture, and mix with a spatula until a soft dough forms.
Line a work surface with parchment. Turn out the dough onto the parchment and form it into a ball, then shape the ball into a small loaf, slightly smaller than the prepared pan. Place the loaf in the pan and bake for about 40 minutes, until golden brown on top and nicely puffed. Let cool in the pan for 15 minutes, then take out the bread and let cool completely on a write rack before slicing and serving.
Wrap the bread in plastic wrap and store on the counter for 3 to 5 days or in the freezer for up to 3 months.