paid content
 for

Need Some Running Motivation? Here's This Year's Top Running Gear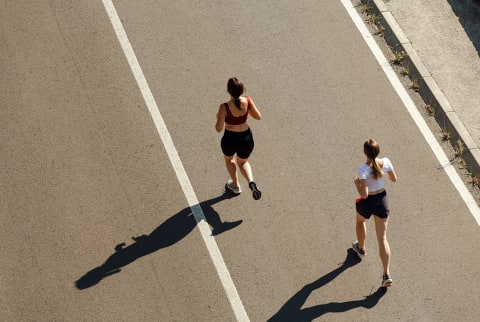 May 20, 2022
There's not a pair of running shoes out there that will run the miles for you, but a fresh outfit can inspire you to put down the excuses and pick up the pace. Plus, stocking up on gear that's designed to support your body for the miles and marathons to come? Sometimes our wardrobe really is the key to staying motivated and meeting the finish line with a smile on our face.
Quality running shoes, for example, are a nonnegotiable factor in any kind of long-term running goal. Research1 has shown that the construction of a running shoe is directly connected to performance and injury. The stiffness of a shoe will influence performance while thicker and softer midsoles will reduce the shock of impact (and for this, your knees will thank you). Beyond our shoes, choosing the right apparel also has a role to play. When we're running, things get sweaty fast, so runners need a getup that's light, breathable, and cooling… Because who wants to be weighed down by sweaty workout clothes?
Advertisement
This ad is displayed using third party content and we do not control its accessibility features.
This year's top running gear.
When we're geared up for success and style, running simply feels less like of a chore and more like fun. There's a wide world of running swag out there, but this year we're sprinting toward New Balance for their trifecta of function, fashion, and performance technology. From performance-boosting running shoes to environmentally-friendly apparel that meets an eco conscious "green leaf standard," these are our top five running finds:
1.
The perfect pair of running shoes
The best runs have one common denominator: a supportive pair of running shoes. (The ancient pair of sneakers at the back of your closet? Not going to cut it.) The Fresh Foam X 1080v12 is New Balance's very best running shoe. Between the underfoot cushioning and updated midsole mapping, this shoe gives you flexibility to make every stride smoother. Its Fresh Foam X midsole provides the superior comfort you need en route to any destination. Even more, this shoe meets New Balance's green leaf standard: At least 50% or more of the materials in the garment are sourced as environmentally preferred. If you're looking for a reason to run, it starts with these kicks.
The importance of high-performing running shorts cannot be overstated. Running is hard enough as it is—the last thing you need is a chafing pair of shorts or sagging waistband. Instead, look for a pair of shorts you barely notice, like the green leaf standard Impact Run Short. Between the 5-inch length for added coverage and NB DRY technology, these shorts keep you cool, dry, and covered on long runs. And bonus—they're loaded with pockets so that your phone, keys, and supplements are in tow wherever you go.
Working up a sweat is a good thing, so long as your clothing is quick to wick. A staple tank top is critical in any runner's wardrobe, and the New Balance Accelerate Tank checks all boxes with the sleek and simple style of a racerback design and scalloped hem. Designed with fast wicking poly knit fabric (100% recycled polyester), this tank is all about comfort—totally light and not too tight!
4.
A supportive sports bra
You can muscle your way through any run, but actually enjoying it requires supportive gear… And at the top of that list is a sports bra to keep everything in place. Running is a bit of an impact sport, but the NB Pace Bra 3.0 provides just the right amount of compression for a no-bounce fit, plus stabilized front straps to minimize vertical movement. Alongside that next-level support, this bra features fast-drying tech while meeting New Balance's green leaf standard… In other words this bra performs, so that you can.
For those early morning jogs or a little post-run warmth, you need a layer that will keep you warm without weighing you down. The Uni-ssentials French Terry Crewneck Sweatshirt by New Balance features French terry construction for extra comfort, with an environmentally-friendly blend of cotton and polyester. As a part of their gender-free collection, this crewneck puts an inclusive fit on that classic New Balance style.
Advertisement
This ad is displayed using third party content and we do not control its accessibility features.
Devon Barrow
Branded Content Editor
Devon Barrow is a Branded Content Editor at mindbodygreen. She received her degree from the University of Colorado. When she's away from her desk, Devon is teaching yoga, writing poetry, meditating, and traveling the world. She's based in Boulder, Colorado.
Devon's first book, Earth Women, is coming soon. To learn more, join the mailing list, and receive updates, head to www.devonbarrowwriting.com.