How Running Helped Me Find My Place In The Feminist Movement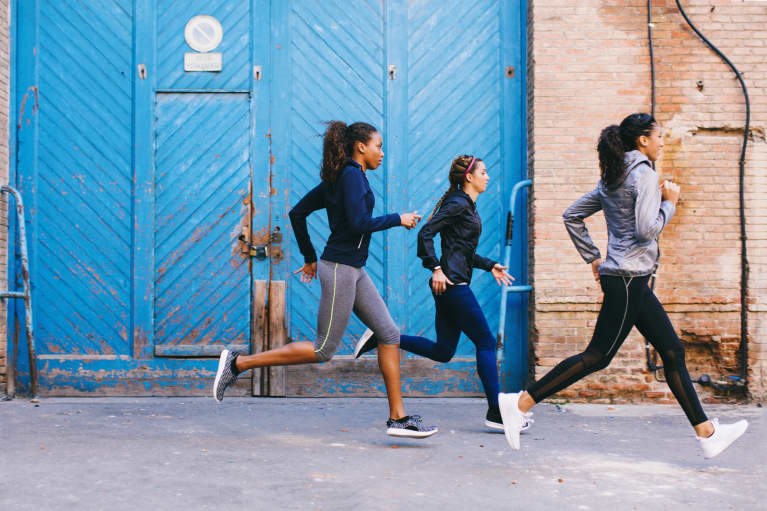 Sprinting in downtown Manhattan is one weird hobby of mine. Weaving through small flocks of commuters and tourists on a concrete strip along the East River may not sound like the most restorative of morning rituals, but for me it has become a sort of meditation. I'll take off from the same place, run until I feel like I'm flying, like I've transcended this crazy city, stop to catch my breath, take in the view, then walk back to do it all again. While less than comfortable, these 40-second bursts remind me that momentary aches are fleeting, nothing a moment of rest can't resolve. The routine has helped me deal with life's anxieties and build confidence in my ability to fight through the small stuff. I find power in the notion that I can create my own start and finish lines, too. The thing I enjoy about these mornings most, though, is that they feel like a shiny, no-strings-attached gift to myself.
But sometimes, other people manage to take it away. Some mornings, I'll walk back to the starting point, face red and breath wavering, to the tune of strangers, almost always men, saying "Wow, you're so fast" or "Damn, you're so athletic."
Most of the time it doesn't bother me. As long as they seem to be coming from a place of genuine respect, I actually find these comments nice. As someone who used to struggle to run a mile without wheezing, I shrug them off as reinforcement of how far I've come. But with the addition of a few words, I've felt under-the-breath comments transform into something violating and derogatory.
When praise is followed by remarks like "that's hot" or "I like that," the act of running becomes less about me and more about people's valuations of me. It's moments like these, when men look at my body in the context of their lives—and feel emboldened enough to express that—that have made me a feminist.
They make me want to apologize for working on myself in public and opening myself up to the judgment of others. They make me want to go inside and hide on a treadmill.
According to Oxford's definition, feminism is "the advocacy of women's rights on the basis of the equality of the sexes." So yes, in many ways I've always been a feminist in theory. Do I think that women and men deserve equal treatment? Of course. Do I get upset with every new revelation that comes out of the Me Too movement? Absolutely. And I've always felt that it's my responsibility to stand tall with the women who have had their rights squandered because of their gender. But I never felt like I had much to offer them. After all, I grew up surrounded by male and female friends cheering each other on. I went to a good college with a nearly equal gender distribution and watched my female classmates go on to score amazing jobs. I now work alongside a team of six people, all of them strong, independent women who inspire me every day. I'm so grateful for these privileges, but I think in a way I let them remove me from the feminist movement. I let them make me feel like I didn't have as much to bring to the table as others who had more to fight for, more fuel in their fire. They made me feel as though feminism wasn't something that I "needed" for myself, only something that I was trying to achieve for others who were not as lucky.
Though we still have a ways to go, we have made some serious progress.
But those breathless morning runs have shown me that feminism is something that every woman, regardless of background or story, has equal stake in. The comments send me back to night runs when I felt like I needed to head home early and get off the road, to stories from my friend, a track runner, who had to stop jogging in her old neighborhood because she didn't feel safe doing so, even in the middle of the day. They bring me back to one ironic occasion when I couldn't go to my running spot because President Trump's helicopter was landing nearby. They remind me that all women have had experiences that left them feeling small, like they needed to retreat after hearing a man talk.
But I'm also reminded of the women's-only half-marathon that comes to New York each spring, sending thousands of runners out to show their strength to a chorus of men cheering them on from the sidelines. I'm reminded that more and more women are beginning to vocalize their own need for feminism, and everyone is starting to listen. I'm reminded that though we still have a ways to go, we have made some serious progress. It's with this knowledge that I head back to my starting point in the mornings, feeling sorry for those men left who don't realize how strong I, and all the women around them, truly are. Then, I smile in the sheer knowledge that I can outrun them and take off.