Wake Up Your Taste Buds With This Brain-Boosting Berry Chia Pudding

By Caroline Muggia
mbg Contributor
Caroline Muggia is a writer, environmental advocate, and registered yoga teacher (E-RYT) with a B.A. in Environmental Studies & Psychology from Middlebury College.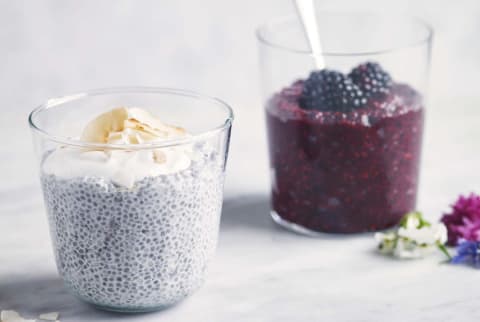 Image by Nassima Rothacker / Contributor
April 2, 2019
We love when breakfast is healthy, yummy, and easy to throw together. Ella Mills Woodward, the founder of Deliciously Ella and the author of the new cookbook Deliciously Ella: The Plant-Based Cookbook, shares her berry chia pudding recipe, which ticks all the boxes and has the potential to change your mornings.
This light and flavorful chia pudding includes blackberries, which support healthy brain functioning, coconut milk, and a pop of citrusy spice from the cardamom (great for digestion). This, paired with the satisfying texture of the nutrient-dense chia seed pearls, a favorite superfood here at mbg, take this breakfast recipe to the next level.
If you're feeling creative, Ella recommends making this pudding into a little parfait by adding some yogurt and granola in layers on top of the chia pudding. Whatever your morning routine may be, we think this will fit seamlessly into it.
Red Berry Chia Pudding
100 grams frozen blackberries, or any other frozen berries
1 cardamom pod, split open and seeds ground
100 mL coconut milk or any other plant milk, such as almond, oat, or rice
2 tablespoons maple syrup
Squeeze of lemon juice
50 grams chia seeds
Blitz the frozen blackberries, ground cardamom, coconut milk, maple syrup, and lemon juice in a food processor until smooth, then pour into a bowl. If you don't have a food processor, mash with a fork.
Add the chia seeds, mixing as you go to prevent lumps forming. Leave to thicken for about 10 minutes, mixing every few minutes to ensure the pudding thickens evenly. Store in the fridge.

Caroline Muggia
Caroline Muggia has a B.A. in Environmental Studies & Psychology from Middlebury College. She received her E-RYT with Yoga Works and is a graduate of the Institute for Integrative Nutrition. A writer and environmental advocate, she is passionate about helping people live healthier and more sustainable lives. You can usually find her drinking matcha or spending time by the ocean.