paid content
 for

Read Well, Live Well: 5 Ways Reading Benefits Your Brain
Medical review by
Ilene Ruhoy, M.D., Ph.D.
Integrative Neurologist
Dr. Ruhoy is a board-certified neurologist practicing integrative pediatric and adult neurology in Seattle. She is the owner and founder of the Center for Healing Neurology, and received her M.D. from the University of Pittsburgh School of Medicine.
Image by jamie grill atlas / Stocksy
June 17, 2021
Picture this: It's a stormy, springtime afternoon, and the house is (miraculously) drenched in solitude and silence. As rain patters against the window, you're curled up on the couch—eyes devouring the words of a novel, heart oscillating with the plot's twists and turns.
A page-turner lights us up on every level: mind, body, and spirit. Beyond merely entertaining us, our brain reaps a handful of benefits while we read, in ways we seldom acknowledge. In fact, it's such a healthy pastime that we say reading IS wellness. In partnership with Penguin Random House, we'll show you exactly what we mean...with plenty of recommendations for what books will strike your fancy this summer.
Reading increases our visual processing.
With Chatter, award-winning psychologist Ethan Kross takes a closer look at our inner voice and shows us how to harness it to combat anxiety, improve physical and mental health, and deepen our relationship with others.
Reading benefits memory and brain health (especially as we age).
As the maxim "use it or lose it" goes, consistent mental stimulation is key to brain health—and that's what reading is in a nutshell. As a book teaches us new things, chains of neurons fire in our brain, creating a light show of stimulation while helping maintain memory and thinking skills. Those who regularly challenge their brain, through activities like reading, experience slower memory decline. Keeping our mind in tiptop shape is central to wellness at all ages—and reading is a pleasurable way to keep our brain in the game.
Along these lines, Greg McKeown's Effortless serves as an empowering guide to help us achieve goals by working smarter, not harder. The advice in this book shows us how to carve a path toward success without burning out... Mentally stimulating, to say the least.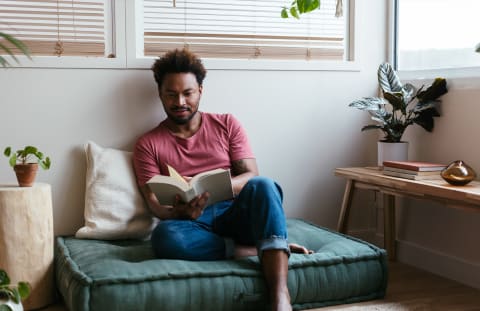 Image by BONNINSTUDIO / Stocksy
Stay calm and reduce stress by picking up a book.
Many of us struggle with chronic stress, which impairs our mind and harms our body. Snuggling up with a phenomenal read is a powerful way to combat this. But the benefits of drinking up words off a page go beyond that. In 2009, the University of Sussex published a study that showed reading reduces stress up to 68%—and is statistically more effective than even listening to music or sipping tea. Why? Because as we dissolve into the world of our book, the stresses of our own fade away.
How about relaxing by reading, and reading about something relaxing, like breath? Ruminating on thousands of years of science and research, Breath, by James Nestor, takes a remarkably deep dive into our most basic biological function. A good read and a few deep breaths might be all you need to kick your stress.
A good book helps brain connectivity.
Our brain functions on connectivity—all 86 billion of our neurons2 are constantly talking to each other. And studies show that reading heightens connectivity in the left temporal cortex even after reading. Neurons in the left temporal cortex are known for what's called "grounded cognition," which can remain heightened even the morning after a solid reading session.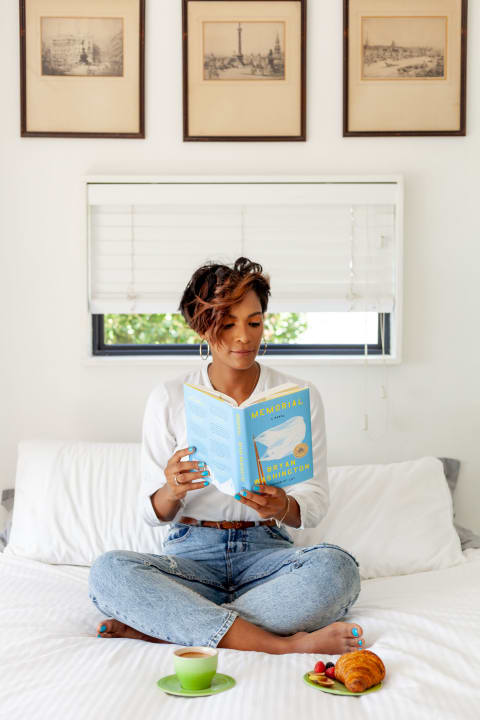 Image by Penguin Random House / mbg Contributor
With But You're Still So Young, Kayleen Schaefer takes a fresh, new perspective on what it means to be in your 30s and how the traditional milestones of adult life are happening on a bit of a different timeline these days. Our brain wasn't the only thing connecting in this book; this one plays on the heartstrings, as we receive permission to blaze our own trails.
Advance your social skills and empathy by reading.
And on the note of social skills—Set Boundaries, Find Peace, by Nedra Glover Tawwab, gives us a world of insight on setting healthy boundaries—starting with what that actually means. In this book, we understand how to strike work/life balance, cope with toxic people, and enjoy rewarding relationships—all through the art of boundary-setting.
Good reads to boost your brain this summer.
As readers, we love to lose track of time in the chapters of a fascinating book. Now we have all the more reason to prioritize our reading list, as we understand reading to be an act of wellness, stimulating and deeply nourishing our brain. This summer, inspired by Penguin Random House, we're boosting our brain health with nonfiction reads. Here are some more books we're piling on our nightstand:
Stay in the know: Today's Top Books.
We're excited to explore the intersection of wellness and reading all summer long. Stay tuned for more book recommendations, tips for creating the perfect reading nook, and ideas for starting your own book club! And check out Today's Top Books for the most popular books!
Devon Barrow
Branded Content Editor
Devon Barrow is a Branded Content Editor at mindbodygreen. She received her degree from the University of Colorado. When she's away from her desk, Devon is teaching yoga, writing poetry, meditating, and traveling the world. She's based in Boulder, Colorado.
Devon's first book, Earth Women, is coming soon. To learn more, join the mailing list, and receive updates, head to www.devonbarrowwriting.com.