5 RD-Approved Swaps To Make Your Favorite Comfort Foods Healthy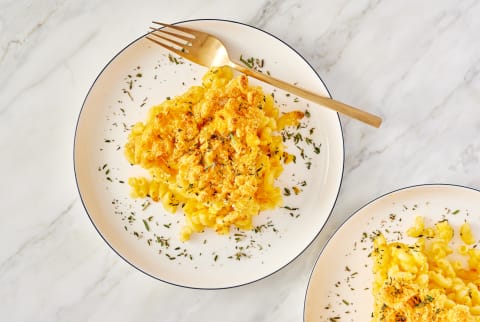 Image by Cameron Whitman / Stocksy
March 15, 2020
We carefully vet all products and services featured on mindbodygreen using our
commerce guidelines.
Our selections are never influenced by the commissions earned from our links.
During winter, thoughts of getting cozy on the couch, eating grounding foods, and drinking full-bodied red wines are all too common. Hunkering down is the human version of hibernation. But as we approach spring, our attitudes begin to shift, and all the comforting foods naturally begin to lighten up as cravings and nutrition goals change.
To help out during the transitioning seasons, I've created healthier versions of some classic comfort foods. Indulge on the lighter side and wake your body up, from the inside out, with these five recipes:
1. Pizza
I may love pizza, but unfortunately, pizza doesn't love me back. After an NYC slice (the only kind I'll eat), I tend to feel sluggish and bloated. Insert an almond flour crust, plant-based cheese, and I can enjoy the classic pizza flavors without the repercussions.
Ingredients:
1 almond flour tortilla (I use Siete Family Foods)
1 tbsp. Marinara sauce (I use Rao's)
¼ cup shredded vegan mozzarella cheese (I use Miyoko's)
1 cup chopped veggies (I like broccoli, cauliflower, and spinach, but use your favorites)
Method:
Layer on all ingredients.
Put in the oven on broil for 3 to 5 minutes or until cheese is bubbling.
Add red pepper flakes for extra spice.
2. Mac & Cheese
Macaroni and cheese is something I often whip up for my kids but typically avoid myself. However, once I came across this Broccoli and Cheeze bowl from Daily Harvest, I felt like a kid again!
The sweet potato puree and nutritional yeast make it cheesy, while the riced broccoli and cauliflower make this "noodle" dish gluten-free and low-carb. Add a dash of hot sauce if that's your thing, and enjoy it out of the bowl or on top of a baked potato.
3. Hot Chocolate
Sure, spring is coming, but that doesn't mean the sun is here to stay just yet. Cold weather is lingering, and April showers are the perfect time to enjoy a cup of something chocolate. Swapping nut milk and raw cacao for typical ingredients turn this into a decadent but not indulgent sweet treat.
Ingredients:
1 cup unsweetened almond milk
1 tbsp. raw cacao powder
2 tsp. maple syrup
¼ tsp. ground ginger
⅛ tsp. sea salt
Cinnamon to taste
Coconut whipped topping, if desired
Method:
Heat milk on the stovetop.
Whisk in cacao, syrup, ginger, and sea salt.
Pour into your favorite mug, and sprinkle with cinnamon.
Top with coconut whipped topping, if desired.
4. Veggie Toast
Of course I love veggies, but I really love when I can repurpose them in creative ways. Have you ever tried slicing green cabbage into rounds and using it as a "toast" surface? Well, now you can!
I slice my head of cabbage vertically—with the stem (or root) on the bottom—into quarter-inch rounds. Then I top the "toast" with a variety of toppings. This swap can work for breakfast or lunch, but the few I have on rotation right now include:
Cashew cream cheese topped with smoked salmon and everything bagel seasoning
Honey mustard and sliced turkey breast
Mashed avocado, sliced tomatoes, and pesto
Sound too green for you? Simply swap the cabbage for sliced sweet potato. Just run it through your toaster a few times, and you're set.
5. Almond flour for breadcrumbs
OK, so this one isn't a recipe, but it's a great ingredient swap. I don't typically bread my foods, but when a recipe calls for it, I've found almond flour works really well in place of breadcrumbs.
I'll use almond flour to coat flounder fillets, organic chicken fingers, and in my meatball recipes instead (sub 1:1 ratio for breadcrumbs). Extra bonus: There aren't any complaints from my family! The whole food addition, blood sugar regulation, and hunger-satisfying swap allow us to all eat comfort foods together!
Dredge, coat, or mix away, and feel great about what you are putting into your body and feel lighter in the new season.
Want to turn your passion for wellbeing into a fulfilling career? Become a Certified Health Coach! Learn more here.

Amy Shapiro, M.S., R.D., CDN
Registered Dietician
Amy Shapiro M.S., R.D., CDN, is the founder and director of Real Nutrition, a NYC-based private practice dedicated to healthfully and successfully guiding clients to their optimal nutrition, weight, and overall wellness. She is internationally recognized for her individualized, lifestyle-focused approach, which integrates realistic food plans, smart eating habits, and active living.