Rachel Brosnahan Has A Genius Trick For Enhancing Your Natural Brow Shape

mbg Beauty & Wellness Editor
By Jamie Schneider
mbg Beauty & Wellness Editor
Jamie Schneider is the Beauty & Wellness Editor at mindbodygreen. She has a B.A. in Organizational Studies and English from the University of Michigan, and her work has appeared in Coveteur, The Chill Times, and Wyld Skincare.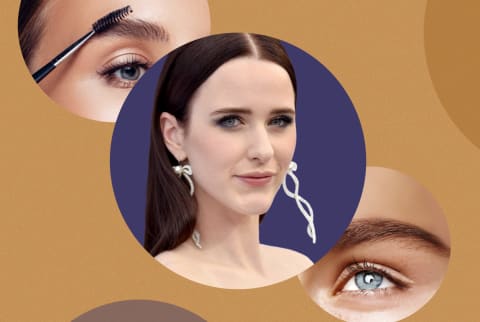 January 9, 2021
The art of full yet natural-looking brows is just that—a sort of craftsmanship that takes equal amounts of skill, practice, and a steady hand. And if you fell victim to the over-tweezing phase of the early 2000s, your poor eyebrows plucked pencil thin, the venture is a bit of a grind. You're longing for those fluffy face framers, but without just the right flick, they can easily look drawn-on and fake.
Rachel Brosnahan, the award-winning actress, is with you: "I definitely, definitely fell into the 'no eyebrows' trap," she recounts in a Beauty Secrets video with Vogue. "I was huge into over-tweezing and threading, and I'm so glad that more natural-looking brows are back in style." You'd never know it—after this clever grooming hack, her arches look perfectly undone and au naturel.
Advertisement
This ad is displayed using third party content and we do not control its accessibility features.
How Brosnahan aces natural-looking brows. 
"A trick that I learned recently is actually to brush them down so that you can see the shape of your brow as you're filling it in," she says as she guides the wisps with a spoolie. Once the hairs are pointing downward—just kissing the bottom of her brow bone—she uses a brow pencil in soft, upward strokes inside the outline of her bone structure.
It's a trick that may feel odd in the moment (brow experts typically recommend brushing upward to reveal any sparser areas), but when you think about it, it makes total sense: See, by brushing the hairs out of the way, you can clearly identify where your brow bone sits—and, more importantly, where it ends. That way, you'll stay inside the outline of your natural eyebrow shape (be it round, upward, straight, or another shape listed here) and won't risk extending too far up the forehead.
We should note: This trick only works when you're filling in the brows with makeup, not during the actual brow-grooming process. When trimming or tweezing your arches, you don't want to brush them down before nipping the hairs. "There's a chance you can give yourself holes or gaps," brow expert Joey Healy tells mbg about how to trim eyebrows, which only means more legwork on the makeup front.
The takeaway. 
You can, of course, simply comb through your brows, fill in any gaps, and call it a day—this trick is more for those who want to thicken up the entire brow shape (perhaps you, too, were a little too zealous with the tweezers) without making them look stenciled on. By brushing your brow hairs down, it's easier to identify your natural form and remain inside the lines. The result? Your brows, but better.
Advertisement
This ad is displayed using third party content and we do not control its accessibility features.