Queer Eye's Antoni Shares His Top 5 Healthy Cooking Hacks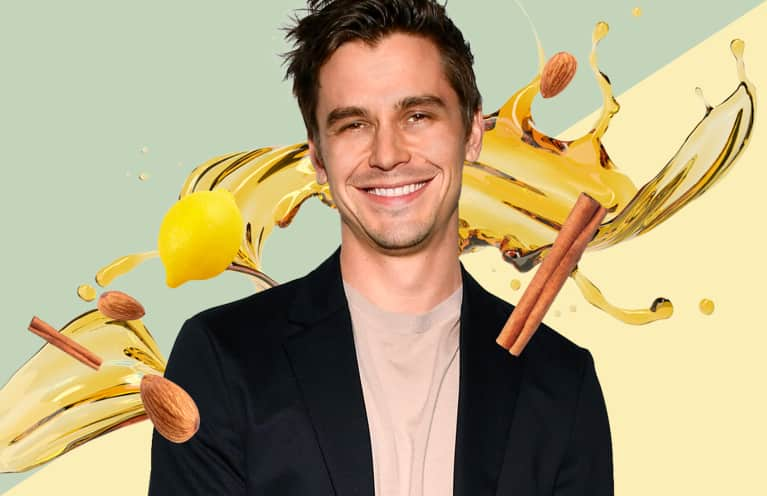 Our editors have independently chosen the products listed on this page. If you purchase something mentioned in this article, we may
earn a small commission
.
When you're done crying over the emotionally wrenching displays of empathy and understanding on Queer Eye, you should be able to appreciate the actionable tips the fab five share in every episode. If, however, it's hard for you to see through your streaming tears, we don't blame you—that's where their new book comes in.
Appropriately aw-inducingly titled Queer Eye: Love Yourself, Love Your Life, the colorful coffee table edition is packed with insights into Tan's, JVN's, Antoni's, Bobby's, and Karamo's inner thoughts—plus, it features tips and tricks to up-level everything from your home to your hair.
We fell in special levels of love with Antoni, the soft-spoken Quebecois reading enthusiast with a particular passion for avocados. We've already learned his top five ways of utilizing his favorite fruit; in this excerpt from the book, he shares his other top kitchen hacks:
1. Toast your nuts and spices.
"Dry spices like cumin and fennel become even more pungent and aromatic if you toast them for a few minutes before you add them to a dish," Antoni says. "The same goes for raw nuts. Just watch closely because both burn fast."
"To give butter a more nuanced, nutty flavor, whisk it over medium heat for two to three minutes, until it browns slightly," Antoni says. "Then substitute it for regular melted butter in recipes or lightly drizzle on veggies." (Editor's note: Bonus points if you use pastured butter, which is rich in otherwise-hard-to-find vitamin K2!).
3. Use your ice cube tray.
"Got a bottle of wine that you can't finish but don't want to waste? Pour the vino into an ice cube tray and use those cubes for cooking sauces or making a more potent sangria," Antoni explains. "Do the same with leftover coffee or espresso to make caffeine cubes for iced lattes."
4. Make your own chef-level oils.
Instantly upgrade all of your food by making flavor-packed olive oil. "Add leftover fresh herbs like rosemary to a bottle of olive oil to infuse it with flavor," says Antoni.
5. Keep your fruit from going brown.
We've long loved honey for its myriad health benefits, but we've never heard this use for it! "A drizzle of lemon juice will keep apple slices from browning for an hour or so, but a combo of one part honey to two parts water prevents discoloring of apples, pears, peaches, and other sliced stone fruits for up to eight hours," Antoni says. "The peptides in honey halt the oxidation process. To preserve fruit salad for a party the next day or prep a bar with fruits for garnish, soak the slices in a bowl of the honey/water mixture for one minute to ensure a day's worth of freshness."
Based on excerpts from Queer Eye: Love Yourself, Love Your Life by Antoni Porowski, Tan Franc, Jonathan Van Ness, Bobby Berk, and Karamo Brown, with the permission of Clarkson Potter, a division of Penguin Random House. Copyright © 2018.