This 5-Ingredient Caramelized Onion Frittata Is The Perfect Way To Use Leftover Veggies
mbg SEO Editor
By Eliza Sullivan
mbg SEO Editor
Eliza Sullivan is an SEO editor at mindbodygreen. She writes about food, recipes, and nutrition—among other things. She studied journalism at Boston University.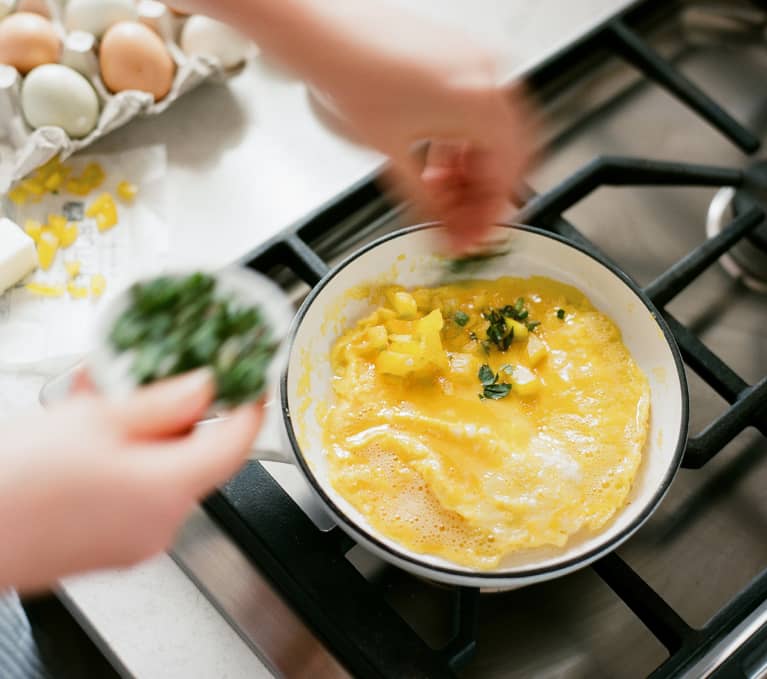 Our editors have independently chosen the products listed on this page. If you purchase something mentioned in this article, we may
earn a small commission
.
If I'm looking to make brunch for a crowd, odds are I'm reaching for an oven-safe skillet and a dozen eggs: It's frittata time! This is a great dish to make when you have some leftover cooked veggies, but I've also found it's just a tried-and-true crowd-pleaser.
"Budget-friendly and an excellent use for leftover protein and those last few veggies that need to be eaten, frittatas will be a mainstay in your Paleo kitchen," writes Ciarra Colacino in The Frugal Paleo Cookbook.
And she's not wrong—this recipe from her books keeps it strictly to basics, but the cooking technique fosters plenty of flavor. "This particular recipe calls for eggs, onion, and butter or ghee and feeds at least four people," she writes. "It doesn't get much more affordable than that!"
Caramelized Onion Frittata 
2 tbsp. grass-fed butter or ghee
1 medium (about 3 inches) sweet onion
½ tsp. kosher salt
8 eggs, beaten
Black pepper, to taste
In a medium oven-safe skillet over medium heat, melt the butter or ghee.
To prepare the onion for caramelizing, remove both ends, slice in half from tip to root, and then lay each half on the flat side. Work from end to end, cutting the onion into ⅛-inch strips. Do this for the entire onion. There should be about 2½ to 3 cups of slices from a medium onion.
Drop the onion slices into the preheated pan. Add the kosher salt, cook, and stir. Caramelizing onion is a slow process. Cooking too quickly will sauté the onion—delicious, but not what we're after for this recipe. Maintaining a moderate to low temperature and cooking over a longer period of time essentially melts or shrinks the onion. As it shrinks, it gradually becomes golden and somewhat on the sweet side. If, as you cook and stir the onion, it starts to scorch or brown unevenly, reduce the heat to medium-low, particularly if you are using a cast-iron skillet, which retains heat quite efficiently. Note, too, that the onion will require more stirring toward the end of the caramelization process than at the beginning.
Expect this to take approximately a half-hour from start to finish. Meanwhile, beat the eggs together and set aside. When the onion is ready, reduce the heat to medium-low, if this wasn't done previously.
Pour in the beaten eggs and distribute the onion slices evenly throughout. This will ensure a balanced frittata when serving. Season to taste with black pepper. Cook on medium-low, undisturbed, for about 4 minutes, or until the edges begin to pull away from the sides of the pan without breaking.
Transfer the frittata to the oven and turn the broiler to low to cook the top and finish setting the eggs. Place on the rack three rungs down from the top, or about 9 inches (23 cm) from the broiler. This should take approximately 5 to 6 minutes. The top of the frittata should be a deep orange to slightly golden but not browned completely. The frittata should be somewhat firm to the touch and free of any pools of liquid from the beaten eggs.
Turn the oven off, return the pan to the stovetop, cover (foil is fine), and let rest for a minute or two. Resting allows the frittata to loosen from the pan, making service a breeze. Lift the frittata out of the pan and transfer to a cutting board. Slice into wedges and serve.