paid content
 for

Our Dogs Deserve The Best, But So Does The Planet — How To Feed Your Pup Sustainably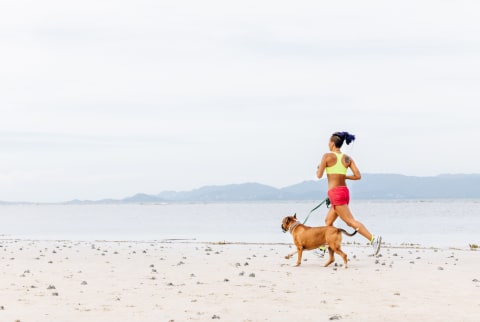 Image by Andrey Pavlov / Stocksy
August 24, 2022
Pet parents are animal lovers—and animal lovers can't help but care about the planet. After all, animals rely on a healthy ecosystem and feel the effects of environmental change even sooner than we do! So when our choices as pet parents just so happen to make a positive impact on the planet? That makes us about as excited as our pup at mealtime.
The case for sustainable pet parenting.
These days, sustainability is relevant in every area of life—animal kingdom included. We're all about reducing our own footprint, but pet food is leaving a substantial pawprint on the environment. Recent studies have shown that dry pet food production contributes 1.1% to 2.9% of global agricultural emissions. It even takes a land area twice the size of the UK to produce dry pet food! On top of that, most standard kibble incorporates meat powder—highly processed, overcooked meat that is crushed into a powder. Not only does this process reduce the availability of essential nutrients found in fresh meat, but it's also not even approved for human consumption: *sound the alarm.*
Just like our well-being boils down to the quality of our food and a healthy planet—same goes for our doggo. Freshpet, the pet food brand dedicated to bringing the power of fresh, real food to pets—doesn't just make mealtime more nutritious and delicious… It takes our pet parenthood to new, sustainable heights with its Nature's Fresh line. Here's what that looks like.
Reducing our pawprint.
It doesn't matter whether you have two legs or four—an eco-friendly lifestyle means taking a closer look at our food and whether it has sustainable roots. Just like we may eat organically, shop locally, or choose planet-friendly brands, we can help our pets eat more sustainably too. When we choose a pet food brand with sustainability at its core, like Nature's Fresh, we immediately make our furry friend's lifestyle a little greener.
Through their partnerships with regenerative farmers, Nature's Fresh supports eco-friendly practices like rotating crops and cover cropping, both of which increase soil biodiversity and reduce the need for aggressive fertilizing. These practices don't just reduce water usage, they help eliminate the chemical runoff that can be standard in the industry. To further cut emissions, Freshpet even uses wind turbines to power their kitchens. When we say that our pup deserves the very best, this is what we mean… From farm to dog bowl, the goal is to reduce environmental impact while raising the bar on what good pet food really means.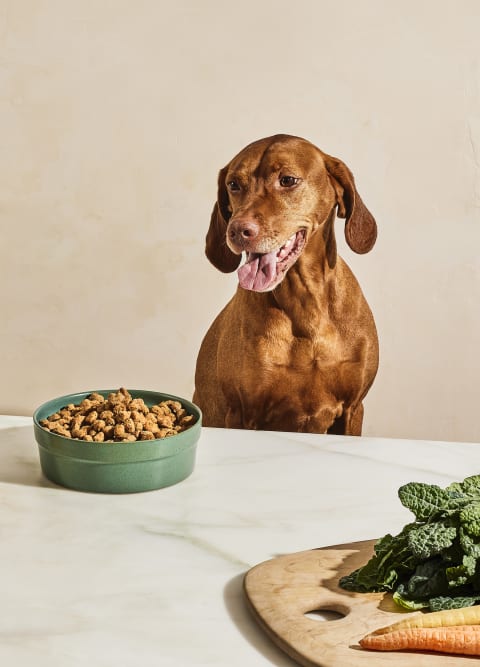 Image by Freshpet / mbg Contributor
Choosing real, fresh food.
If we're going to keep those tails wagging, we have to make sure our pet's daily sustenance is also nutritious and delicious. Freshpet's Nature's Fresh® line is full of high-quality, fresh ingredients that are kind to the planet and healthy for the pets we love! Whether it's their certified humanely raised chickens (grown without antibiotics) or their grass-fed beef raised on family farms, these ingredients help us look after our pet's nutrition just like we do our own.
Aside from its sustainability, what makes Nature's Fresh® unique is that it's quite literally fresh. The Grain Free Chicken Recipe with Carrot & Spinach is a grain-free option full of protein, antioxidants, fatty acids, vitamins, and minerals. Or, just as nutritious, the Nature's Fresh® Beef Recipe with Garden Vegetables & Grains is another all-natural and preservative-free option. Not only are these recipes gently steamed at low temperatures to maintain the integrity of the ingredients, but they're also vacuum-sealed to ensure maximum freshness. Because they are stored in the fridge (just like your own fresh food), there's nothing your pup could be more excited about than real food.
Happy planet, happy pup.
We're all looking for ways to live more sustainably, and as pet parents—the everyday choices we make for our pup are a part of that. Opting for cleaner and greener food doesn't just help our planet, that choice is also reflected in our pup's overall well-being—from better digestion to a shiny and soft coat to higher energy levels and more mealtime excitement. We all know how it feels to sit down to a delicious, freshly cooked meal… And now, our pups can feel the same!
Devon Barrow
Branded Content Editor
Devon Barrow is a Branded Content Editor at mindbodygreen. She received her degree from the University of Colorado. When she's away from her desk, Devon is teaching yoga, writing poetry, meditating, and traveling the world. She's based in Boulder, Colorado.
Devon's first book, Earth Women, is coming soon. To learn more, join the mailing list, and receive updates, head to www.devonbarrowwriting.com.