paid content
 for

How One Minimalist-Leaning Entrepreneur Keeps Her WFH Space Functional & Focused
Senior Branded Content Editor
By Krista Soriano
Senior Branded Content Editor
Krista Soriano is the Senior Branded Content Editor at mindbodygreen.
Graphic by Hannah Haston x mbg Creative / Contributor
March 20, 2020
mbg's new series Work in Progress, a spinoff of our popular Holistic Home Tours, zooms in on where and how we work. Join us as we swing by desks, kitchens, studios, and every workspace in between to explore what wellness leaders surround themselves with to feel productive, fulfilled, and successful in their respective fields. Today, Jules Acree of Om & The City is showing us around her home office in Austin, Texas.
There are two types of people—those who've cracked the code for productive work-from-home days and those who fare better in an office-type environment to stay focused. After three years of running her business out of her home, wellness entrepreneur Om & The City's Jules Acree is solidly in the former—thanks to a few workspace essentials and a mastery of minimalism. Read on, and take notes!
What does your workday look like? Do you work pretty standard 9-to-5 hours, or does it vary?
My answer to this used to be, "It looks different every day." But since I've been running my biz full time for three years, I've become so much more intentional and efficient with my time. I strongly believe in task-batching and themed workdays: Mondays and Wednesdays are usually my "creative days," spent writing, shooting, editing, and overall creating. On Tuesdays and Thursdays, I focus more on emails, admin, and taking meetings. I always make sure to start my day off with my morning routine, which involves getting some movement in and drinking my morning matcha. I also take afternoon breaks outside if the weather is nice, and I'll walk my dog around the lake for an hour to refresh my brain.
My hours are pretty consistent, from 9 to 6, but I do have flexibility to pop out and take a midday yoga class since I don't have to ask for permission (perks!).
Do you work at a desk or something more fluid? Walk us through your workplace setup.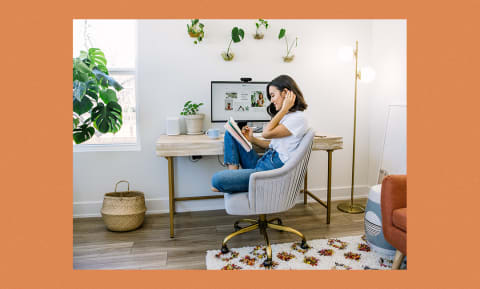 Graphic by Hannah Haston x mbg Creative / Contributor
Since I work from home, I designed my office to be an environment where I could harness my focus, collaborate with my team, stay organized, and tap into my creativity—with only the necessities in the room.
I opted for a longer desk to give me more space to spread out, but I'm really intentional about keeping it clean and clutter-free. The only things you'll find on my desk are my laptop that's plugged into a monitor, my webcam for video and conference calling, and my Sonos speaker. The minimal desk area helps me stay focused and reduce any feelings of overwhelm and anxiety that might come up during my workday.
I decided to add a lamp to my office, using the Brilli Charge Up Light Bulb, because it helps me power through my workday, especially on cloudy days. I have big windows with a lot of natural light, but when it's dark and gloomy, my Brilli light mimics the same wavelengths found in crisp daytime sunlight! Having good, healthy lighting in my office gives me a natural energy boost to finish off my day strong.
I set up a super-comfy couch where my assistant and other members of my team can come work. I wanted my office to feel like a place where we can congregate to brainstorm or take a break to chat or read a book. I'm all about multifunctional items, so I've repurposed furniture that was on our deck to make it work in the room, and I bought a side table that is actually the perfect height to double as a laptop stand.
The whole room is decorated with storage and organization in mind, which is clutch for me in creating a more open and minimal space. I ended up getting a simple dresser from IKEA to store my tech and photography equipment and annoying cords, and then added custom handles to give it a more unique and elevated feel.
I'm not a fashion blogger, but I often work with some conscious clothing brands. So I also keep a clothing rack in the office to keep track of shoots (plus, it lets me store more plants!).
What does productivity mean and look like for you? Has your definition changed over the years?
I like to approach productivity simply as a way of making the most of your efforts. I believe in simplifying life, maximizing time, and taking the most direct route, so you can spend less time working to live and more time just simply LIVING.
My definition of productivity has changed big time over the years, but it's gotten me to where I am today. I spent over six years hustling my butt off in NYC, and now I'm writing this while sitting in my home office in Austin, Texas. Moving to Austin was a form of self-care for me, and it was my way of taking control of my situation to channel a way of living and working that is more sustainable. I think one of the biggest take-aways I've had is to remain fluid, recognize when things aren't working anymore, and give yourself the space to adjust.
How do you set yourself up for a productive day?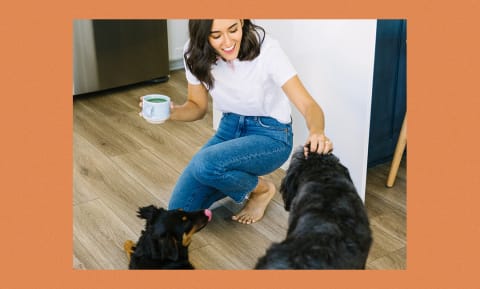 Image by Hannah Haston x mbg Creative / Contributor
Committing to a strong morning routine has been life-changing for me, and by designing my mornings to promote a more positive, calm, and joyful mindset, I'm a more productive person. Drinking my superfood matcha latte is honestly one of the best parts of my morning! It brings me joy; it helps me focus, calms my nerves, and nourishes me.
I can't concentrate with chaos and mess surrounding me, so I also make sure I reset my space before I dive into my workday. Then, I avoid multitasking and give each task, each person, each idea my full attention.
Toward the end of the day, I'm grateful for Brilli's dimmable Wind Down Light Bulb, which has the appropriate light spectrum to help my body and mind start relaxing (it's less stimulating than other kinds of lighting and minimizes blue light that disrupts melatonin production). It's a healthy cue to have in my office, and we've also installed Brilli's Get In Sync Downlights around the house to support our circadian rhythms during our mornings and evenings hanging out at home.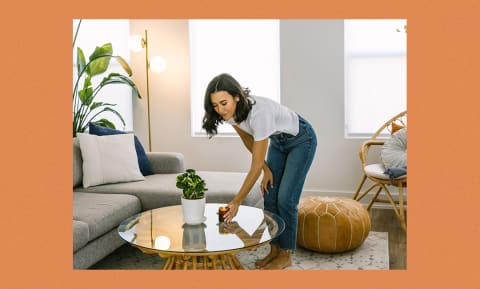 Graphic by Hannah Haston x mbg Creative / Contributor
What's the most unexpected thing in your workspace, and what's the story behind it?
Probably my disco ball planter! It's just so fun. When 3pm rolls around and the disco ball is activated by the sunlight, it makes the entire room sparkle. It looks so magical. And it gives me the extra oomph of energy I need to finish out my workday.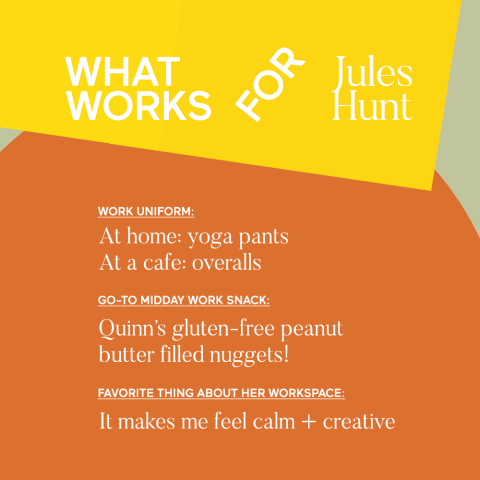 Krista Soriano
Senior Branded Content Editor
Krista Soriano is the Senior Branded Content Editor at mindbodygreen. She holds a B.A. in journalism with a minor in communications from Messiah College, graduating summa cum laude. She has written and edited lifestyle content for over 15 magazines and websites, including ELLE, Esquire, Good Housekeeping, Cosmopolitan, Marie Claire, Women's Health, Men's Health, Runner's World, and DuJour. At mbg, Soriano helps our partners—which include non-profits and Fortune 500 companies—tell their stories, covering everything from the future of regenerative agriculture, ethical banking, and the endocannabinoid system. She lives in New York.