paid content
 for

How This Holistic Nutritionist Makes 4 Different Meals From One Easy Ingredient
Clinical Nutritionist & mbg Class Instructor
By Kelly LeVeque
Clinical Nutritionist & mbg Class Instructor
Kelly LeVeque is a holistic nutritionist, wellness expert, and celebrity health coach based in Los Angeles, California. She received her bachelor's degree from the University of Southern California and completed her postgraduate clinical nutrition education through UCLA and UC Berkeley.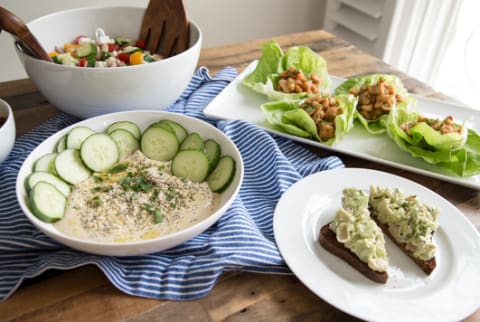 Photo by Tamara Muth-King
December 13, 2016
Looking for some inspiration in the kitchen? As part of the International Year of Pulses, mbg and USA Pulses are teaming up to motivate you to take the Pulse Pledge and eat pulses once a week for 10 weeks. We'll make it easy for you by sharing delicious ways to cook with pulses that you won't be able to resist.
The "Fab Four"
Do you find meal prepping to be daunting? Don't know what to include on your plate? My "Fab Four" formula makes it simple and easy to build a perfectly healthy and balanced meal: Aim to have protein, healthy fat, fiber, and greens on every plate—that's it. This simple structure removes the stress of guessing and googling our way through meal planning and encourages us to eat more of the foods we already love like salmon, coconut oil, hummus, and arugula instead of telling us a million things to avoid.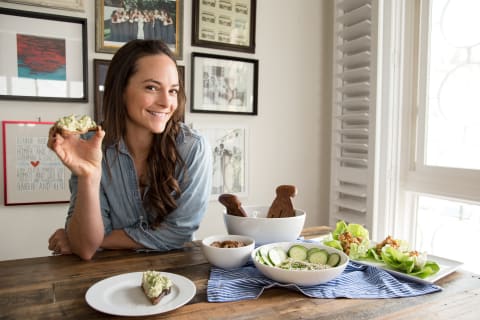 Pulses (dry peas, beans, lentils, and chickpeas) have become a go-to for me and my clients. With 9 grams of protein and between 6 and 10 grams of fiber per half-cup serving, pulses are an easy way to meet your daily nutritional goals. They are also great for make-ahead meals because they are extremely versatile, and one pot can last the whole week!
By simply picking one pulse variety and preparing a big batch ahead of time, you can easily use them in a variety of dishes at home to avoid takeout and stay ahead of the meal prep game. White beans are one of my favorite pulses because they're so versatile and easily take on the flavors of the dish they're in—even desserts!—making it easy to mix it up.
Here are my four favorite easy white bean dishes that are sure to up the protein and fiber in your meals and help keep you in balance.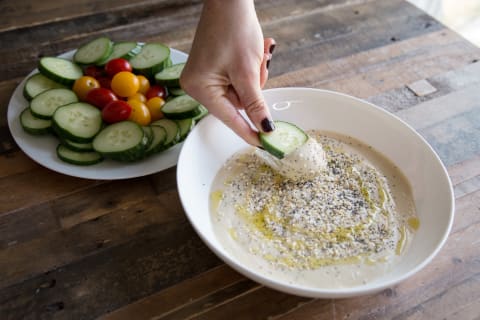 1. Roasted Garlic "Everything" White Bean Hummus
2 cups white beans
1 clove garlic, minced
¼ cup extra-virgin olive oil
1 teaspoon sea salt (or to taste)
Black pepper, to taste
2 tablespoons fresh lemon juice
3 tablespoons fresh parsley
2 tablespoons dried minced onion
2 tablespoons toasted sesame seeds
1 tablespoon poppy seeds
1 teaspoon flaked sea salt
¼ teaspoon black pepper
In a medium-size pan, heat the garlic in 1 tablespoon of olive oil. Saute for 4 to 5 minutes, or until garlic is soft and fragrant; do not burn. Add beans to a food processor and top with olive oil and garlic from the pan. Add the salt, pepper, lemon, and remaining olive oil.
In a small bowl, combine dried onion, sesame seeds, poppy seeds, garlic, sea salt, and black pepper. Toss to mix.
Pulse in the fresh parsley. Serve with an extra drizzle of olive oil and "everything topping."
Serve with veggie crudité.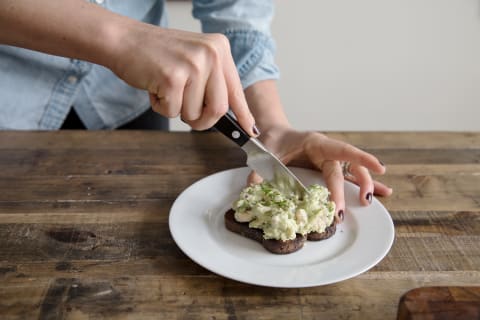 2. Avocado Bean Salad (Fake Egg Salad)
1 cup white beans
2 avocados, peeled, pitted, and cubed
2 tablespoons vegan mayonnaise (optional)
1 cup finely chopped fresh herbs (parsley, dill, and chives)
2 celery stalks, finely chopped
1 small red onion, finely chopped, soaked for five minutes in cold water, drained, and rinsed
Salt and pepper to taste
Combine the avocado, mayonnaise, herbs, celery, and red onion in a large bowl. Slowly whip in and gently smash white beans until blended. Season to taste with salt and pepper. Serve over salad or on toast.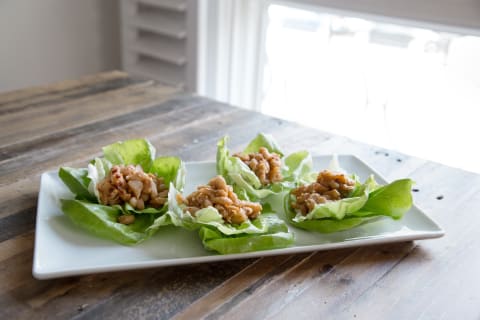 3. White Bean Asian Lettuce Wraps
4 cups white beans
1 tablespoon olive oil
1 clove garlic, minced
⅛ teaspoon ground ginger
4 green onions, thinly sliced
1 (8-ounce) can sliced water chestnuts, drained and coarsely chopped
3 tablespoons hoisin sauce
2 tablespoons lower-sodium soy sauce (green top) or tamari
1 tablespoon rice vinegar
2 teaspoons roasted red chili paste
⅛ teaspoon salt
12 butter or iceberg lettuce leaves
Heat 1 tablespoon of oil in a large nonstick skillet over medium-high heat. Add beans, garlic, and ginger to the pan and cook for about 3 to 5 minutes or until the beans are warm. Add onions and chopped water chestnuts in a large bowl, stirring well, and set aside.
Meanwhile, in a small bowl, whisk together hoisin, tamari, rice vinegar, and roasted red chili paste, and drizzle over the bean mixture. Toss to coat completely.
Add about ¼ cup of the white bean mixture to each lettuce leaf, serve, and enjoy!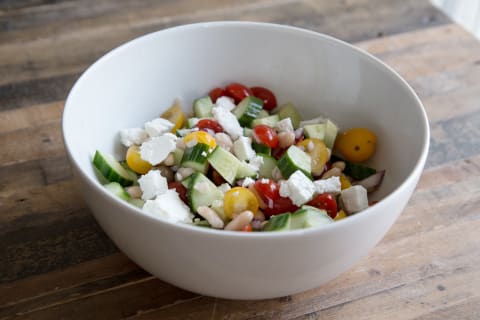 4. White Bean Greek Salad
3 cups white beans
2 cups halved heirloom cherry tomatoes
2 Persian cucumbers, chopped
1 red bell pepper, chopped
1 small red onion, finely chopped
½ cup sliced black olives
1 cup crumbled feta (optional)
½ cup olive oil
¼ cup lemon juice
⅓ cup chopped fresh parsley
1 teaspoon dried oregano
½ teaspoon sumac
½ teaspoon salt
¼ teaspoon pepper
In a medium bowl, whisk together dressing ingredients.
Combine all salad ingredients in a large bowl.
Add the dressing to the salad bowl, and stir to combine.
Allow salad to sit for at least 10 minutes in the refrigerator for the flavors to come together.
Serve cold.
If this sounds like a delicious challenge to you, take the Pulse Pledge and be sure to share your pulse cooking adventures with us on Instagram with #pulsepledge.

Kelly LeVeque
Clinical Nutritionist & mbg Class Instructor
Kelly LeVeque is a holistic nutritionist, wellness expert, and celebrity health coach based in Los Angeles, California. She received her bachelor's degree from the University of Southern California and completed her postgraduate clinical nutrition education through UCLA and UC Berkeley. Be Well By Kelly grew out of LeVeque's lifelong passion for health, the science of nutrition and overall wellness. Guided by a practical and always optimistic approach, she helps clients improve their health, achieve their goals and develop sustainable habits to live a healthy and balanced life. She parlayed her passion for health, wellness, and nutrition into her first book, Body Love (Harper Collins) published June 2017.
LeVeque is passionate about the science of human nutrition. Driven by the desire to help her clients, and her own intellectual curiosity, she studies the latest research, evaluates competing theories and reads everything. Most importantly, she uses that knowledge to make individualized recommendations for her clients. She also loves to cook. LeVeque believes in real food, real ingredients and a clean diet. The Be Well kitchen is constantly buzzing, and loves creating tasty, clean, nutrient-dense recipes and dishes.
Before starting her consulting business, LeVeque worked in the medical field for Fortune 500 companies like J&J, Stryker, and Hologic, eventually moving into personalized medicine, offering tumor gene mapping and molecular subtyping to oncologists. She is a regular contributor for numerous health, wellness and lifestyle publications. LeVeque rounded out her education with a number of other certifications including being certified as a Health Coach through The Institute for Integrative Nutrition, her RYT-200 training though the American Yoga School, and NSCA-Certified Personal Trainer® (NSCA-CPT)® certification through the National Strength and Conditioning Association.