Stress May Predict Chest Pain In People With Heart Disease, Study Says
mbg Editorial Assistant
By Abby Moore
mbg Editorial Assistant
Abby Moore is an Editorial Assistant at mindbodygreen. She earned a B.A. in Journalism from The University of Texas at Austin and has previously written for Tribeza magazine.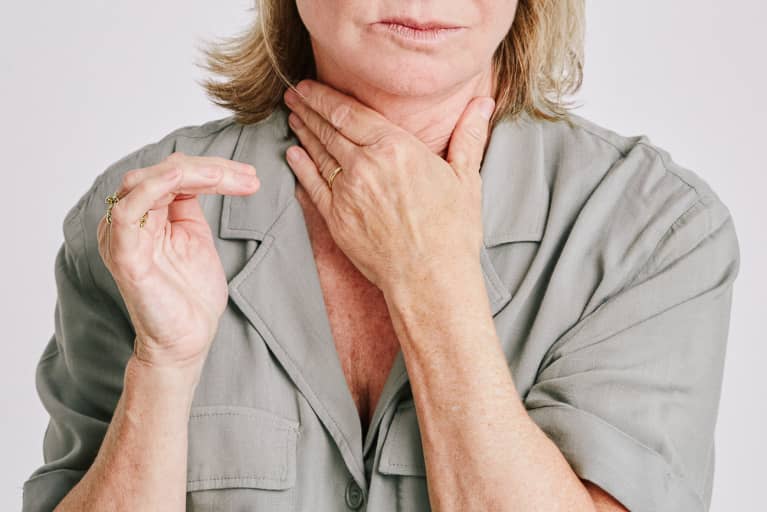 August 11, 2020 — 0:24 AM
Chest pain, or angina, is a common symptom of heart disease, caused by a lack of blood flow to the heart. Despite the heart's role in angina, new research from the American Heart Association found stress may also contribute—plus, the specific brain activity that may predict its onset.
The study, published in the Circulation: Cardiovascular Imaging journal, took brain scans of 148 adults with coronary artery disease. Those who were under mental stress showed increased activity in the inferior frontal lobe of the brain and also experienced more severe chest pain.
The link between mental health and chest pain. 
Previous research suggested a link between mental stress and angina, without a clear indication of how or why. To better understand the association, participants underwent mental stress testing, brain imaging scans, and heart imaging scans—all while being monitored for chest pain.
The brain scans specifically measured activity in the inferior frontal lobe, which is responsible for emotional regulation and stress. Participants answered questionnaires about their chest pain and cardiovascular activity for the baseline data, then again two years later for a follow-up.
After analyzing the results, researchers found people with more severe chest pain also experienced greater activity in the inferior frontal lobe while stressed. These findings were consistent in the two-year follow-up.
"We were surprised by the strength of the relationship between the level of activity in this brain region and the frequency of chest pain reported," lead investigator Amit J. Shah, M.D., MSCR, said in a news release, "as well as the lack of a relationship to factors that are normally considered important when treating angina, such as heart imaging."
So, how can this help patients with heart pain? 
The study proves stress is an important factor in chest pain and should be considered during treatment planning.
"The top three factors that explained angina frequency were all stress-related, including brain activation, depressive symptoms, and PTSD symptoms," Shah says. "This is surprising because when we manage angina in clinical settings, we normally do not consider stress as an underlying factor, and rather focus on blood flow in the heart."
Despite the strong correlation between brain activity and chest pain, researchers say it's not a clear cause-effect relationship. Regardless, managing stress is never a bad idea.