My Supplements Are Sticking Together — Is That a Sign They've Gone Bad?

Registered Dietitian Nutritionist
By Molly Knudsen, M.S., RDN
Registered Dietitian Nutritionist
Molly Knudsen, M.S., RDN is a Registered Dietician Nutritionist with a bachelor's degree in nutrition from Texas Christian University and a master's in nutrition interventions, communication, and behavior change from Tufts University. She lives in Newport Beach, California, and enjoys connecting people to the food they eat and how it influences health and wellbeing.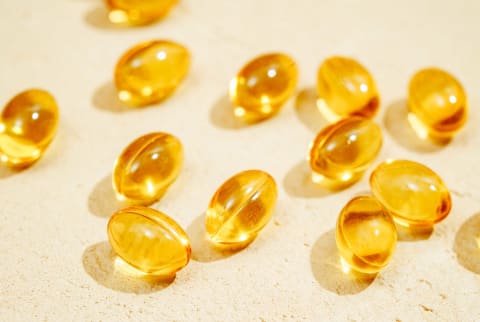 Image by J. Anthony / Stocksy
August 8, 2023
It's just about that time in the morning to reach for your supplements. But hey, all the softgels are sticking together at the bottom of the bottle. Is this normal? Have the supplements gone bad?
Don't fret. Some stickiness is to be expected with softgel supplements. Here's what's considered normal when it comes to softgel or gelcap supplements, and how to best store them to make sure they don't go bad.
What are softgel supplements? 
Gel capsules range in size and have a round or oval shape.
The capsule casing is typically made from gelatin or plant products, and they are typically soft to the touch as this casing is pliable and they often contain liquids or oils.
Once in the digestive system, the gelcaps dissolve and the contents of the supplement (like fish oil or vitamin D) are released and then can be absorbed by the body. It's a pretty efficient process.
Softgels do stick together in the bottle
Gelatin is known for its stickiness, and as this is the foundational structural component of the supplement, it's completely normal (and expected) for softgels to have some clinginess. This is especially true if the supplement is exposed to a warm or humid environment.
If this occurs, you can give your bottle a swift shake (with the cap on, of course!), and the gelcaps will naturally break apart and pour out as needed.
It's not normal if this happens
If for some reason your supplement was exposed to very intense heat over a longer period of time, the gelatin could melt together or leak, and there would no longer be individual gelcaps in the bottle. At this point, it's best to throw the bottle away.
And this is only if the bottle is exposed to extreme temperatures for prolonged periods. Even higher temperatures during shipping are almost always short term in nature and would not affect the safety or efficacy of (high-quality) ingredients in any way.
How to store your softgel supplements
Always follow the instructions on the supplement label for how to properly store it. For the most part, though, supplements should be stored in a cool, dark, dry place.
A comfortable indoor temperature to store your supplements spans from 50℉ to the mid-70℉ range. You wouldn't want to keep supplements in a place that's frequently hotter (and more humid) than room temperature. So, bathrooms and kitchens tend to not be the best places for supplements—as the heat and moisture can impact the stability and activity of the ingredients. Opt to keep them in the bedroom instead.
The takeaway
Many widely used supplements are available as gelcaps—especially omega-3 fish oils and vitamin D (check out our favorite picks for each one here and here). Just shake the bottle if you find them sticking together. And rest assured that if you store them properly and you buy them from a high-quality brand, the ingredients will be efficacious until the expiration date.