My First Ever Yoga Class: All-Star Yogis Tell All!

mbg Founder & Co-CEO
By Jason Wachob
mbg Founder & Co-CEO
Jason Wachob is the Founder and Co-CEO of mindbodygreen and the author of Wellth.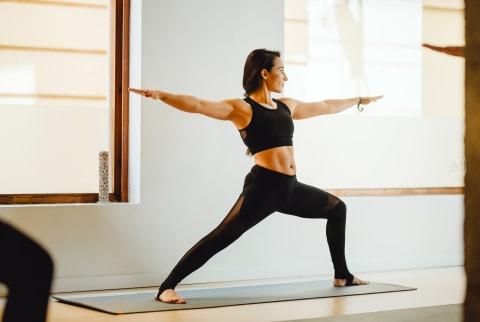 Image by Addictive Creatives / Stocksy
August 17, 2011
Advertisement
This ad is displayed using third party content and we do not control its accessibility features.
Kathryn Budig: The first class I ever took was in Charlottesville, VA in college. It was one of the classes on the schedule at our gym. I decided yoga and kick boxing would be a good combo and ended up going once a week. Before I knew it I was practicing downtown at an Ashtanga studio and soaking up every minute of it.
Elena Brower: I was taken by my boyfriend's mom and sister to a class at the original Yoga Zone on East 56th Street. The teacher was Michelle and I was blown away by her serenity and clarity. I was completely and utterly hooked.
Sara Ivanhoe: The first yoga class I ever took was forced upon me by my hippie high school in northern California. Being a competitive athlete, I found the physical practice simple, but my teenaged rebellious nature didn't like being told what to do. I fought it every step of the way. Turns out that some things that we are made to do as kids are actually good for us. After years of practice, when I got older and needed somewhere to turn -- yoga had been there for me all along.
David Romanelli: My friend had mentioned yoga was rocking his world so I went with him to Seane Corn's class in September 1996. It was the most physically challenging, totally inspiring, incredibly spiritual experience. The fact that all those things could happen in one experience had me hooked for life. I started taking all the awesome classes in LA taught by teachers who back then were the everyday teachers in LA and now are famous. Seane, Shiva Rea, Bryan Kest, Bikram (cussing in a Speedo), Saul Raye, Erich Schiffman, it was amazing the quality and abundance of great yoga. LA is still the mecca!
Ally Hamilton: The first class I took was with Dharma Mittra in NYC. My best friend had been taking yoga for months and kept telling me I had to go. I had an idea that yoga was sitting and stretching on the floor, and that it would not be hard enough for me. Which became hilarious about 10 minutes into class when I started to wonder how people seemed to be hovering in chaturanga so effortlessly. I was definitely intrigued by the physicality of the class, but I went back pretty quickly not so much for that, but because Dharma has an energy that is infectious, and something about the experience felt like coming "home".
Dana Flynn: I took my first yoga class at Integral Yoga and I remember the teacher saying, 'There is no competition in Yoga, not even with yourself'. This was totally mind blowing for me. I was mostly competitive with myself, of course. I don't remember who taught, the teachers at IYI wear all white and have soothing voices. We sang the chant: Asato Ma... Lead me from the unreal to the REAL, from darkness to the light and the fear of death to the knowledge of our own immortality. OMG, I am Infinite! YES, I went back.
Amy Ippoliti: My first yoga class was in 1986. I was just 16-years-old and I was working at the front desk of a fitness studio in New York City. One day they added yoga classes so I went with my mom. The teacher's name was Oonaja Malagon, and she was not at all like the other fitness teachers at the studio. To me, she was super cosmic, mystical looking, and way mellow. I was intrigued.
At the end of the practice, Oonaja lead us through a guided body scan for savasana. I was lying next to my mom on a towel (this was before sticky mats!) and drifting off to the soothing sound of her voice, as she meticulously encouraged us to relax each part of the body. "Relax your jaw…relax your neck…relax your shoulders…relax your solar plexus, relax your abdomen…" And then…"Relax your genitals…"I woke up. And more, "Relax your anus…" Oh my! Suffice to say, I loved Oonaja, I loved yoga, and the rest is history.
Faith Hunter: I took my first LIVE yoga class in New Orleans in the early 90s. Prior to taking this class, I had only practiced yoga with DVDs. On a physical level I knew the benefits, but in an odd kinda way I knew I needed more than a good stretch. I was seeking something, but I wasn't sure what. One of my girlfriends invited me to the class because she didn't want to go alone. With a feeling of uncertainty, I showed up with the willingness to get out of my head and make an attempt to reconnect to me.
When I received the invite, my older brother Michael was suffering from complications related to HIV/AIDS. Literally he was on his deathbed. This class gave me the space to step away from my family chaos and simply relax. The class was an easy flow with guided instructions on meditation. I vividly remember the instructor telling us to let go of the pain, let go of the sadness, let go of the noise, and make room for love and compassion. The greatest moment occurred when tears poured down my face, and after months of being the strong sister, I finally found a safe place to be ME….on the mat. As I'm sure you know, I was hooked!
After several classes, I knew yoga would restore my faith in God and heal my traumatized spirit. Of course it took many more years, but I soon stepped out into the daylight with a renewed passion for life!
See what these all-star yogis had to say about the first time they ever taught a class!
Advertisement
This ad is displayed using third party content and we do not control its accessibility features.